New Polestar design studio in Gothenburg reshapes and restores an icon of corporate architecture
Polestar's Thomas Ingenlath and Maximilian Missoni tell Wallpaper* about their company's brand new Gothenburg studios and future direction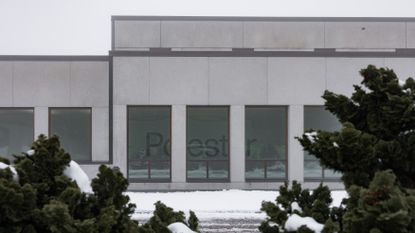 (Image credit: Polestar)
On a rocky bluff just west of Gothenburg, the king of Swedish industry built his castle. Pehr G Gyllenhammar, CEO of Volvo from 1970 to 1994, chose this prime spot for the ultimate in 1980s-era executive suites, a blend of Scandinavian style, brutalist materials, neoclassical planning and highly crafted finishes.
When it was completed in early 1984, Gyllenhammar could stand on the semi-circular balcony that opened off his corner office suite and gaze west over Volvo's Torslanda factory complex, beyond which lie the islands of the archipelago of Gothenburg.
Designed by Romaldo Giurgola of Mitchell/Giurgola Architects with local architect Owe V Svärd, the building has shades of Gunnar Asplund's stripped neo-classicism, complete with colonnades, courtyards, and curving stair towers and balconies. The executive suite is flanked by two wings, creating a temple-like arrangement of volumes.
Like many grand projects shaped by a strong and singular personality, the HQ didn't tick everyone else's boxes. Fifteen years after it was completed, the building was taken over by the company's commercial division, Aktiebolaget Volvo, or AB Volvo, after Ford acquired Volvo in 1999. The truckers added another wing in the 1990s, including a massive display hall for their heavy-duty haulers, and the corner office was occupied by a new CEO.
In 2010, Volvo was acquired by the Chinese manufacturer Geely, setting the company on a new path and leading directly to the birth of Polestar as a standalone brand in 2018.
Thomas Ingenlath is Polestar's CEO. Former head of design at Volvo Cars, Ingenlath has been outspoken in his desire to transform the industry for the better, from design and manufacturing, all the way through to supply and purchasing (more of which later).
CEO Thomas Ingenlath on new Polestar design studio
As Polestar expanded, it rapidly outgrew its allotted space in Volvo's Gothenburg design studios. A new location was needed – albeit only for a few years – and Ingenlath turned to the now abandoned HQ. Ingenlath recalls visiting the site back when he first joined Volvo. 'It is up on the hill, detached from reality,' he says. 'It reminded me of the two Mies van der Rohe villas in Krefeld, where I grew up, the Haus Lange and Haus Esters, with this high quality but very reduced use of stone and wood.' Empty and unused since the truck division moved out in around 2016, the site had recently been bought back by Volvo Cars. It seemed to be a natural fit for Polestar.
A careful restoration, working with plans drawn up by Polestar's own design team and Volvo's in-house architects, has brought this graceful period piece back to life. The former truck showroom is now a generous hall in the design studio, with space for building clay models and presenting new cars. Interior and exterior design teams, along with a presentation room, materials library and meeting spaces, are all slotted into one wing of the complex; the other half will eventually be used by Volvo's Swedish office.
'Something magical happened when we put the Polestar identity into the building,' says Ingenlath. 'It became a little bit like a gallery, giving us a cultural feeling that goes beyond our commercial needs.'
In just five years, Polestar has gone from a niche division of a well-known parent company to a major player in its own right. Polestars 1 and 2 were widely acclaimed; the Polestar 3 SUV is about to launch, closely followed by the Polestar 4. Models 5 and 6, based on the Precept Concept and 02 Concept respectively. They'll arrive in 2024 and 2026.
'The brand has developed its own style,' says Ingenlath, adding that the company's corporate identity is not too controlling or strict. 'It's about intelligent design, led by people who have the capability to get into a dialogue,' he says, pointing out that this applies just as much to the Polestar line-up as it does to its use of the former HQ building.
More than anything else, Polestar is raising awareness of the environmental cost of doing business. 'This is not a new building,' Ingenlath stresses. 'It was a run-down concrete structure that no one wanted to buy into. To some extent, it's about the long-term value of something.'
When it comes to the debate around EVs and the environment, Ingenlath is rare in his straightforward dissection of what it means to be sustainable. 'EVs are looked at very naively,' he explains. 'You have to be a bit more thorough.' He decries the dominance of 'things like greenwashing and CO2 trading and sustainability teams', stressing that every facet of the Polestar vision is guided by sustainability.
Polestar recently launched the 'Polestar 0 project', its 'moonshot project' to 'create truly climate-neutral production car by 2030'. This is a big long-term commitment, one that ties into Polestar's regular statements on the auto industry's climate impact. The Polestar 0 project's research phase is very much underway, focusing on materials, suppliers, and processes, with design work not scheduled to start until 2027.
Head of design Maximilian Missoni: 'It's good architecture'
For now, Polestar's designers are working on productionising the forthcoming 5 and 6. Led by Austrian head of design Maximilian Missoni, another Volvo alumni, the 65-strong team are adapting to the spatial upgrade of the new studio. The son of two architects, it was Missoni who began the process of drawing up plans for the new studio that didn't interfere with the existing structure.
From the heavy, copper-finished entrance doors onwards, it's clear this building is in a different league to an off-the-shelf business park shed. Gyllenhammar demanded the best materials and excellent detailing, evident in the bronze gear patterns set into the stone floor of the entrance hall, or the circular light fittings recessed in inverted ziggurat ceiling niches. Light fittings and sockets are heavy-duty brass, corridors and stairs are broad and generous, filled with light from the large windows.
Eccentric details abound, like the Japanese water sculpture given pride of place in the design studio's internal courtyard, a gift from Mitsubishi following an engineering collaboration with Volvo in the 1990s. This has been left alone, as has the scale and scope of the largest rooms; the only concession to the design studio's requirements is a series of new non-structural walls, stopping just short of the existing tall ceilings, to provide crucial screening from the outside world.
'It's good architecture,' says Missoni. 'We just worked around it.' The detailing is certainly spectacular, with a vast ceramic mural by the Danish designer Lin Utzon, daughter of Jørn Utzon, stretching the length of the corridor facing the executive courtyard. The idiosyncrasies born of a headstrong client and a generous budget are all preserved and add essential character. 'Funnily enough, that's something we try and do with the cars,' Missoni notes.
Other elements of the building sadly won't end up in the Polestar orbit, including Gyllenhammar's palatial office (complete with sauna, sitting room, fireplaces and wine cellar). There's also a remarkable boardroom, shaped by an acoustician to deflect corporate paranoia; the domed ceiling ensures that even a whispered aside on the other side of the circular table could be heard by everyone else in the room.
Like Ingenlath, the designer had also hankered after occupying this once forlorn structure. 'It was a perfect opportunity for us,' Missoni says. 'I really pushed for it. As designers, you cannot help soaking up and absorbing (your environment). The spirit of this building is about generous, high-quality space.' The gallery-like ambiance is reinforced by the long vistas and abstract renderings of Polestar designs on the walls.
In the presentation suite, we're given a VR tour of the Polestar 3, 'walking' around a precisely rendered model of the new SUV. In the main room, the Precept Concept and Polestar 3 sit in pristine isolation (any top-secret work has been cleared away for the cameras), beneath bright lights and lofty ceilings.
The company has plenty of experience of repurposing architecture – the company's Cube building was originally a nondescript Volvo service structure before it was transformed into its glassy new HQ. Architecture and interiors are a key spoke in the Polestar strategy, from the Polestar Spaces that serve as brand showrooms around the world, to pop-up projects like the recent Snow Space showroom and the Koja Treehouse project, both in Finland, helping bring the company's design ethos into physical form. The new design studio is very much a continuation of this.
Polestar is now unashamedly premium, with the current Polestar 2 described as the 'lower bookend' of where the company sits in the market. The forthcoming 4, 5 and 6 will target cars like the Porsche Taycan and Audi e-tron. Although Ingenlath has been one of the auto industry's rare voices of conscience when it comes to the challenges of climate change and pollution, he's still very much a car guy. In his opinion, mobility works best with the continued existence of cars.
Missoni agrees, naturally. 'For quite a while there's been a big promise of future technologies like autonomy,' he says. 'It will happen, but as an industry, we were slightly off on the timeline. It's super complex.' His team is also wrestling with the challenges and opportunities posed by the new era of generative AI. 'Creating future visions used to take geniuses like Syd Mead weeks and weeks,' he says. 'Now you just write a little story, and you have instant results. But I'm already getting a bit tired of it.'
Reassuring us that Polestar's work is '100 per cent human created', Missoni stresses the integral role design plays in the auto industry. 'High-quality only starts when you're solving problems in collaborations with engineers,' he explains. 'The ability to creatively solve problems – that's design. And it's everywhere in this company.'
The Polestar 0 project adds another, fundamental, ingredient to the mix. Missoni says that two key suppliers are now on board, SSAB, the Swedish steel company, and Hydro, the Norwegian aluminium company (supporter of Wallpaper's Re-Made collaboration with Polestar, Cake, and Konstantin Grcic). To date, Polestar has benefited from a relatively clean slate (although the Polestar 1 and 2 were essentially productionised Volvo concepts). 'We talk a lot about whether history is a burden or a benefit,' says Missoni, 'and what the advantages are of being first [with new technology]. The risk is still very high.'
Future plans: towards zero environmental impact
At time of writing, the Polestar 4 has yet to be unveiled. All that's known is that it has a fastback silhouette, unlike the Polestar 3's more conventional SUV profile. 'They are different animals,' Missoni says, explaining that the two new cars won't necessarily appeal to the same buyer. The 4 'plays more to the efficiency rulebook', in terms of aerodynamics, and it'll take the brand further upmarket. The 5 and 6 will be even more sophisticated – 'They're on another level,' the designer says.
All this activity will be nothing if no one comes along for the ride. For all the sophistication and desirability of Polestar's products, the bottom line is that Ingenlath, Missoni and their team believe there is a viable way of building cars with zero environmental impact. Issues like micro-mobility are peripheral, but not irrelevant, to this mission. Collaborations with Cake and Allebike spread the Polestar way into more modest means of transport. Notably, Polestar hasn't come out with its own dedicated home charger or public network, preferring to offer a simplified payment system that gives access to many different suppliers. Simplicity is the path of least resistance.
Nevertheless, there is also an urgency; the company recently teamed up with American manufacturer Rivian to highlight the car industry's woeful track record on decarbonisation. EVs alone are not enough. Without reducing emissions in the supply chain and increasing the use of renewable energy, key targets will not be met. The company will continue to ask these big questions, whether they're concerned with the economic aspects of building EVs and infrastructure – 'we're not doing this purely to save the world' – or the shifting psychology behind range anxiety, not to mention the looming challenges of battery recycling or repurposing, or the weighty issue of cars getting bigger ('if you use more C02 to make a lighter car, it makes no sense,' Ingenlath notes).
Perched high above a landscape shaped by the manufacture, distribution and total reliance on the automobile, Polestar's new design HQ will be ground zero for a fresh approach. 'I'm a little jealous of Max's kingdom up there,' Ingenlath laughs, although he is too modest to admit the company he ushered into existence is steering the industry in a vital new direction, regardless of its centre of power.
Polestar.com (opens in new tab)
Jonathan Bell has written for Wallpaper* magazine since 1999, covering everything from architecture and transport design to books, tech and graphic design. He is now the magazine's Transport and Technology Editor. Jonathan has written and edited 15 books, including Concept Car Design, 21st Century House, and The New Modern House. He is also the host of Wallpaper's first podcast.