Jaguar F-Type 75 special edition is the last of its kind as the marque hints at a radical future
The Jaguar F-Type 75 will be the last ever V8-powered Jaguar; is it also the end of conventional sports cars for this legendary British marque?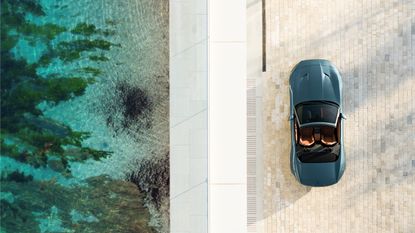 (Image credit: Jaguar)
The future of Jaguar is starting to take shape. A few months ago, the British car company's vision was still clouded in obfuscation and misdirection. The company has finally shone a light on future plans, announcing that the first Jaguar of its new era will be a '4-door GT built in Solihull in the West Midlands', an EV with a range of 430 miles and a price starting at £100,000.
Jaguar F-Type 75: a Monaco test drive
What we have here is one of the last internal combustion-engined cars to ever bear the famous big-cat badge. The F-Type 75 is a 'farewell' edition of Jaguar's two-seat sports car, available as both a convertible and the marginally more attractive coupé. Available in both 75 and R 75 special editions (the latter upping the power output and dynamic performance), this run-out version introduced a new body colour, a satin black finish, combined with a black leather interior and red brake callipers.
In short, it's the absolute epitome of what a modern petrol-engined sports car should look like, especially one that can trace its lineage to the 1961 E-Type. It's a fine thing to drive as well, although hacking through Monaco, where even the highest-spec F-Type feels automotively out-played by OTT hypercars or casually chic everyday classics, is not the best demonstration of this car's talents. The '75' refers to 75 years of Jaguar's sports cars, starting with the XK120 of 1948, followed by the ubiquitous E-Type and even taking in models like the wayward XJS, now very much back in the fold. The XK120 was represented on the launch by a legendary 1950 rallying example, registration NUB 120, owned by the Jaguar Daimler Heritage Trust, alongside an early E-Type.
Jaguar to be 'radically reimagined'
Few high-end car makers are undertaking such a seismic shift as Jaguar, which is effectively starting from scratch with a whole new range. Jaguar makes great cars, but in truth the company started eating itself up from the inside back in the mid to late 1990s, when it got mired in design quicksand. The XK, S-Type, and third-generation XJ cloaked their innovation with classically-inspired bodywork that drew on forms and proportions established all the way back in the 1960s.
By the time the tide turned – most notably with the fourth generation XJ, the handsome F-Pace SUV, the arrival of the F-Type in 2014, and the genuinely unique I-Pace EV, it was too late. For too many people, Jaguar remained a heritage brand, still trading on the genuine glories of cars like the E-Type, slavishly admired by a dwindling coterie of loyal customers, and not managing to make sufficient impact on new generations.
The ethos of adventure, innovation and excellence was always there – Jaguar was an excellent collaborator and supporter of Wallpaper* Handmade – but against the blinding light that was the then success of Range Rover and Land Rover, Jaguar's role in JLR couldn't help but be over-shadowed. In retrospect, cars like the mid-sized XE weren't bold enough, the I-Pace wasn't given the chance to evolve and change, and, worst of all, a brand new XJ was developed to production readiness and then unceremoniously scrapped at the last minute, as management decided it wasn't up to scratch.
After this, the company effectively went into hibernation. Head designer Julian Thomson left for General Motors, just two years after he had taken over from Ian Callum. Responsibility for design was handed to Gerry McGovern, the man widely credited (not least by himself) as the saviour of the Range Rover brand. McGovern's vision for a smaller model, the 2011 Evoque, and ever-more lavish and upmarket Range Rover, as well as lifestyle-focused diversions like the Range Rover Sport and Velar, gave the SUV maker huge momentum and clout.
In the face of all this change, it would be churlish to dismiss the outgoing F-Type as yesterday's car for yesterday's customer. The F-Type is a fine machine, but it's not enough when faced with new legislation and new customer expectations. Over the next five years, JLR is pouring £15bn into a new product strategy across its four core brands, Range Rover, Defender, Discovery and Jaguar, with electrification and luxury at its heart. McGovern describes the next Jaguars as 'a copy of nothing', with the company 'radically reimagined… as a modern luxury brand'.
To date, Jaguar has shown a single teaser image of the first of the three new promised models. Described as a '4-door GT', the picture implies a wide, low car with broad flanks and sharp creases. This sector hits the sweet spot for aspirational electric luxury, with a profitable six-figure starting price and plenty of scope to edge that upwards with extras, accessories and opportunities for personalisation. A large four-door GT also provides sufficient scale to house a long-range battery pack and proper luggage space, while the lower centre of gravity facilitates dynamic driving abilities (much harder to achieve in a heavy, high-sided SUV). Rivals include Porsche's Taycan, the forthcoming Polestar 4, and the Audi e-tron GT. £15bn might sound like a lot, but it'll have to stretch a long way across four different brands to match these very refined machines.
When the F-Type coupé was first shown to the press, Jaguar took over an elegant John Pardey-designed house on the banks of the Thames. It was an appropriate and seemingly perfectly aligned vision of subdued British luxury design, infused with the spirit of post-war modernism, respectful of craft, material and process, and just a little bit eccentric. Most importantly, it was a design that stayed discreetly distrustful of anything brash, outré and outlandish. As McGovern guided Range Rover away from the Home Counties and into Monaco, Miami and Courchevel, a bit of that discretion was inevitably lost: the priciest Range Rover model, the SV, now starts at nearly £176,000.
Will the lure of lucre blunt Jaguar's often wilfully contradictory assemblage of robust British characteristics? Old Jaguar was built on distinct chunks of a now fading identity, almost all of which has ceased to be relevant in the modern, ravenously unsentimental age. As that old era fades away for good, you'll no longer be able to hear the F-Type 75's blisteringly loud exhaust echoing around the closely clustered Monegasque high-rises. Whether its replacement will be gliding stylishly around the very same streets remains to be seen.
Jaguar F-Type 75 Coupé, from £78,535, Jaguar.co.uk
Jonathan Bell has written for Wallpaper* magazine since 1999, covering everything from architecture and transport design to books, tech and graphic design. He is now the magazine's Transport and Technology Editor. Jonathan has written and edited 15 books, including Concept Car Design, 21st Century House, and The New Modern House. He is also the host of Wallpaper's first podcast.