Audi heats up the market for luxury electric vehicles
Is Audi re-shaping the long-standing vision of what a luxury car should be?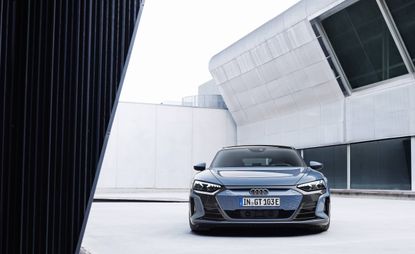 (Image credit: press)
The big cars of the future are begging to be electrified. Well over a year ago, back in the dark days of the first lockdown, Audi had to abandon an A8 outside my house. No-one was really going anywhere, and the big, gleaming black limousine got exceptionally dusty and quickly started to look rather sad. Every few days I would dutifully sit inside the impressive interior and start the ignition, triggering a sparkling Aladdin's Cave of digital dials and read-outs as the car reassured me it was still alive.

Ever since its inception, back in 1994, the flagship Audi A8 has been the discrete businessperson's big car of choice. It's not as showy as the Mercedes S-Class, less aggressive than BMW's 7-Series and a more technologically focused machine than, say, a Jaguar XJ. Over the decades, big sedans have plunged in sales and status, overtaken by luxury SUVs. Yet for car makers and their design teams, they still carry kudos; big dimensions allow for elegant proportions and big prices enable new technology to make its debut. Like its peers, the A8 model has always been a technological showcase - it was the first Audi to make extensive use of lightweight aluminium, while subsequent models cram in the top tier of new tech before it filters down the range, from interface screens to navigation systems.
Although Audi's newest version of the A8 arrived at Wallpaper* to find itself almost instantly unemployed, it was already making accommodations for a swiftly changing world. Most notably, it finally came with a plug-in hybrid system, using the smoothness of electric power to deliver most efficient possible ride. These days practically every Audi model is pumped up to premium levels, replete with digital dashboards and connectivity options, leaving scale and power as the only things that make a car stand out at the top of the market. The A8, or the A8 L 60 TFSIe to give it its full title, is certainly big - that 'L' denotes a slight wheelbase stretch to give rear passengers the full reclining seat experience, complete with screens and footrests. It's also swift, mating a relatively modest 335bhp turbocharged V6 petrol engine with an additional 126bhp of electric motor. Audi's quattro four-wheel-drive system comes as standard and all the benefits of hybrid power - swift, silent acceleration and massively improved fuel efficiency - are readily observable. But it's far from being performance-focused; the experience is all about the ride.

A big, comfortable car that can glide silently in and out of urban centres without leaving a trail of unnecessary pollution in its wake doesn't just benefit those in the capacious back seats. On the one hand, it feels like Audi has built the perfect car for one very particular and dwindling demographic: those who employ a chauffeur. But this newest variant of the A8 also goes some way to re-shaping the long-standing vision of what a luxury car should be, eschewing look-at-me ostentation in favour of discrete, sober and effective design, with tech doing all the hard work of cloaking any perceived excesses.
There's a caveat. Twelve months is a long time in the modern auto industry and Audi now has a small fleet of pure electric vehicles, the e-tron (opens in new tab), e-tron Sportback, Q4 e-tron and the e-tron GT. Setting aside their rather baffling and banal naming convention, it's worth comparing the hybrid A8 with its new EV relatives. The closest comparison is the e-tron GT, a svelte fastback four-door that shares a substantial amount of DNA with the Porsche Taycan (opens in new tab). It is fast, elegant and has a decent enough range (303 miles) to be an effective substitute for a conventional car.
As we've previously noted, the Achilles heel of all big, fast electric cars is that you can enjoy the performance or use the range, but rarely both together. Easy access to fast charging takes the sting out of swiftly depleted battery backs, but for the time being, the performance EV GT remains something of an oxymoron. That's especially pertinent if you opt for the higher performance 'RS' spec, the first Audi EV to get the badge usually reserved for its most extreme conventional models.

The e-tron GT is still an impressive car at more modest speeds. It's comfortable, spacious and has all the bells and whistles that you'd expect – superior mapping, excellent infotainment, sophisticated driver assistance. Perversely, the e-tron GT feels a little less sophisticated than its electric SUV siblings, with more buttons and less touchscreens. It's also not quite as driver focused as the Taycan, which remains the gold standard for the segment, with an interior that feels brighter and more contemporary.
So where next? It's safe to assume that at the very minimum, big sedans and limousines will be hybridised as standard from now onwards. Whether the A8 will ever spawn its own EV variant is for Audi to decide, although the recent Audi A6 e-tron concept vehicle points to exactly that kind of strategy.

However, there's also a series of top-secret Audi concepts in the offing, starting with next month's 'Sky Sphere'. These promise a new approach to interior and exterior design in order to reassert the lead in the competitive market for luxury EVs, where the bar is getting ever higher, and technology is the primary driver. Despite the RS e-tron GT's undeniable sophistication, for now it must concede to Mercedes, which has confidently usurped the long-held dominant position of its S-Class limousine with its new EQS EV. Audi needs a similarly bold production model – not just a concept – to keep its discrete charm intact.
INFORMATION
Audi A8 L 60 TFSIe, from £ 88,195
Audi RS e-tron GT, as tested £ 134,565
audi.co.uk (opens in new tab)
Jonathan Bell has written for Wallpaper* magazine since 1999, covering everything from architecture and transport design to books, tech and graphic design. He is now the magazine's Transport and Technology Editor. Jonathan has written and edited 15 books, including Concept Car Design, 21st Century House, and The New Modern House. He is also the host of Wallpaper's first podcast.