I-Pace versus F-Type: the last of the Jaguar V8s?
New design leadership is aiming to engage the discerning EV buyer of today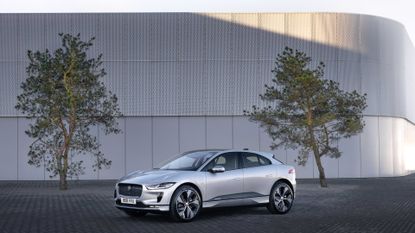 (Image credit: jaguar.com)
It's been 18 months since we last sampled the Jaguar I-Pace, in which time the British manufacturer's big premium rivals, Mercedes and Audi, have both launched competing large scale EVs (the EQC and e-tron Sportback respectively) and BMW is not far off from joining the race. While Jaguar seems to be having something of an identity crisis of late, not helped by global economic woes, we're here to reassure it that it did a very good thing with the original I-Pace and that this mildly revised and enhanced model simply confirms that first impression.

Set alongside its rivals, the I-Pace is svelte and elegant, lower and sleeker although still relatively large. What's more, it feels lighter and more poised, emboldened by a crossover body style that is still unique in a field of chunky electric SUVs. Its closest competitor is probably Tesla's Model X, a car which is probably more explicitly… electric than anything else on the market. By which we mean that Tesla answers to no-one in terms of brand or heritage or automotive convention. This is great, but it's not for everyone; the Jag delivers just the right amount of future-facing confidence and innate design excellence for those not quite ready to leap into the unknown.

In the long-run, Tesla's strategy might be the winning one, but let's not write Jaguar off just yet. New design leadership – courtesy of closer involvement from Gerry McGovern (newly appointed to JLR's management board) and design director Julian Thomson – aims to rediscover the brand's elusive sweet spot. From an outsider's point of view, the I-Pace seems to be the company's best way of engaging with future car buyers, especially those who want EVs to represent a bold break from the past. That's a fine line for a brand with such a weighty heritage. Jaguar has to look forwards while still being able to build precise replicas of its 1950s-era C-Type racing cars for discerning collectors. It's a huge remit, and an expensive one.
The I-Pace is one of the better electric cars to drive, with great balance and direct steering honed by decades of track experience. The face-lift updates the tech – always a crucial component of an EV – with a more comprehensive entertainment system, better connectivity to your own phone and neat new gadgets like the ClearSight digital rear-view mirror (although not so good for the spectacles wearer). The stubby bonnet and long body provides plenty of cabin space, with proportions that are neatly tailored to this relatively unconventional form.

The next all-electric Jag in the line-up was supposed to be a radical new version of the flagship XJ, the trad saloon that trod a conventional path for decades before being upended and re-imagined back in 2009 by Thomson's predecessor Ian Callum. That XJ was a great car but not a commercial hit, especially in a slowly evaporating market sector, at least in Europe. The all-new XJ is expected to combine avant-garde looks with the undeniable lure of EV tech. However, electrification is a fast-moving business and those that committed early are already way, way downstream. The danger for every brand, not just Jaguar, is that they risk joining the race at a considerable disadvantage to the leaders, with only the strength of their brand to carry them along.
It also helps to have deep pockets, because the investment required is colossal, with no prospect of quick returns. Case in point, Porsche's Taycan is rumoured to have cost over a billion dollars to bring to market, with some sources putting the cost of its dedicated new Zuffenhausen factory at $800m. The Taycan is an exceptional car, and a true Porsche, but in terms of raw numbers - and stats matter with EVs – it can't beat the efficiency of a Tesla. Instead, it's left to the considerable lustre and appeal of the Porsche badge to make it a contender. It is a very tall order to expect Jaguar to an XJ with similar appeal.

What of the rest of the Jaguar range? In the US, the company's name was made by the sports cars of the 1950s, 60s and 70s, and the blinding halo of the legendary E-Type still casts a long shadow. Attempts to follow the E-Type never quite hit the same mark, and Jaguar's subsequent coupé models became increasingly more focused on the GT market rather than purist sports car buyers. With the F-Type, originally launched in 2013, the sporting emphasis was back on. Now that car has been substantially overhauled and uprated for a new generation.
The new F-Type is available in two flavours, 4-cylinder petrol and V8 petrol. It is in many respects the antithesis to the I-Pace, in looks, packaging and ethos. The facelift loses a little of the purity of the original design (a problem the E-Type also suffered from over its long lifespan), but there's no doubting the dynamic ability, especially in range-topping V8 form.

It's a car designed to be seen and heard in, qualities it shares with practically every other dedicated sports car on the planet. The more rational minded might want to compare and contrast; for marginally more than the I-Pace, the F-Type accelerates to 60mph fractionally quicker (4.4 seconds versus 4.5 seconds). Take into account the thirst of that 5.0-litre engine and you're not necessarily going to get much further than the I-Pace's emissions-free range of between 253 and 292 miles. The sports machine's 177mph top speed is largely academic and while you'll find plenty of paeans to the evocative sound of eight cylinders necking shots of pure fossil fuel, this is a passion that's very much on the wane. The silent, graceful power of the I-Pace delivers driving fun with very little downside.
For the past few decades, the auto industry - especially in the premium sector - has traditionally traded on emotion, stirred up by marketing and design. EV naysayers will naturally point to the hassles of charging and the I-Pace's apparently clinical absence of romance as strikes against the newer car. The electric car market is still dominated by 'category killers', models that tick so many boxes that logic trumps emotion every time. This is changing fast. Although the F-Type has heritage and beauty on its side, it's a sinking flagship. Jaguar knows all too well that its next generation of sports cars must blend beauty with a very different kind of emotion if it wants to stay relevant.
INFORMATION
Jaguar I-Pace HSE, from £74,395
Jaguar F-Type Coupe First Edition, from £80,890
jaguar.com (opens in new tab)
Jonathan Bell has written for Wallpaper* magazine since 1999, covering everything from architecture and transport design to books, tech and graphic design. He is now the magazine's Transport and Technology Editor. Jonathan has written and edited 15 books, including Concept Car Design, 21st Century House, and The New Modern House. He is also the host of Wallpaper's first podcast.