Zoute Grand Prix is a car fest like no other at a pristine Belgian beachside town
Amy Serafin takes to the well-heeled streets of Knokke-Heist to experience the Zoute Grand Prix, its annual cavalcade of classic car-related events, from a rally to an auction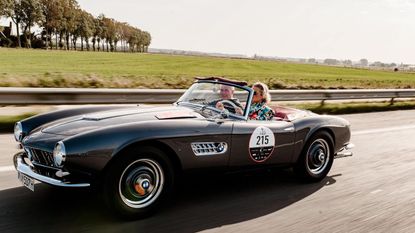 (Image credit: Zoute Grand Prix)
So you want to be an Instagram star? Consider investing in a vintage Fiat 500 Jolly beach car. An adorable sky-blue model from 1959, with wicker seats and an open roof, went up for auction at this year's Zoute Sale in Knokke-Heist, Belgium. Prior to the sale, it took a few last trips through town, as delighted bystanders smiled, waved, and snapped photos galore.
The beach community known as Knokke Le Zoute was having one of the year's busiest weekends, thanks to the annual Zoute Grand Prix, a four-day high-end car, art, and lifestyle festival in early October that includes a BonhamsCars auction of vintage and classic cars, an exhibition of new top-of-the-line contemporary cars, a three-day classic car rally, and a GT tour.
Buckle up for the Zoute Grand Prix
The Fiat Jolly had competition for attention – seemingly every other car on the road that weekend was a collector's item, and the quiet atmosphere was punctuated by the muscular growl of revving engines. At the luxury La Réserve hotel, teenage boys, 'car spotters', circled the parking lot, cameras in hand. A particularly excited group gathered to photograph a Bugatti Chiron with German plates. One spotter, from Luxembourg, explained that an alert about the car had gone out on social media. 'You don't see many like this,' he said, kissing his fingers appreciatively.
But fine cars are never an unusual sight here; even a young woman working in the hotel lobby pulled out her phone to show off her family's two Porsches. Asked whether anyone here drives a Subaru, she just laughed. 'This is Knokke.'
Commonly referred to as Belgium's Saint-Tropez, Knokke-Heist was settled at the beginning of the 20th century by three families who catered to British tourists by building a golf course, tennis courts, stables, and white villas with red tile roofs.
Today, Knokke counts 33,000 inhabitants and 110,000 owners of second homes. Name a monarch or billionaire, and he (or she) is probably here. People are drawn not only by the favourable tax code, but also by 11km of sandy beach, high-end shopping, Michelin-starred restaurants, and a thriving art scene. The town's art deco casino boasts an astonishing 360-degree mural by Belgian Surrealist René Magritte, measuring 70m wide by 7m tall (soon to be restored as part of a major facelift by TAB Architects and Barozzi Veiga).
The town contains 90 art galleries in just two square kilometres. Perhaps its most prestigious dealer is Guy Pieters, the Belgian son of a house painter who opened his first gallery in Knokke in 1981, knowing he would find collectors nearby. One of his longtime artists is Wolfgang Volz, Christo's exclusive photographer, who was in town to show his photos of the wrapped Arc de Triomphe. 'I didn't know how to spell Knokke,' said Volz. 'Now I've had about five solo exhibitions here.'
Another artist in Knokke for the weekend was Princess Delphine of Belgium, only recently recognised as part of the royal family after her father, King Albert II, was obliged by the courts to take a DNA test. She drove the last leg of the auto rally in a BMW 507 roadster (lent by BMW from its heritage fleet), just like the one Elvis Presley acquired when doing his military service in Germany.
Female drivers were definitely a minority in the Zoute Rally, which attracted 250 historic cars and typically has a waiting list. A woman named Patricia, from Antwerp, took the wheel of a red 1963 Jaguar E-Type, while her male partner navigated. When asked why she got to drive, she smiled: 'Because it's my car.'
The Zoute Grand Prix was founded in 2010 by two brothers, Filip and David Bourgoo, who owned an Audi-Bentley dealership. Believing that motor shows had grown too big and no longer attracted the right people, they displayed a new car in central Knokke, in front of the Louis Vuitton boutique. Sensing an opportunity, Ferrari asked them to build a marquee for its new products. Other brands followed. 'Ten years ago, we had to beg to sell cars in Knokke,' said Filip. 'Now they're queuing.'
Collector's items, contemporary and classic
Visitors paid €75 for a ticket to enter the Grand Prix's two beachside pavilions. In the Prado Zoute pavilion, 21 car manufacturers showed their latest models, from the Lamborghini Revuelto to the Ferrari Purosangue four-seater. Around half were electric. The car drawing the biggest crowds was the fully electric Rolls-Royce Spectre that customers had just started receiving that very week. The beautiful beast weighed 3 tonnes, with a choice of 44,000 paint colours, and a price tag of €525,000. Product expert Ed Drake said that the car's bespoke road sound (to alert pedestrians to its presence) was recorded by an orchestra imitating the sound of a Rolls-Royce accelerating.
Tucked away among the collector cars was the new Rimac Nevera, the young Croatian brand's first commercial automobile, which has set the record as the world's fastest electric production car: 0-100 km/h in 1.81 seconds. Brand manager Bernard Van Bellingen said they sold one car this year – a special version, to a buyer in Belgium, for €2.4 million – and that the year's second sale 'will arrive'.
There are cars that people drive, and those that sit pretty. The latter, 96 collector cars, were on display in the Zoute Gallery pavilion. Many had barely ever touched asphalt. All of them hit the block on Sunday at BonhamsCars' tenth annual Zoute Sale, which has quickly become one of the world's most important auctions of rare collection cars. Ruinart Champagne flowed freely, poured by servers in Magritte-inspired bowler hats.
Several cars (notably supercars and hypercars), sold for close to one million euros or more, receiving audience applause each time they hit the milestone. An immaculate 2014 Porsche 918 Spyder with less than 400km on the odometer doubled its bottom estimate to reach €1.2 million. 'Who woulda thought?' said the auctioneer, Maarten ten Holder, managing director of BonhamsCars, as it blew past one million.
Surprising rarities included a 1997 SAAB EX prototype, a one-of-a-kind car made for the company's 50th anniversary. A collection of eight different Aston Martins from 2010 were all painted the same tangerine orange colour – a special request by the original owner. A 1956 Bentley S-Type Continental was formerly driven by Helmut Newton. And a 1998 Aston Martin DB7 Volante once cradled J.Lo's bottom in her 'Love Don't Cost a Thing' music video. Love may be cheap, but this car ended up being a steal at just over €40,000.
The star of the sale was a stunning beige 1959 Ferrari 250 GT 'Tour de France' with all original parts, owned for 37 years by Swiss racing driver Plinio Haas. It went for slightly below its estimate, €4.83 million (including premium), to a North American client, pushing the day's total sales to more than €27 million, a record for BonhamsCars.
And the little blue Fiat Jolly? After a round of lively bidding, it sold for an impressive €155,250 to a bidder from the United Arab Emirates.
Zoute Grand Prix, ZouteGrandPrix.be, Cars.Bonhams.com
Receive our daily digest of inspiration, escapism and design stories from around the world direct to your inbox