All-new electric Rolls-Royce Spectre gives Wallpaper* the silent treatment
Bold, big and entirely electric, the Rolls-Royce Spectre makes its debut, a car that could very well be considered the best EV in the world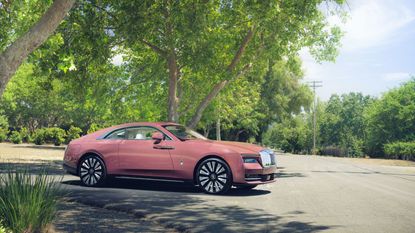 (Image credit: Rolls-Royce Motor Cars)
Wallpaper* Newsletter
Receive our daily digest of inspiration, escapism and design stories from around the world direct to your inbox
Thank you for signing up to Wallpaper. You will receive a verification email shortly.
There was a problem. Please refresh the page and try again.
In its marketing material for the new Rolls-Royce Spectre, the company has seized on an apposite nugget from its archives, a quote from The Hon Charles Stewart Rolls dating from 1900: 'The electric car is perfectly noiseless and clean. There is no smell or vibration. They should become very useful when fixed charging stations can be arranged.' It was still six years before he joined forces with Henry Royce to found one of the world's most famous brands – in any sphere. It would be another 123 years before Rolls-Royce finally found itself with an all-electric car.
This is the Spectre, a name that continues Rolls-Royce's flirtation with its apparition-adjacent naming protocol, eg, Phantom, Ghost, Wraith. It is the very first production EV in Rolls-Royce's storied history.
The Spectre has been a long time in the making. Announced in 2021, after many years of secret development (including over 2.5 million km of driving), and revealed in late 2022, this handsome, substantial beast is every inch a fitting equivalent to its established ICE siblings. Unashamedly large (5.4m long x 2m wide) and visually imposing, the Spectre is also heavy, thanks to the massive 700kg battery pack that's needed to haul this beast with the requisite effortlessness.
Despite all this power, Spectre is defiantly not a sports car; Rolls-Royce would never build anything so gauche. The twin electric motors, front and rear, equate to 584 hp in old money, giving Spectre an otherworldly 0-60mph of 4.4 seconds, all in complete silence (an optional 'noise' mode adds in the subtlest of synthetic roars to any excessive display of acceleration).
That battery size is also essential to boost the range; the Spectre is rated at 329 miles (530km), a mid- to high-capability that is by no means the best on the market but is more than sufficient for customer needs. And Rolls-Royce knows all about customer needs – few companies can bend the ears of their buyers as much as it can, helping ensure that every purchase is a one-on-one experience, with limitless bespoke options and repeat custom practically part of the culture.
The Spectre's origins started 12 years ago with the one-off Rolls-Royce 102EX of 2011. This electrified Phantom Series II subsequently underwent a global tour of UHNWI retreats in order to gauge reaction to the absence of the legendary V12. With a paltry range of just 120 miles, 102EX was deemed not ready for market. Rolls-Royce went back to the drawing board.
It helps that the company's drawing boards are owned by BMW, which supplies copious technical know-how and engineering assistance. The Spectre's platform has certain commonalities with the one underpinning the BMW i7, only it has been thoroughly and comprehensively adapted to imbue it with the unmistakable ambience and feel of a Rolls. This process was overseen by Dr Mihiar Ayoubi, the company's director of engineering. Dr Ayoubi tells us that although it would have been 'simple' to electrify one of the company's existing models, especially the Cullinan SUV – 'We wanted to create a high emotion car instead.'
The Spectre follows the scale and proportion of the earlier Rolls-Royce Phantom Coupé, with two doors, a flowing roofline, that towering backlit grille (the widest ever fitted to a Rolls-Royce) and a long, long bonnet. It matters not that such forms evolved out of the internal combustion era; what's important is that have a cultural resonance that continues to ping around the inside of wealthy, acquisitive minds.
Rolls-Royce Spectre and our Napa test drive
The mantra that is oft repeated during the Spectre test drive in Napa Valley is that this car is a 'Rolls-Royce first and an electric car second'. Having sampled the Spectre extensively over a tour of vineyards and winding mountain roads, we'd say that ambition has been achieved. In many respects, the company's near 12 decades of operation have been spent mitigating and taming the downsides to combustion – all that unwanted noise, smell, vibration and harshness.
Arguably it succeeded, for a carefully driven Phantom – in the hands of an experienced chauffeur, preferably – will give little or no clue as to the presence of an engine. Now, everything has changed. From 2030, it is claimed, 'Rolls-Royce will never again produce a new model with an internal combustion engine'.
The obvious benefits of electrification become apparent as soon as you switch on the car and hear nothing. That's not unique to Rolls-Royce, of course, but no other manufacturer allows you to automatically close the massive 1.5m-long doors simply by pushing on the brake pedal. The list of things no other manufacturer can do is extensive, from the 'Starlight Doors' that have 4,796 'stars' embedded within them for romantic night-time illumination (to match the famous Starlight Headliner), or the bespoke coloured backdrop to the digital instrument panel, matching the colour of the interior, to the billions of combinations of leather, wood, colours and hues.
On average, a Rolls-Royce costs around £500,000, a figure uplifted by the decision of practically every client to maximise the personal specification of their vehicle. A Rolls-Royce is for ever (until you order the next one), and the company's portfolio includes lavish collaborations with weavers and artists, textile designers, craftspeople, and creatives of all stripes, as customers strive to inject as much character as they can into their car. Spectre will be no different, with the ten press cars displaying a broad variety of approaches to interior and exterior materials.
Cabin ambience is first rate, plush, hushed and unrushed. Every dial and switch has a pleasing feel and there's no overreliance on touch screens (the HMI is derived from BMW's acclaimed iDrive system). The rear seats are eminently usable, with the swooping pillarless side glass offering a much better view out than, say, a Phantom with its tucked-away passenger compartment.
California's crowded, twisty and well-policed roads didn't provide much opportunity to open up the throttle, but power is delivered smoothly at all times, carefully calibrated to avoid the 'on/off' switch style of other, lesser, EVs. Neck-snapping acceleration and the lurching grab of regenerative braking are not in the Rolls-Royce playbook, so the engineering team has painstakingly ensured that power – whether being expended or recouped – is delivered as smoothly as possible. Even so, the one-step Brake Mode can feel uncharacteristically brusque if you're not expecting it.
Other negative aspects of conventional EV ownership don't necessarily cloud the horizon of the Spectre driver. Research suggests that they have the space and staffing capacity to charge at home and never need trouble themselves with handling a plug. In any case, as Anders Warming, the Danish director of design at Rolls-Royce, explains, 'a lot of our clients consider Rolls-Royce to be a luxury good – there is no other car brand for them'.
Spectre's 102kWh lithium-ion battery (with cobalt and lithium sourced from respectable suppliers in Australia, Morocco and Argentina) also forms a structural core to the car, giving the body added strength and rigidity and deadening sound still further. It also means the Spectre is akin to a giant iPhone, swathed in vast single pressings of aluminium, all bonded and bolted together with such finality that the thought of requiring a repair turns one pale. A close encounter with an 18-wheeler on a Californian hillside turned us paler still, not least because the Spectre was millimetres from requiring substantial surgery.
This is definitely not a car that needs to go under the knife. Anders Warming describes the intersection of vertical and horizontal lines that give this stately machine its presence and status. He explains how the visual symbolism of the Spectre can be reduced to just three essential lines – bonnet, shoulder, and lower 'waft line'; Warming says the last 'relates to the shape of a boat going through water'.
'Land Yacht' used to be a pejorative term applied to the boat-like handling and tanker-like scale of post-war American cars, but Rolls-Royce is perfectly happy with the parallels. 'Ultimately, this is the kind of feeling we're trying to convey,' the designer says, showing Spectre and its antecedents alongside the near-vertical bows of contemporary superyachts.
Elsewhere, scale and monumentality are emphasised for their emotional and aesthetic benefits, inviting comparisons with the chalk cliffs of Sussex, or the idea of 'islands' of meticulous detail set amidst a sea of material. The newly redesigned Spirit of Ecstasy is one such island, as are the beautifully designed bladed taillights, tapered and chamfered to serve an important aerodynamic function.
Even the mighty 23in wheels (the largest fitted to a Rolls-Royce since the 1920s) aren't just about size. 'They help disguise the height of the bonnet, which is fixed because of pedestrian impact regulations,' Warming says, pointing out the faceted wheel designs inspired by the interior forms of a diamond.
It's not remotely hard to see how this formula will translate to other future Rolls-Royces. The compromises are trifling and trade-offs non-existent. Elements like SPIRIT, which embraces the car's HMI, entertainment systems and app, will become more and more sophisticated in the coming years, perhaps becoming akin to a true digital companion like the one mooted in the 2016 Rolls-Royce 103EX concept. Modern day Rolls-Royce has proved itself to be an impeccable steward of a legendary brand. Spectre continues that well-deserved reputation, and – for now – marks the last word in luxury electrification.
Rolls-Royce Spectre, from c£400,000, Rolls-RoyceMotorCars.com
Receive our daily digest of inspiration, escapism and design stories from around the world direct to your inbox
Jonathan Bell has written for Wallpaper* magazine since 1999, covering everything from architecture and transport design to books, tech and graphic design. He is now the magazine's Transport and Technology Editor. Jonathan has written and edited 15 books, including Concept Car Design, 21st Century House, and The New Modern House. He is also the host of Wallpaper's first podcast.