Mercedes-Benz Vision One-Eleven concept is a convincing mix of futuristic design and technology
The Mercedes-Benz Vision One-Eleven concept gives new electric tech a sleek 1970s-inspired skin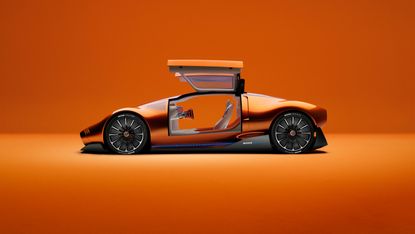 (Image credit: Mercedes-Benz)
Wallpaper* Newsletter
Receive our daily digest of inspiration, escapism and design stories from around the world direct to your inbox
Thank you for signing up to Wallpaper. You will receive a verification email shortly.
There was a problem. Please refresh the page and try again.
This is the new Mercedes-Benz Vision One-Eleven concept, a bold projection of a future super-sports car that makes some overt references to the company's more avant-garde moments. The visual 'sample' for the One-Eleven comes from the brand's long and large back catalogue – in this case the widely admired, experimental, gull-winged and very orange 1970 C111-II.
As chief design officer Gorden Wagener previously said, 'the nice thing at Mercedes is that there is so much history, all you have to do is open the book and it's full of inspiration,' before quickly pointing out that copying the past is not his thing. 'Of course we don't do retro design, but there are so many things that you can combine with modern surface treatment and themes.'
When the cars are shown alongside each other – which Mercedes was happy and enthusiastic to do at the brand's Californian design studio in Carlsbad – the visual links are deliberately clear, from overall theme to colour treatment. But while the 2023 Vision One-Eleven shares the 1970 vehicle's aerodynamic emphasis and low-slung, gull-winged charm, its modern-day engineers have swapped out the former's record-breaking Wankel engine for a full-electric powertrain using axial-flux motor technology developed by British company Yasa.
Mercedes has fully-owned the electric motor specialist since July 2021 and says the new motor is extremely powerful yet also highly efficient, as well as being more compact and lighter than the radial-flux motors found in 99 pe of current electric vehicles.
The One-Eleven's design riffs off more recent vehicles created by Wagener's team too. The pixelated front grille technology – which can act as a pair of headlights one moment and a digital safety message board to pedestrians the next – was previewed on the 2015 F 015 concept, as was the ombre effect on the windows, which appear to be opaque due to tiny paint dots printed directly onto the glass, but which have enough space between them to allow occupants to see out clearly while retaining exterior privacy.
This orange and copper paint effect also blurs the conventional (belt) line between bodywork and window glass to cool aesthetic effect, making the concept's shape feel more united as a design – and futuristic with it.
The interior continues the bold but simple 1980s video game pixel-style theme in its dashboard display, while the quilted seating and bespoke luggage are adorned in bright silver material which subtly nods in turn to a much more recent early 2023 Mercedes concept collaboration, called Project Mondo G.
Made with luxury ski and outdoor clothing brand Moncler, it features an iconic Mercedes G-Wagen 4x4 with sanded-down, battle-worn bodywork, plus four giant tyres and a roof clad in Moncler's signature – and similarly silver – shiny puffer jacket ribs with a huge zipper at the back.
Despite the pared-back and classic racing car vibes of the Vision One-Eleven's cabin, Mercedes also separately showed off its latest augmented reality (AR) developments, via a virtual prototype of the same concept's interior. This could be explored with Magic Leap 2 AR headsets to give driver information like satnav maps and app buttons projected into the space between driver and dashboard in a 4D effect.
Providing more than just a 'wow' factor, the technology can also render parts of the car 'transparent' by showing the driver the view beyond items that would otherwise obstruct driver vision, including the A-pillars either side of the windscreen and even the bonnet.
As Mercedes seeks to explore its development into a luxury brand first and foremost – no longer just a car brand – alongside the concept's unveil, a five-piece fashion capsule collection was also launched, including a weekender bag and orange-tinged sunglasses, each only available in editions of 111 in reference to the concept's nameplate.
All in all, the Vision One-Eleven is another show-stopping Mercedes concept, with a great mix of cultural, fashion and technological ideas embedded, in a way its rival German premium auto brands currently seem unable to match.
Receive our daily digest of inspiration, escapism and design stories from around the world direct to your inbox
Guy Bird is a London-based writer, editor and consultant specialising in cars and car design, but also covers aviation, architecture, street art, sneakers and music. His journalistic experience spans more than 25 years in the UK and global industry. See more at www.guybird.com