Ferrari Purosangue is the marque's high-riding, four-door venture into unknown territory
We sample Ferrari's first foray into a true family car, a high-performance four-seater that extends the Italian marque's abilities into a whole new sphere of influence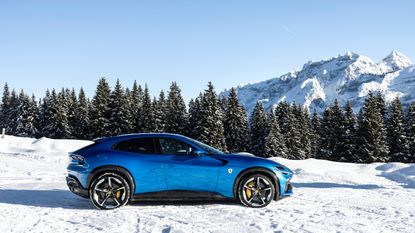 (Image credit: Ferrari)
For industry watchers, Ferrari's entry into what might loosely be called the SUV sector was a matter of when, not if. Despite repeated protestations from former CEO Luca di Montezemolo, the spectacle of rival brands creaming off Ferrari's precious customer base with their, shall we say, more practical luxury performance offerings, eventually became too much to bear.
The Ferrari Purosangue has been five years in the making, with work beginning a couple of years after di Montezemolo departed in 2014. Incoming CEO, the late Sergio Marchionne, took the company public, ramped up general production and gave the green light to what has now been revealed to the world as the Purosangue.
Remarkably, the new model's arrival expands the Ferrari line-up to 12 cars, although convertible and track-focused variants of its core cars make up the extra numbers. To recap, Ferrari is best known for its two-seater mid-engined sports cars – Berlinettas – as well as larger, front-engined GT cars. It's been that way for decades, with only the occasional off-the-books foray into wilder ideas.
At first glance, then, Purosangue indicates that Ferrari might become a rather more conventional car company. Check the price to put that right. Starting at over £300k, the Purosangue's only monetary competition is the Rolls-Royce Cullinan. They are very different beasts indeed. Throw in a few extras and a spot of personalisation, courtesy of the company's Tailor Made service, and the Purosangue's price can easily creep up by another £100,000, a total outlay that'll easily cover a couple of examples of some of the Purosangue's closest 'rivals', leaving spare change for a few everyday runabouts.
However, before you rush to sign up for this bold badge of exclusivity, remember that if you've not already been contacted by your friendly local Ferrari dealer, it'll be a long wait before you can see a Purosangue on your drive. As always, this most oversubscribed of all car companies keeps its favourite customers close to its chest.
Even though it commands such exalted prices (and therefore profits), Ferrari is nobly capping Purosangue production at just 20 per cent of its total sales volumes. In comparison, 42 per cent of Bentleys sold are Bentaygas, just under half of Aston Martin's annual sales are DBX, while the Urus accounts for over half of all Lamborghinis shipped. This car is not about growing volumes, but about serving a very loyal clientele.
Ferrari Purosangue: what can it do?
So what's it like? The Purosangue has undeniable presence. It shares a shark-like front end treatment with the Roma, Ferrari's current GT superstar and one of the prettiest cars to come out of Maranello in many years. The bigger car can't match it for overall looks, but it does make a decent fist of translating the combination of high sides, low glasshouse and big, big wheels into a palatable confection.
Purists, if they're still paying any attention at all, should take note that Ferrari do not consider this car as an SUV. It's also not really a crossover. 'It's a true Ferrari,' we were told, and nothing in its design or engineering contradicts that, right down to bespoke elements of extreme and unwarranted complexity.
The Purosangue might contain a number of Ferrari firsts, but it's effectively a replacement for a couple of cars that were already deviating from the Maranello mould. In 2011, Ferrari revealed the FF, 'the world's fastest four-seat automobile' at launch. Offered with four-wheel drive (a first at the time), this 2+2 shooting break could also be described as a two-door estate car. Or even a 'breadvan', to use the unromantic appellation given to a sole iconic 250 GT SWB, converted unofficially by ex-Ferrari engineer Giotto Bizzarrini and Pierre Drogo in the early 1960s with a fast-back. Ferrari only grudgingly gave the Breadvan a coveted 'Certificate of Authenticity' in 2010. It was replaced by the GTC4Lusso in 2016.
There have been other even lower profile deviations. Ferrari is hot on authenticity, swift to deploy a cease-and-desist letter when someone modifies or otherwise messes around with its precious brand (if you own a Ferrari over 20 years old and want Ferrari Classiche to issue a precious Certificate, the process is arduous, exacting and expensive). Nevertheless, in the 1980s and 1990s, the company had a lucrative side business building 'specials' for the Brunei Royal Family, the nature of which regularly violated those sacred tenets.
Four-door saloons, estate cars, drivable concepts, non-standard colours – whatever their Royal Highnesses desired, they paid for. Of the several hundred cars Ferrari made for the bottomless pockets of Brunei were several estate cars based on the Ferrari 456 GT. The so-called Venice was designed and built by Pininfarina, and proved conclusively that you could have a beautiful estate car that was also a Ferrari.
Go back even further, and there's the elegant Pinin from 1980, another Pininfarina design, this time approved by Enzo Ferrari himself, a classically proportion three-box sedan with impossibly crisp lines and edges like the sharpest Italian suit.
This little diversion serves to illustrate that the Purosangue doesn't exist in a vacuum. And like its ultra-rare predecessors, it unequivocally performs like a modern Ferrari. Under that relatively short bonnet is Ferrari's V12 engine, the beating heart of the company. Tucked way back in the body, so that half the cylinders are practically beneath the windscreen, the V12 goes without turbochargers and is mated to a four-wheel system developed from the one in the GTC4Lusso. Other technical tricks have been taken from Ferrari's unending stream of special editions, like the four-wheel-steering found on the 812 Competizione.
In case you thought that Ferraris were analogue and direct and descended straight from the old school, the Purosangue's armoury of acronyms will soon put you wrong. As gleaned from Ferrari's 6,000-word press release, the following systems are at play, whether in the powertrain, engine or embedded in the dashboard: TASV, ESC, DCT, 4WS, ABS, ADAS, ACC, AEB, HBA/HBAM, LDW, LKA, BSD, RCTA, TSR, DDA, and NSW. Rather than untangle this linguistic spaghetti, all you need to know is that it goes and stops with the sensor-infused watchfulness of every other high-end luxury car.
Except there's that tangible, irreplicable Ferrari difference. Chiefly that comes down to the V12, which always sounds full-throated and rich. The steering is immediately familiar and direct and that hoary old cliché of the sporting SUV – it doesn't feel as heavy as it is – is very much in evidence. It's not as edgy or as unhinged as a supercar, nor does it feel as lofty and insulated as a traditional SUV. To its credit, Ferrari hasn't promised much in the way of off-road performance, with just the rather perfunctory inclusion of hill descent control.
The Purosangue is shorter and stubbier than almost all its other competitors, an indication of the extreme complexity of the packaging and the dovetailing of design and engineering from an early stage. The rear doors are rear-hinged ('suicide' style), opening up the cabin like a clamshell (and automatically closing as well – another Ferrari first). An optional glass roof adds even more space to an already generous passenger compartment.
All four individual seats (there is no five-seat option due to the transmission) are heated and adjustable, with massage function available in the front. Front passengers also get their very own touch screen, which can be set up to show how masterfully your driver is performing or left to display the Spotify playlist. There is no navigation – Ferrari assumes you'll be using Apple CarPlay or Android Auto instead.
Ironically, this is a combustion-engined car that starts to impede on the classic paradigm of the electric performance car, where you don't use the power on tap because the energy depletion is just too overt and impractical. In the Purosangue's case, if you're using the practicality to the max, fully loaded with three passengers and their luggage, you don't dare feel out the dynamic limits because you'll nauseate your travel companions and spill their drinks. It's also slightly disappointing to discover that the old GT4Lusso had similar interior and luggage space, as well as better performance figures, less weight and lower emissions. Instead, you get two more doors. There's also a certain irony in promoting a Ferrari as a practical daily driver but launching it with a stonking great V12 – a plug-in hybrid will surely follow.
Is the Purosangue the thoroughbred Ferrari would have us believe? In every conceivable way, it has clearly tested the company to its limits, encouraged new ways of thinking and pushed its visual language in brave new directions. As full electrification approaches, the company will need more of these new paradigms with which to redefine its place in the world. Right now, the Purosangue is sitting pretty at the summit of desirability. Ferrari hopes very much it'll stay that way.
Ferrari Purosangue, from £313,120, Ferrari.com (opens in new tab)
Jonathan Bell has written for Wallpaper* magazine since 1999, covering everything from architecture and transport design to books, tech and graphic design. He is now the magazine's Transport and Technology Editor. Jonathan has written and edited 15 books, including Concept Car Design, 21st Century House, and The New Modern House. He is also the host of Wallpaper's first podcast.