Auto Shanghai 2023 is now the major global showcase for new brands and next-generation EVs
Auto Shanghai 2023: Familiarise yourself with the automotive landscape of the future as Chinese brands gear up to bring new EVs to Europe and the US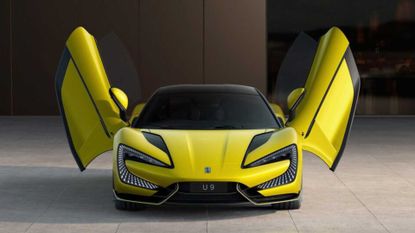 (Image credit: Yangwang)
This week sees Auto Shanghai 2023 (until 27 April) hold sway as China's largest motor show and a reminder of the industry's ongoing gravity shift to the East. Alongside a host of new models from Chinese manufacturers, many long-established players chose the event to showcase new flagship models. Even those companies that didn't exhibit still picked this month to unveil new metal, mindful of the danger of being seen to be standing still. Of course, EVs continue to dominate, and crossovers and SUVs continue to be the car type of choice. Read on to discover the key cars of 2023 and beyond.
Auto Shanghai 2023: the key reveals
MG Cyberster
As the MG4 brings new sophistication to the Chinese-owned, once-British brand, the next model looks even more intriguing. MG's new Cyberster is a two-seater, open-topped EV due to launch in 2024. Bigger and bolder than its ancestral inspiration, the Cyberster will create a whole new category and shift the perception of EVs in the process.
MG Cyberster, available Summer 2024, MG.co.uk
Lincoln Nautilus
Distinct Range Rover vibes from Lincoln's 2024 Nautilus, which broke cover in New York earlier this month. The new Nautilus features a 2-litre turbocharged hybrid powertrain across the trim levels, indicating that even in the land of the enormous SUV, attitudes are slowly shifting away from vast petrol engines as a signifier of power and luxury. It's still a very big car, suggesting there's still a long way to go before opulence is equated with downsizing.
Lincoln Nautilus, available in North America, early 2024, Lincoln.com
BMW i7 M70 xDrive
A new electric flagship for BMW, which has given its electric 7-Series sedan the 'M' power treatment for the first time. Like the other mighty electric BMW, the XM, the company is going all out on brutalism right now. The bluff front, two-tone paintwork and radically re-shuffled light and grille elements take some getting used to. Owners can bask in the knowledge that this BMW's fastest accelerating EV, with an accompanying Hans Zimmer-composed 'engine note'. Long distance travellers can switch on a hair-shirted MAX RANGE mode to eke out the best from the battery (nearly 350 miles)
BMW i7 M70 xDrive, available from Q3 2023, BMW.co.uk
Volkswagen ID.7
The latest in VW's fast-expanding ID range is the ID.7, a limo-sized slippery-shaped four-door. The ID.7 majors on efficiency, with a projected maximum range of over 400 miles, as well as well as a host of luxury extras to tempt fleet buyers and executives to go electric. These include massage chairs apparently approved by the German Campaign for Healthier Backs, a dimmable glass sunroof, and remote parking with a memory function.
Volkswagen ID.7, launching Europe and China Autumn 2023, Volkswagen.co.uk
HiPhi X
Chinese brand HiPhi is ready its X crossover for European sales, soon to be followed by the Z grand tourer (a 'digital GT'). There's also a larger HiPhi Y in the works. Boldly styled, the X has rear-hinged rear doors and a gullwing roof hatch. Inside there's a central info screen on a multi-axis robot arm – it's described as the 'HiPhi Bot'. The brand is a best-seller in China and wants to make a similar impact in the European market.
HiPhi X, details tbc, HiPHi.com
BYD Dolphin, Seal and Yangwang U9
BYD has been selling EVs in the UK for over a decade, albeit in a lowkey way. That effort will now be ramping up. Using defiantly different naming conventions, BYD ('Build Your Dreams') is also making an aggressive play for European drivers with two new mid-market cars, the Seal saloon and Dolphin hatchback. With fluid, vaguely fishy design language and batteries built in-house by the Chinese conglomerate, the new cars go head to head with offerings from Stellantis and Ford.
BYD's luxury subsidiary, Yangwang, also showed its new sports coupé, the U9. With bodywork designed by Wolfgang Egger, formerly head of design at Audi and now doing the same role for BYD, the car promises extraordinary performance and a smart suspension system capable of running on just three wheels in the event of a blowout.
BYD Dolphin, available from June 2023, BYDEurope.com
Yangwang U9, details tbc, YangwangAuto.com
Mercedes-Maybach EQS 680 SUV
You'd have to travel back to the plutocratic excesses of the 1970s to find a comparable model to the new Mercedes-Maybach EQS 680 SUV. Only the legendary Mercedes-Benz 600 (the Grosser Mercedes) comes close to the scale and scope of this, Maybach's first all-electric model.
Based on MB's EQS, the Maybach ramps up the craftsmanship and CEO-level extras, including folding worktables, a cooling compartment, silver-plated champagne goblets, along with ventilated, heated and massage functions in all four seats. The interior is a butterscotch symphony of LED lights, sustainably produced leather and wood trim.
Mercedes-Maybach EQS 680 SUV, Mercedes-Benz.com
Genesis GV80 Coupé Concept
The GV80 Coupe calls itself a concept but you can consider it a relatively faithful representation of the South Korean luxury manufacturer's next model. Revealed at the brand's Genesis House HQ in New York, the GV80 Coupe takes the companies largest model, the GV80 SUV, and gives it the contemporary fastback body shape. No word yet about potential powertrains but expect the GV80 to go beyond its sister car's lack of hybridisation - perhaps even taking inspiration from the company's best model, the GV60 EV.
Genesis GV80 Coupe, currently concept only, Genesis.com
Lamborghini Revuelto
Another non-show debut, Lamborghini chose to reveal its next generation super sports car on its own terms. The story here is hybridisation, and the Revuelto is billed as the first series production V12 plug-in hybrid. Lamborghini has always been bullish about the enduring appeal and regulations-busting qualities of its internal combustion engines. However, recent moves by the US Environment Protection Agency to do away with exemptions for Small Volume Manufacturers to meet wider CO2 reduction targets might end up forcing the company's hand.
In any case, the famous Sant-Agata Bolognese-based brand is equipping the Revuelto with a battery pack big enough to encourage electric-only driving, although there's no word of what the likely range will be if you put your foot down.
Elsewhere, you'll find extensive use of ultra-light carbon fibre, dramatic doors and all the angles and creases that have come to define this most defiant of sports car brands. The Revuelto will continue the family line that started by the Countach in 1974, going through the Diablo, Miura, Murciélago and Aventador models.
Lamborghini Revuelto, on sale in 2024, Lamborghini.com
Ford Explorer
Ford is splicing its pioneering American DNA with the more technologically adventurous spirit of its European arm with a new all-electric version of the Ford Explorer. Designed and engineered in Europe, it takes the clunky family-focused SUV into a zero-emissions future. The aesthetics are a bit more car-like than the original Explorer's infamous truck inspired shape, and Ford is pushing the new model's fast-charge ability, spacious interior and rugged, adventurous image.
Ford Explorer, available from late 2023, Ford.co.uk
Denza N7
Denza is yet another BYD offshoot. The new N7 is passably handsome, if a bit forgettable, and although Denza describes the car as an SUV, it's more crossover in terms of scale and height. As BYD's first model to include a suite of LiDAR sensors the N7 is suitably future proofed, but what interests us most is the brand's collaboration with audio tech manufacturer Devialet. The French brand's first foray into automotive audio, the N7 includes a 16-speaker system that has been tailor-made for its interior.
Denza N7, China only, TengshiaAuto.com
Smart #3
Shaped by the Mercedes-Benz global design team, the new Smart #3 is the company's 'first ever sports utility coupé'. On the plus side, this means it's substantially smaller than other cars with this unwieldy and slightly meaningless designation. On the downside, it looks a teensy bit generic. Smart claims this is due to the car's 'seamless, smooth lines and athletic curves,' but there's none of the eccentricity that defined the brand back in its early days. The seamless swoop of the roof makes up for the otherwise disappointing shape; perhaps when it's lined up alongside its larger rivals will it all start to make sense. Aimed squarely at a young city-dwelling driver, interior equipment includes a music system tuned by Beats.
Smart #3, availability tbc, Smart.Mercedes-Benz.com
Porsche Cayenne
Porsche have given their venerable Cayenne a substantial overhaul with the aim of seeing it through until the launch of an all-electric replacement. Minimal exterior changes are supplemented by a massive overhaul of the interior architecture. Cayenne now gets a dashboard-wide screen system, a new 'Porsche Driver Experience' that balances analogue displays with digital content, as well as giving the front seat passenger their own touchscreen to play with. The V6 hybrid models have also been updated, and now offer a much longer electric-only range and greater efficiency.
Porsche Cayenne, available to order now, Porsche.com
Jonathan Bell has written for Wallpaper* magazine since 1999, covering everything from architecture and transport design to books, tech and graphic design. He is now the magazine's Transport and Technology Editor. Jonathan has written and edited 15 books, including Concept Car Design, 21st Century House, and The New Modern House. He is also the host of Wallpaper's first podcast.