Devialet Phantom I speaker showcases the art of sound
With its new Phantom I speaker, French innovator Devialet shows why it's the brand of choice for aesthete audiophiles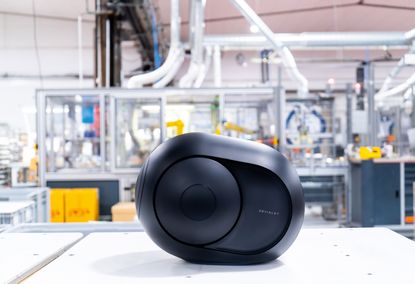 (Image credit: Camille Savioz )
Timeless technology is something of an oxymoron in our accelerated age. Consumers are conditioned to expect rapid tech advancements expressed in a swift turnover of products, with annual upgrade cycles the de facto method of signalling how our devices get faster, smaller (or bigger), better, sleeker and more efficient. It's a gallop, not a canter, that goes against the ethos of luxury design, with its emphasis on craft, care and attention to detail. It's a rare brand that manages to dovetail both qualities into its products.
From its inception, French audio specialist Devialet set out to make art out of audio. The company was founded in 2007 by Pierre-Emmanuel Calmel, Emmanuel Nardin and Quentin Sannié, combining knowledge of acoustics, industrial design and finance, respectively. Its most important invention was a patented new form of amplification, Analog Digital Hybrid (ADH). This uses modern digital amplifiers to boost signal, rounding off the process with a traditional analogue amplifier for output. The result is less noise and distortion, doing away with speaker hiss, and creating crisp sound with a full dynamic range regardless of volume.
The team worked to translate innovation into tangible and highly desirable products, while high-profile investors came on board, including Bernard Arnault, Jay Z's Roc Nation entertainment conglomeration, Renault, and Foxconn.
Devialet eventually debuted a series of high-grade amplification products, starting with the D-Premier model in 2012. These were soon followed by the original Devialet Phantom, a compact all-in-one speaker system that compressed the team's know-how into an elegantly portable package. Introduced in 2015, it cemented Devialet's claim to be the first choice of aesthete audiophiles.
Then, as now, Nardin was in control of every aesthetic decision. 'Every Devialet product has a certain timeless quality,' he explains. 'The new Phantom 1 follows this logic. It is now over five years since the original was launched, and Phantom 1 reinvigorates the product and emphasises the qualities that define it.'
Updating the Phantom series would present a challenge for any designer. Nardin is quick to point out that the original speaker 'upended' the high-end audio market, making a splash with its distinctive form. Those who are truly passionate about buying into and building ultra-high fidelity have a tricky relationship with industrial design. Beyond a certain price point, customers want to see their speakers, not just hear them; the experience of the Phantom is shaped by the sculptural qualities of the device itself.
Yet for those audiophiles determined to embark on the never-ending quest for audio perfection, aesthetics become subsumed by a deluge of minutiae – cabling, stands, the resonance of certain woods, the shape of your room, the construction of your house, the purity of the materials used to carry the signal. This is an infinite rabbit hole that Devialet, to its credit, deftly side-stepped with its all-in-one, wireless device, which still manages to offer the utmost in fidelity. Exceptional sound quality is a given. But if you're the kind of person who gets a kick out of the carat of your cables, Phantom's plug-and-play simplicity probably won't suffice.
That's not to say the product can't be improved. Enter Phantom 1. Nardin asserts that this new model is a revolution, not an evolution, explaining that many elements have been improved, from the internal software to the build quality and the tactile feel of the materials themselves.
Designed to work as a single unit or in a pair, the new Phantom 1 continues to include Devialet's key innovations, the ADH system among them. The units also incorporate two powerful woofers for an extremely deep and dense bass sound – the kind you can physically feel. As well as the bass drivers, Phantom 1 has an aluminium tweeter and medium driver, with all speakers carefully arranged within the compact, pebble-like object.
Speaker placement and projection are extremely important; another proprietary technology, the Active Cospherical Engine, ensures sound waves travel away from the rounded forms of the device in a perfectly balanced way. Connectivity is via Bluetooth, WiFi, Airplay or Spotify's Connect system, controlled by a dedicated mobile app. The smaller Phantom 11 (formerly the Reactor) shares the original's design language and is best described as the ultimate wireless speaker, offering 350 watts of power in its most simple form and designed for a multi-room system.
One of the key questions for Devialet was how to take the Phantom's singular and refined form to another level. Industrial designers often struggle with the central dichotomy of their profession; do you design for sustainable longevity, or should you sate the market's relentless desire for novelty?
Devialet's decision to subtly enhance, rather than completely overhaul, the appearance of its flagship product is driven by both necessity and pragmatism. 'Phantom was born out of functionalism,' says Nardin, 'it's a very robust design. Ultimately, it's the market that decides, not the designer, whether we have a product that's as iconic as a Porsche 911.' He acknowledges the 'push and pull between technology and design', stressing that the speaker's 'form factor serves the acoustic performance – the architecture is very sophisticated. Any evolution of this form is therefore cosmetic, by and large.'
The company's production facility in Le Châtelet-en-Brie, near Paris, is more lab than factory, with robots and skilled technicians carefully assembling the Kubrickian forms of the Phantom from high-quality components from France and other European countries. Machining, polishing, balancing and final testing take place at the same facility.
The new material finishes of Phantom 1 double down on the luxury. In the past, special editions, such as the Gold Phantom Opéra de Paris model, were explicitly targeted at a more lifestyle audience, with hand-applied gold alloy to enhance the casing. From the outset, Phantom 1 demonstrates a more tactile approach.
'We've chosen materials that create a strong contrast, from high-tech matte composites to metallic ones,' says Nardin. 'The white polycarbonate shell has the feel of ceramic – it's luxurious to look at and touch. We want our colours to endure and to imply simplicity.' The relatively monochromatic approach – matte black, dark chrome, white/light chrome and with flashes of gold – also allows the Phantom 1 to be accommodated in every kind of interior.
For Nardin, Devialet 'has been a designer's dream', he says. 'I was a design consultant for 20 years. As a consultant, you are always making compromises to mitigate risk to someone else's brand and image. When I decided to embark on this project in 2007, it was a dream to work without concessions.'
In the Phantom, the firm might have found its enduring icon, but it's also clear that its core technology still has a long way to go in a world increasingly obsessed with high-quality sound. 'Our idea was – and remains – to design products with full conviction and no compromises,' Nardin says, 'and to be comfortable with a certain level of risk.'
The team was joined by CEO Franck Lebouchard in 2018 and now covers all bases in the sphere of premium sound. As well as the Phantom 1 and the Phantom 11, there is the Expert Pro amplifier range (extending all the way up to the Expert 1000 Pro Dual system, which costs a shade under £25,000), and the Gemini wireless earbuds.
The company has also branched out into small-scale vinyl production, with a new label, The Lost Recordings, publishing heavyweight pressings of cult albums in collaboration with musician Frédéric D'Oria Nicolas' Fondamenta label; remastered concerts by the likes of Dave Brubeck and Ella Fitzgerald showcase the capabilities of Devialet's systems.
In addition to power-boosting special editions in the years to come, the company's uncanny ability to condense audio quality into small packages will bear fruit in less visible ways, as new partners seek to share its secrets. Nardin and his colleagues may have taken risks to get this far, but you can be sure your ears are in good hands.
INFORMATION
Phantom 1, from £1,890, devialet.com
Jonathan Bell has written for Wallpaper* magazine since 1999, covering everything from architecture and transport design to books, tech and graphic design. He is now the magazine's Transport and Technology Editor. Jonathan has written and edited 15 books, including Concept Car Design, 21st Century House, and The New Modern House. He is also the host of Wallpaper's first podcast.