Wallpaper* Smart Space Awards 2023 winners announced
Discover the Wallpaper* Smart Space Awards 2023 winners, embodying innovation across all forms of domestic design and technology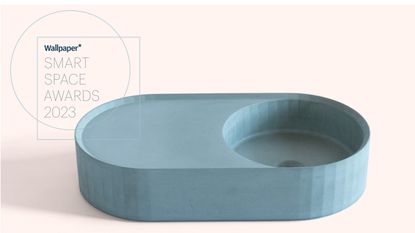 (Image credit: Wallpaper* / Formed)
Whether high or low-tech, the Wallpaper* Smart Space Awards 2023 winners embody innovation, sustainability, simplicity and style. This is the third iteration of the annual event, which celebrates the best examples of forward-thinking domestic design and technology. More than just an industry accolade, it's a seal of approval for design that does its job and makes the world a better place. The Wallpaper* Smart Space Awards 2023 winners showcase the very best in their class, life-enhancing designs that combine creative thinking with innovation, verve and responsibility.
Wallpaper* Smart Space Awards 2023 winners
---
Best sustainable step forward: 'Conscious Chair' by Mater
The Conscious Chair was originally designed for schools in 1958 by Børge Mogensen and Esben Klint. Mater has re-made this classic using Matek, its own patented material, derived from upcycled industrial waste, sawdust and coffee shell waste. Matek is designed for moulding processes, making it an ideal material for the circular economy.
Most intelligent domestic device: Miele G7000 dishwasher range
Miele made good on its longstanding reputation for excellence with this impressive update of the G7000 dishwasher range. Consisting of six new appliances – freestanding, semi-integrated and fully integrated dishwasher – the innovation is in minimising water and energy usage. Swift, silent, and meticulously engineered.
Best domestic design: Facet Basin collection by FORMED
FORMED has created this elegant range of bathroom basins from recycled materials. Their simple faceted shapes are inspired by low polygon computer graphics and create striking shadow patterns. The material itself is concrete blended with 80 per cent recycled sand, aggregates and cement replacements, with each basin made to order and fully recyclable.
Fittest fitness kit: Lululemon Studio Ankle Weights, designed with Leadoff Studio
Lululemon Studio's Connected Ankle Weights are designed to pair with the Mirror, an interactive fitness device, to provide user feedback and workout recommendations. Designed with a premium, soft-touch finish, the weights have a clean, minimalist feel and contain integrated sensors for real-time tracking and advice. The industrial design is by Leadoff Studio.
Fittest fitness kit: Technogym Run
Technogym's home exercise gear is built for endurance. The company's latest product, the Technogym Run, is High Intensity Interval Training treadmill, containing custom lesson plans, noise-dampening surfaces and even a gruelling Sled Training mode.
Best personal trainer: Sky Live
Sky's new Live service, launched this year as part of its Sky Glass television, adds a layer of interactivity. Our pick of Best Personal Trainer is the Mvmnt service built into Sky Live, a series of personal workouts that use the device's tracking system to analyse form, monitor stats and guide you through new exercises.
Most illuminating lighting: Ocean Coil Marina by LightArt
Ocean Coil Marina is a range of pendant lighting formed from reclaimed ocean plastic. LightArt has leaned into imperfections, ensuring each model takes on the hues of its former life; the material behind the 'Seagrass' lamp design originated in fishing nets, trawls and ropes, while that of the 'Sea Foam' is made using water bottles and plastic bags, amongst myriad other things. 3D-printing fabrication was used to create the distinctive gourd-like shapes.
Food, drink and design award: Aarke Carbonator Pro
Swedish brand Aarke makes sleek kitchen appliances and its Carbonator Pro is the finest way to get fizz into your water. Made from high-quality materials, from the dishwasher-safe glass bottle to the stainless-steel casing, the Carbonator Pro is designed to look good and work seamlessly for a lifetime.
Most watchable TV: Samsung QN95C TV
The Samsung QN95C continues a solid run of innovative television design from Korean tech stalwart Samsung. The 63in QLED 4K HDR screen incorporates Dolby Atmos, an ultra-wide viewing angle, and a bezel-free screen, together with Samsung's subscription free TV Plus service. You can also mirror content from your mobile device on the screen.
Most impressive speaker: Monolith by Nocs
Assembled in Sweden from the finest European components, Nocs' Monolith wireless speaker is designed to be fully upgradeable, repairable and long-lasting. The result is an impressive monument to hi-fi minimalism.
Most elegant instrument: Casio Privia PX-S7000 digital piano
Casio parlayed decades of keyboard know-how into the new PX-S7000, a digital piano that's boldly designed to stand out in any interior. With built-in Bluetooth, 400 on-board sounds, slender midcentury-style wooden legs and a richly coloured 'Harmonious Mustard' finish, it's enough to bring back the piano as the focus on the home.
Most masterful music device: Ruark Audio R410
Ruark Audio's new R410 impressed us with its successful mix of retro simplicity and modern function. The British manufacturer intend the R410 to be a prominent fixture in the room, finished in sustainable woods and with an optional controller that makes operation a breeze.
Most perfect portable speaker: Audio Pro T3 Peter Eugén limited edition
Audio Pro teamed up with Swedish artist Peter Eugén to create 500 examples of its portable T3 wireless speaker. We especially admired the way Eugén's distinctive pop art sensibility was spliced with this handsome speaker without compromising its innate simplicity.
Most revolutionary personal transport: Cowboy Cruiser eBike
Of the many, many e-bikes that have crossed our threshold in the past few years, none have been quite as refined as the Cowboy Cruiser. The urban bike par excellence, it has an upright riding position, an especially comfortable saddle, a phone mount and a palette of contemporary colours. It's one more sign of the Brussels-based company's admirable approach to stylish mobility.
Most revolutionary new vehicle: TELO Truck
The TELO truck promises to be a winner. Teaming up with Yves Behar's Fuseproject, the American manufacturer pulled out all the stops to condense the country's most lusted-after vehicle type into a compact, highly functional package. Here's hoping the TELO truck will help flush oversized pick-up trucks out of the world's cities.
Most revolutionary transport: The Icon by Designworks, A BMW Group Company, and TYDE
The Icon is a welcome step away from the mainstream. Designed by BMW Group's subsidiary consultancy Designworks in collaboration with boatbuilders TYDE, The Icon is an electric boat/floating lounge, a showcase for battery tech, hydrofoil propulsion and BMW's interface design skills, all wrapped up in the audio stylings of the company's composer-in-residence, Hans Zimmer.
Smartest watch: Samsung Galaxy Watch6
The sixth generation of Samsung's pioneering Galaxy series is the best yet, a classic timepiece that doubles up as a sophisticated communications device and fitness tracker. The company has refined the design to make the display larger and the battery life longer, with interchangeable bands as standard. Sleep tracking has also improved, as has the sensor package that monitors all aspects of your fitness journey and vital statistics.
Most life-enhancing object: Beflo Tenon adjustable desk
The standing desk is now a staple of many offices, but Beflo have taken the concept to another level with Tenon, an automated adjustable luxury desk. Incorporating power sockets, a touch screen and a companion app, the Tenon can be tasked with monitoring time spent at your screen and rises automatically when you need some standing time.
Most life-enhancing object: Shield air purifier by JVD
JVD's Shield air purifier is proof that a functional object can be given an interesting twist. Shield incorporates the French company's own patented technology for ridding interiors of pollutants, allergens and odours. With industrial design by Ramy Fischler, Shield is French-made using mostly locally sorted components and is designed to be reparable and recyclable.
Most life-enhancing object: Loop Engage by Loop Earplugs
Environmental awareness extends to how you react to the sounds around you. Loop's new Engage silicone-tipped earplugs aren't intended to shut out noise completely, but take the edge of harsh frequencies and intrusive acoustics, 'filtering the noise, not your voice'.
Smartest luggage: Away's Classic suitcases
There's much to admire in Away's range of revised 'Classic' suitcases. Choosing luggage shouldn't be a burden, and the company's extensive palette is paired with updated trolley wheels, zipper and handle, as well as an interior that's been thoughtfully sub-divided to cater for every trip. The proportion of recycled material used in the case has also been increased.
Smartest craft: TOC Publishing
We'd be remiss not to reward TOC Publishing, a German company that strives to blend digital and analogue processes in its quest for the perfect printed book. 'The Other Collection' transfers digital layouts to polymer plates, printing its books on a 1954 Heidelberg cylinder press, giving its list a tactile quality that's much missed in the digital age. All paper and linen is ecologically certified, and the press focuses on fonts from emerging designers.
---
Wallpaper* Smart Space Awards 2023: Highly Commended
The judges felt that certain entries deserved to be honoured as 'highly commended', impressively designed and executed and not to be overlooked.
Highly Commended, smartest material: von Holzhausen Replant
von Holzhausen's vegan leather alternative is dubbed Replant. One of several companies looking to find the ultimate premium alternative to leather, Replant is a 'farm-to-fabric material' that's even more energy-efficient than cotton, thus making it deserving of a closer look.
Highly Commended, fittest fitness kit: Kabata Smart Dumbbell
The smart fitness space was hotly contested this year, and we felt that Kabata's Smart Dumbbells were worthy of a shout. The app-connected set is precisely engineered and can automatically readjust between twelve different weights when docked with its case.
Highly Commended, smart device: BOOX Tab mini C
BOOX is innovating fast in the world of E-Ink. The Tab mini C introduces colour, a game-changing enhancement that gives the device an edge of its better-known rivals and makes for a far more engaging reading experience when it comes to illustrated books.
Highly Commended, smartest retreat: Cabin ANNA
The ANNA cabin is an endearingly adaptable pre-fab, designed and built by architect Caspar Schols. With a sliding inner and outer shell, the compact residence can be installed in just five days and offers a lifetime of retreats in the heart of the wilderness.
Highly Commended, most immersive brand home: Samsung KX
Samsung's commitment to physical retail deserves to be celebrated, and nowhere is more impressive than the Samsung KX space in London's Kings Cross. Occupying the upper floors of Heatherwick Studio's radically overhauled Coal Drops Yard, Samsung KX is both product showcase and event space, designed in collaboration with Brinkworth, KSS, and Portview.
Receive our daily digest of inspiration, escapism and design stories from around the world direct to your inbox
Jonathan Bell has written for Wallpaper* magazine since 1999, covering everything from architecture and transport design to books, tech and graphic design. He is now the magazine's Transport and Technology Editor. Jonathan has written and edited 15 books, including Concept Car Design, 21st Century House, and The New Modern House. He is also the host of Wallpaper's first podcast.