Kelp mates: sea greens are gastronomic gold to palate-conscious planet savers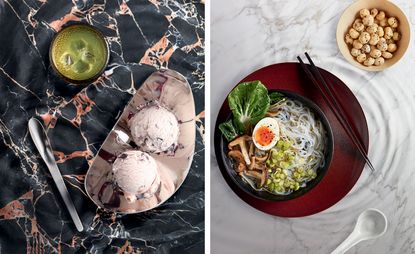 (Image credit: press)
Environmentally-minded culinary explorers are diving deep to find alternatives to our standard veg. In some cultures, seaweed is a staple, but it is currently inspiring chefs globally to find new ways to put it on plates.

Not only is the growth of sea greens sustainable, the plants are often full of vitamins, essential minerals and protein, and they can pack a briny, umami-filled punch, making them gastronomic gold to the plant-based chef.
Kelp noodles, which are gluten- and grain-free, are gaining traction in the allergy-afflicted West, while sea plants such as dulse, kombu, Irish moss and samphire are working their way into breads, salads, broths, and evendesserts (leave it to the neo-Nordics to come up with dulse ice cream, an invention of Copenhagen's Nordic Food Lab).

Pork buns are given a salty injection with seaweed at London's On the Bab, and plankton is worked into risotto at London's Boro Bistro. And, while seaweed butter is being used to season bread and potatoes, it is also worked directly into pasta at New York's High Street on Hudson, where you can enjoy seaweed bucatini served with lobster coral. Dive in.