Sustainable water bottles aiming to cap plastic waste
Our picks of the best sustainable water bottles pair aesthetics with utility for sophisticated sipping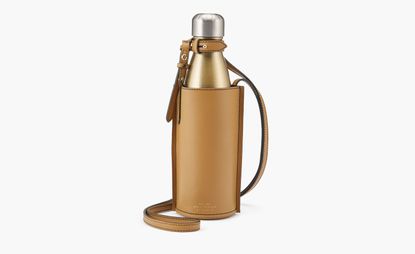 (Image credit: Smythson and S'well)
The waste plastic crisis is continuously growing, with an average of 38 million bottles piling up in landfill sites, polluting our oceans and causing widespread environmental damage each year.

Thankfully, designers worldwide are encouraging us to cut down on single-use plastic by making the sustainable water bottle stylish, innovative and eco-friendly. Additionally, with companies incorporating ethical social missions into their business models, there's no better time to invest in a bottle for life.
Gail's x Ocean Bottle
Londoners will know Gail's as a reliable spot for lunchtime sandwiches or an afternoon pastry fix. Yet from August, the bakery is looking to have an impact on more than just your appetite with a new line of sustainable water bottles.
Gail's bottles are made in collaboration with Ocean Bottle, who have become a go-to name in sustainable solutions with bottles made entirely out of plastic sourced from oceans.
From August to October this year, Gail's pledges to fund the collection of 20 ocean-bound plastic bottles for every drink bought using an Ocean Bottle. Customers can use the bottles built-in NFC smart chip and web app to track their plastic collection impact with every, transaction, find nearby plastic collection opportunities, and even find refill spots around the city.
gailsbread.co.uk (opens in new tab)
Rebo
To celebrate World Oceans Day (8 June) smart water bottle brand Rebo has partnered with adidas x Parley for a new launch.
Rebo is perhaps the most innovative sustainable water bottle out there, with a built in app that tracks how much water you drink. For 16 oz of water you go through, Rebo and its sponsors pay a plastic collection cost to the Parley Global Cleanup Network, an alliance of organizations that work to remove plastic waste from beaches, remote islands, rivers, mangroves and high seas, and intercept ocean-bound plastics in coastal communities.
Prada
Leave it to Prada to make even water bottles look cool. Launched as part of Selfridges' Project Earth initiative, the Prada Lineament Rossa bottle is crafted from stainless steel that can hold both hot and cold drinks. The bottle's detachable carabiner clip means you can attach it to your favourite handbag as an elegant and ergonomic accessory.
Pangaia
This water bottle from sustainable fashion brand Pangaia and reusable bottle company Ocean Bottle is made from 100 per cent recycled stainless-steel and 100 per cent recycled ocean-bound plastic water bottle.

Even better, Ocean Bottle works with the charity Plastic Bank to donate 20 per cent of its revenue to plastic collection and each bottle sold funds the collection of 11.4kg plastic, which is equivalent to 1000 plastic bottles in weight.
Since launching only a few years ago, Pangaia has become an innovative force in sustainable material alternatives. This water bottle proves the brand can extend its ingenuity beyond fashion designs.
Eaulab
A sustainable water bottle breakthrough, Eaulab is the company combatting tainted drinking water. Championing innovative science practices to detect and remove toxic elements such as synthetic hormones, micro-plastics and chemicals to create a bottled water solution available for all. As Eaulab's founder, Sean Moran explains: 'We created Eaulab with the belief that clean, untainted water is a human right.'
Smythson and S'well
British accessories brand Smythson has teamed up with S'well to produce an exclusive new bottle holder. When delving into the Smythson archives, creative director Luc Goidadin discovered designs for the Belvoir Beaker Set, comprising a silver-plated flask and nut-brown leather holder. Dating back to the 1920s, Goidadin wondered what form the near-century-old design would take in today's sustainably-minded age. Collaborating with S'well, this reimagined take on the classic design embodies the bottle designer's ethical ethos. Used leather is a by-product of the food industry, whilst packaging is made from at least 90 per cent recycled material. Available in classic tan and lime yellow finishes.
Coloral
New water bottle company Coloral looks to the past to drive sustainability forwards today. The brand was inspired by mid-1900s road cycling, when cyclists often used a metal 'bidon' to carry water, preserve milk- and sugar-based energy blends, and post-ride wine. Coloral has reengineered this original bottle to meet today's modern standards. The same timeless, lightweight and compact design now features brushed food-grade stainless steel and has been resized for modern bottle cages. For each one sold, Coloral will send a bike to Africa with the charity Re-Cycle, whilst one per cent of profits will go to 1% For the Planet.
LARQ
Built into the cap of LARQ's debut offering is the world's first portable water purification system, which harnesses the sterilising power of ultra-violet light to kill up to 99.9 per cent of bottle bacteria in only 60 seconds. Intelligently activating every two hours (or at the push of a button), and with a rechargeable battery life of up to two months, LARQ brings accessible water purification into the digital age. It also donates a portion of its proceeds to 1% For The Planet, a group partnering with non-profit organisations supporting schemes aiding our planet's wildlife, atmosphere, oceans, land and food industry.
Collar thermo and water bottle, by Debiasi Sandri
Back in 2016, Italian design duo Daniel Debiasi and Federico Sandri released the Collar collection, a range of Scandinavian-inspired coffee-making appliances. Fast-forward to today and the pair has teamed up with Stelton, bringing the same aesthetic to a new thermos and water bottle. Finished in matte black, it features a Teflon exterior and brass-coated lid, with stainless steel inside for temperature retention. The 0.75l thermo bottle (pictured) also comes with a handy lid-cup, handy for on-the-go coffee.
Chilly's Bottles
Chilly's founders James Butterfield and Tim Bouscarle looked to urban lifestyles when conceptualising its re-useable bottle. Engineered for desk-dwellers and gym-goers alike, Chilly's bottles are leak-proof and condensation-free, keeping drinks chilled for 24 hours and retaining heat for 12. The brand is also partnered with City to Sea, which runs campaigns to curb marine plastic pollution at its source. One such campaign is Refill, which is introducing thousands of Refill Stations across the UK to encourage a refilling culture. For every branded Chilly's bottle flying the Refill flag sold, £10 goes to City to Sea to support its continued work.
24Bottles
Conceived in Italy in 2013, 24Bottles has strong faith that 'good design can change things for the better'. It certainly lives up to this belief – partnering with reforestation community Treedom, 24Bottles is planting 1,500 trees in Cameroon, Kenya, Nepal and Italy to offset the amount of CO2 produced during its manufacturing processes. Additionally, its 500 ml Urban and Clima bottles (available in a spectrum of colours) feature the number -0.08 imprinted at the bottom – a reminder of the amount of CO2 that would be wasted buying a single-use bottle. 18/8 food grade stainless steel keeps liquids hot up to 12 hours or frosty-cool for up to 24, and is 100 per cent BPA-, phthalate -and toxin-free.
Stay Sixty
At Wallpaper* HQ, we were head over heels with Stay Sixty's clean design upon first sight. With a mission to shake up the waste plastic system, brothers Kirpal and Raj Bharaj designed their bottle to cater to the eco- and design-conscious alike. The Stay Sixty bottle (so named to highlight the average adult body consisting of 60 per cent water) is made from food-grade, BPS free stainless steel, containing up to 500ml of liquid and available in stone, coal, emerald and cobalt finishes. Its second edition additionally features a new intuitive TwistCTRL Sip Cap, which offers fast, mess-free hydration at a single turn of the cap.
S'well
Incorporating a sense of ownership into its product lineup, S'well designs desirable bottles in seasonal and limited run collections, each raising money for various causes. Past collaborators include the Breast Cancer Research Foundation, as well as a highly limited edition release with Swarovski, where 20 per cent of the profits from its crystal-embedded bottles went to (RED). Its classic bottles keep level drink temperatures (cold for 24 hours, warm for 12), and are made of vacuum insulated, high-grade 18/8 stainless steel.
Soma
Rather than designing with metals, the Soma bottle is artfully crafted from glass. Lightweight and durable, the bottle features a leak-proof bamboo cap, and is protected with the help of a soft silicone sleeve, available in a range of colourways. Looking to work in a sustainable way too, Soma follows an ethical code that aims to end the global water crisis, producing green products and packaging, while working with responsible supply chain partners.
Welly Bottle
Combining natural materials with a refreshing design, the innovative Welly bottle works both ways, as a cooler and thermos. Finished in bamboo, the bottle features double-walled vacuum insulation, which makes cold coffee and warm water a thing of the past. As well as aiding to resolve the waste plastic crisis, Welly donates $1 to clean water projects for each bottle sold, and is only just getting started on its developing (and ambitious) social mission.
Melina Keays is the entertaining director of Wallpaper*. She has been part of the brand since the magazine's launch in 1996, and is responsible for entertaining content across the print and digital platforms, and for Wallpaper's creative agency Bespoke. A native Londoner, Melina takes inspiration from the whole spectrum of art and design – including film, literature, and fashion. Her work for the brand involves curating content, writing, and creative direction – conceiving luxury interior landscapes with a focus on food, drinks, and entertaining in all its forms