Print your own mini-me at the Omote 3D photo booth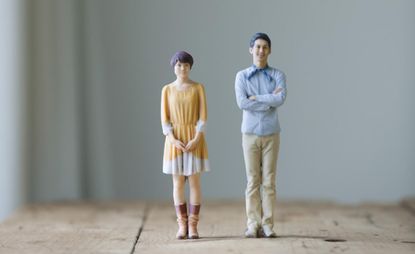 (Image credit: press)
The best designs are often the most simple. Take the latest 3-D printing technology, combine it with Japanese tradition and what do you get? A unique pop-up photo booth producing miniature human replicas.
The concept for Omote 3D Shashin Kan came from by PARTY, a 'creative lab' with studios in Tokyo and New York producing hyper-versatile advertising and entertainment projects for clients including Toyota, Sony, and Google.

'The idea came from the point where we started to think about what we could do using 3D scanners and 3D printers together,' says PARTY founder Masashi Kawamura, who was recently included in Fast Company's ranking of the '100 Most Creative People in Business'. Kawamura had a specific goal in mind. 'In Japan the Shichi-Go-San festival celebrates the healthy growth of children at three, five and seven years old. Children dress up in kimonos and families take commemorative pictures. We thought that by using modern-day technology we could literary add a new dimension by creating a new form of memorabilia.'

Kawamura's training as a programmer helped translate the idea into reality. '3D printers are becoming more accessible, with higher resolution, better colour quality and more mobile scanners. So the greatest challenge we faced was experimenting with the different 3D scanners and finding the right tools to use. We also had to work out how to adjust the 3D data to prepare it for printing. Finding the right combinations and the most efficient approach took a really long time.'

A hand-held scanner takes 15 minutes to capture a 3D image of an entire body. A 3-D printer then makes a small, full-colour plastic figurine. The downside: shiny items like jewelry and intricate patterns are difficult to reproduce. The pint-sized models (measuring 10cm, 15cm or 20cm tall) take a month to be finalised and cost 21,000 to 42,000 yen - with a small discount should you have plans for a mini-me army.

Wallpaper* caught up with the Masashi Kawamura in Tokyo to find out more about his take on technology and design.

How do you select your projects?
My expertise is in film and interactive work, but I like design projects where I'm not restricted in the mediums I can use. I like to explore different methods of communication, so I always try to think of the best idea, then the best medium to bring it to life. We love working on projects where we can experiment with ways to combine storytelling and technology. The original idea for the 3D models was there when we started PARTY last June. We wanted to use the technique to capture our opening party, but we didn't have enough time, being too busy with the start-up.

How do you see 3D technology evolving? We're thinking there is an untapped market for architects to place perfect replicas of their clients in architectural models.
We have several uses in mind, but can't tell you yet. Personally, I'd love to have a 3D model made of the Dalai Lama. I can see 3D scanning and 3D printing becoming cheaper and with even better resolution. Also, there should be more variations in size and materials in the future.

You come from a programming background but are working in highly creative fields. Explain to us the difference between the two approaches and how you reconcile them.
I actually don't think there's a huge difference between them. My mind thinks in a very logical way, almost as if I'm coding, even when I'm making a music video, for example.

You've designed books and virtual cars for children and now 3-D photography. What's next?
Right now I'm very interested in tangible/experiential stuff, thinking of ways to take social interactions out of the computer and inject them into actual spaces and products. The advancement in technology is very interesting for me - it means there are more tools I can play with. But I always warn creatives that it doesn't mean you need to use the latest technology. The important thing is to combine the right emotional story with the right technology.

If you had an unlimited budget for a single project, what would you do?
I might want to design a new country.
ADDRESS
Gyre, 5-10-1 Jingumae, Shibuya, Tokyo