In bloom: Apple stages a floral takeover of Selfridges' windows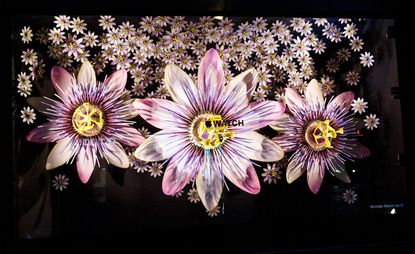 (Image credit: press)
When we first road-tested the Apple Watch in Milan earlier this year, it seemed the brand had – almost impossibly – outdone itself. But then again, Apple products seem to take a life of their own, growing in extraordinary and unexpected ways with each iteration. From today, Apple devotees in London will see this ethos realised to full effect, where the tech giant has taken over all 24 of Selfridges' iconic windows with a blossoming floral installation that brings the Apple Watch to life.

Adopting the smartwatch's UI design, the installation is made from flowers ranging from 200mm to 1.8m in height, all featuring a unique configuration of the Apple Watch – including Apple Watch Sport, Apple Watch and Apple Watch Edition.

The latest instalment follows on in a similar vein from Apple's previous displays, 'Butterflies' and 'Chromosphere', at the historic British department store. Conceived to mark the opening of Apple's store-within-a-store concept at Selfridges in April, the series draws inspiration from the Apple Watch experience by transforming its faces into creative installations.

Here, a range of blooming flowers (including yellow poppies, especially fitting for Selfridges) were photographed in stop-motion, with some flowers requiring more than 24,000 shots over 285 hours. For the windows, all eight variations of flowers have been scaled and hand-painted by artists, the sculpting process as equally painstaking and meticulous as the original photography.

The ambitious installation comprises a remarkable 24 large, 50 medium and 5,525 small flowers, plus 240 slightly larger 'small-plus' flowers, each created via different methods. For example, the large and medium flowers were crafted from cast resin, while the smaller components were 3D printed.

'We are thrilled that the flowers of the Apple Watch face have inspired such a beautiful design and to see it come to life in this amazing installation, reflected in all 24 of Selfridges' historic windows,' says Paul Deneve, Apple's vice president of special projects.

Since Selfridges first launched its window displays in 1909 (a recreation of scenes from paintings by Antoine Watteau and Jean-Honoré Fragonard), it's the first and only time all of its windows have been dedicated to one product.

Selfridges creative director Linda Hewson adds: 'Collaborating with Apple on such a large scale creative project continues our well-established tradition of inviting outstanding designers with a unique point of view to curate displays within our stores.'

In many ways, the blooming installation could not be a more fitting tribute to Apple's game-changing product; from something small, great beauty grows.
ADDRESS
Selfridges
400 Oxford Street
Marylebone
London W1U 1A