Dream machines: Japanese robots mirror human behaviour in London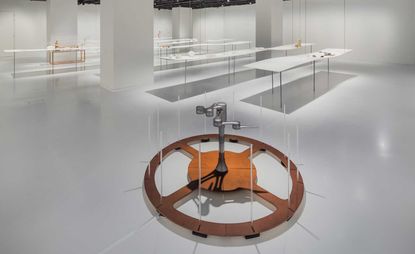 (Image credit: Jeremie Souteyrat)
'Prototyping in Tokyo' – a new exhibition at Japan House London – aims to 'illustrate design-led innovation', by reaching beneath the surface of often terrifyingly futuristic products, uncovering their hidden workings. The idea is, through interacting with these designs, we will come to understand their potential to act as a link between cutting-edge technology, us mere mortals, and society at large; more vividly than if they were buttoned up in their finished forms.

The exhibition is the brainchild of Japanese industrial designer and engineer Shunji Yamanaka, who approaches the intricate world of robotics with the eye of an artist. 'Prototyping in Tokyo' explores some of his most visually impressive and fascinating designs in prototype form, from bio-likeness robots to additively manufactured animals.
Skeletal Automaton: Archer on a Boat.

Of particular note, and embodying Yamanaka's mission 'to find common ground between science and beauty', is his Japanese automaton, (karakuri ningyo), which fuses traditional Japanese craftsmanship with ingenious engineering. Such automata have long fascinated observers by the way they can perform continuous movements using only the built-in mechanisms. Machinery is usually concealed beneath the doll's clothes, but Yamanaka and his team wanted to expose the interior intricacies, thus revealing how the automaton actually works. They commissioned Tamaya Shobei IX, a ninth-generation master craftsman, to create the 'Young Archer' automaton (pictured above) which wears no costume and, appropriately, a beautifully blank carved face. The archer plucks an arrow out of the quiver, notches it to the bow, and shoots with skeletal simplicity – and we can see every automatic, dancerly, move it makes.

Throughout, as well as looking inside robots, the robots help us look inside ourselves; a reflection of Yamanaka's work and interest in creating lifelike mechanical forms. Take the Parametic Tube, which, through additive manufacturing, mimics a smooth, human respiratory movement. Or the robot 'Apostroph', which explores the fundamental behaviour of standing, by using gravity to find equilibrium. Elsewhere, a rather eerie looking 'Cyclops' – a fragile stack of exposed vertebrae and flexible tubing – quietly stands and observes humans as they walk past (through a visual and infrared motion tracking system).
Rami – Additively manufactured running-specific prosthetics.

The ability of these robotics to stretch beyond the exhibition, and make a difference in the world, is addressed in the range of running prosthetics on display, like the additively manufactured ones pictured above, which are tailor-made for long jumper Takakuwa Saki. In the future, Yamanaka intends to establish a universal method of producing products unique to each human body.

Thoughout, the exhibition teeters between the abstract and the practical, yet each design has a common language. 'When I design products for the market or prototypes for research, I don't intentionally draw on Japanese aesthetics for inspiration. However, outside Japan, my works are often described as resembling "Japanese style",' Yamanaka explains. 'An art director from France once told me that the attitude of cherishing a basic element and adding nothing conveys the sense of Japan. An architect from Italy said that my design is minimal and rich, and that that is "Japanese style". A professor from the USA described his understanding of "Japanese style" to me as the fusion of organic and machine-made. I look forward to seeing how people in the UK feel about my works.'
INFORMATION
'Prototyping in Tokyo: Illustrating design-led innovation' is at Japan House London until 17 March. For more information, visit the Japan House website
ADDRESS
Japan House London
101-111 Kensington High Street
London, W8 5SA
Elly Parsons is the Digital Editor of Wallpaper*, where she oversees Wallpaper.com and its social platforms. She has been with the brand since 2015 in various roles, spending time as digital writer – specialising in art, technology and contemporary culture – and as deputy digital editor. She was shortlisted for a PPA Award in 2017, has written extensively for many publications, and has contributed to three books. She is a guest lecturer in digital journalism at Goldsmiths University, London, where she also holds a masters degree in creative writing. Now, her main areas of expertise include content strategy, audience engagement, and social media.