Kosho Ito and Kibisi's smart hybrid embraces traditional Japanese craft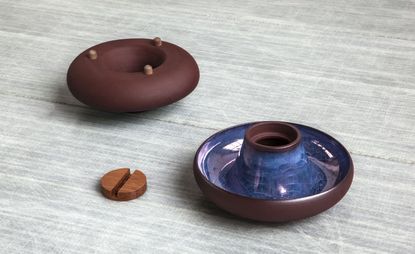 (Image credit: KiBiSi & Kosho)
Japan and Denmark are two countries with a lot in common. Although different in terms of culture and location, their design sensibilities align in their minimalistic and holistic qualities. Freshly launched, a new collaboration brings these two regions is the 'Oto' ceramic analog speaker for smartphones.

The effortless piece by Danish design studio KiBiSi and Japanese ceramics artist Kosho Ito celebrates traditional craft from the Eastern region. Curated by renowned architect Kengo Kuma, the collaboration was originally conceived for the East Japan Project in response to the earthquake and tsunami that devastated the country in 2011. The natural disaster has had a negative impact on ceramic craft, and Kuma sought to revive the art form by giving it a modern spin.
'It is an object where tradition meets the contemporary,' explains Jens Martin Skibsted, creative director at KiBiSi. 'Said plainly, it's an odd encounter of high and low tech.' The handmade piece serves as an elegant and ornamental dock for your smartphone, and also amplifies the sound coming from within, making use of the natural acoustic qualities of the Japanese walnut wood.

Available in an array of colours from Matcha Green to Sumi Black, the 'Oto' enhances sound without using any electricity; it's a smart, sophisticated 'Dano-Japanese/Nippo-Danish' hybrid, as Skibsted calls it.
INFORMATION
For more information, visit the KiBiSi website (opens in new tab)