Makerversity is 3D printing vital PPE for the NHS
Heroes charity and design researcher Nate Petre team up to make PPE for frontline NHS staff, direct from London tech hub Makerversity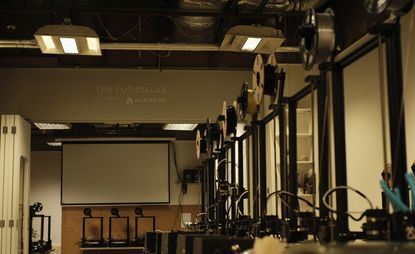 (Image credit: press)
Under normal circumstances Nate Petre might be thinking about his surfboards. Three years ago Petre, a researcher at Imperial College's Dyson School of Design Engineering specialising in Digital Disruptive Manufacturing, and backed by funding from Nasa, developed the world's first fully compostable 3D-printed surfboard. Since then he has also developed ways to print boards from beach and marine plastic.

Circumstances are far from normal though and Petre has not been thinking about surfboards. He spent the second half of last year bouncing between Jamaica, Uganda and Senegal looking at how small communities could use 3D printers to create everything from water pumps to prosthetic limbs. He returned to the UK in January and quickly understood that the application of Digital Disruptive Manufacturing, essentially micro-manufacturing using 3D printer 'farms', had a new urgency.

The Covid-19 outbreak was forcing many Chinese cities into lockdown. 'The world was about to get hit by this overwhelming force,' Petre says. 'Supply chains were going to be stretched thin. And the one place we rely on so heavily for manufacturing was about to be locked out of the equation.'
By the time the outbreak was overwhelming northern Italy, Petre could see that the effective supply of personal protective equipment for health and social care workers was critical. And he was convinced that 3D printing could become a vital, and more responsive and sustainable, part of the supply lines.

Most PPE is single use and an ICU can get through 30-40 sets of PPE per patient per day, creating huge amounts of waste to be burned or go into landfill. Printed PPE could be produced using bio-materials and ultimately, where possible, re-usable materials. The design of masks and visors produced could also be rapidly refined, with tests 'in the field', making them more comfortable than those currently being used.
A Twitter post led to a connection with Dr Dominic Pimenta, a cardiologist and author working at an intensive care unit in North London. Pimenta is also the founder of the Heroes charity which raises funds to support frontline National Health Service staff.

Pimenta was warning about the shortage of PPE, especially protective visors. Petre said he could help. Pimenta quickly found funds to buy 50 3D printers with another ten donated by the printer manufacturer Farnell. 'As we try and keep up with the effect of the virus, supplies are in demand and there is a need for sustainable solutions,' says Pimenta. 'For Heroes it was a no-brainer to be involved. Supporting the NHS frontline with immediacy and impact is why we exist. I am able to test products on the ground, giving us the opportunity to be agile and evolve with the virus each day.'
Petre now had to find somewhere to put the printers and get them to work. He turned to Makerversity, the creative tech hub based in London's Somerset House. Established in 2013, Makerversity pulls together and supports product and fashion designers, materials researchers, coders, design engineers and more. 'Nate knocked on our door and said I think we can do something very meaningful,' says Makerversity CEO Fiona Dent, 'and we said, totally, let's do it'.

Makerversity offered Petre a place to set up his 3D printer farm and a workshop team to keep it running and productive. But it also offered a (now remote) resource of design and engineering talent that Petre could plug into. 'There was just this pool of peers who I could turn to for help and advice and expertise in so many areas. Thank god for Slack and Zoom,' he says.

For now Petre and the Makerversity team are concentrating on producing visors, based on an approved open source design and using bio-plastic filament and are washable with the medical disinfectant chlorhexidine. The 'farm' is already producing 1,000 visors a day and the team are hoping to quickly ramp that up to 1,700 a day. Another 100 printers should arrive soon.

And while most of the printers are churning out visor parts to the open source design, Petre and the team are keeping a few aside to test out design tweaks and revisions, cross-pollinating on Autodesk. New designs are quickly dispatched to Pimenta for trial runs and feedback.
Petre is also about to take delivery of thousands of sheets of ocean plastic from the Dominican Republic, part of a deal with his friends and past collaborators Parley for the Oceans. Some of the visors produced at Makerversity will then make their way back to the Dominican Republic. 'We're trying to make this as much of a full circle as possible. And using as intelligent a material as we possibly can, versus something that is just as cheap and disposable as possible,' says Petre.

More local distribution is being handled by Shield (Sustainable Hub for Innovation, Execution, Launch & Distribution), a newly-formed umbrella organisation for independent producers of PPE in the UK. Meanwhile Petre is feeding the Makerversity team's ideas, innovations and findings back out to what is now an international community of resourceful 'pro-am' PPE printers. 'If you hide it nobody wins.
INFORMATION
makerversity.org (opens in new tab)
shieldproject.org (opens in new tab)
helpthemhelpus.co.uk (opens in new tab)