Muscle suits, Bitcoin miners and artificial leaves descend on the V&A in a technology takeover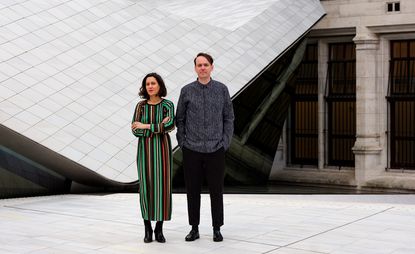 (Image credit: Max Creasy)
London's V&A Museum is engaging in a spot of reverse archaeology. For its latest exhibition, 'The Future Starts Here', it has scoured labs the world over – from Silicon Valley giants to Scottish start-ups – to collate more than 100 objects that point the way ahead.

Filled with prototypes, ongoing experiments and finished products, the exhibition avoids sci-fi fantasy and shaky speculations and is thoroughly grounded in 'the real', explain curators Mariana Pestana and Rory Hyde. With the input of expert advisors, they have assembled a collection of objects, from personal-use satellites to home DNA labs, that promise to change the mechanics of everyday life. And soon.

Tech titans such as Apple and Google are here in numbers, alongside a catalogue of smaller crowdfunded projects that have a chance of becoming Google-sized tomorrow. 'The exhibition doesn't aim to position good technology against bad, or big against small – all of it is exciting,' says Pestana. 'Contemporary technology spans the human and the interplanetary – and we want to represent all increments of it.'

By presenting new developments in their infancy, the exhibition hopes to demystify the future, not cower from it. It's what the V&A has been doing since its inception – its original collection was formed of the cutting-edge products of the Industrial Revolution, first displayed at the 1851 Great Exhibition. Now, we've come full circle; the age of technology fizzes around us. Here is our pick of eight objects displayed in the exhibition that outline the shape of things to come.
DIY Bitcoin Miner, by Raspberry Pi, Adafruit and GekkoScience
Technology is developing its own new, improvised and sometimes awkward design language, and this is one of the 'rawest' objects in the exhibition. 'It's more or less an exposed, cobbled-together circuit board,' explains Hyde. 'There's been almost no consideration for its aesthetic. Precisely because of that, it somehow ends up being extremely beautiful.'

The robot-shaped creation was assembled for the V&A out of elements easily available on the internet, including a Raspberry Pi 3 miniature computer and GekkoScience USB miners, and programmed to earn Bitcoins (although, due to its modest size, the amount is likely to be negligible), a digital currency issued via peer-to-peer networks on completion of complex maths problems. Invented in 2009 by the mysterious Satoshi Nakamoto, the cryptocurrency is now the subject of scepticism and hype in equal measure, and has become the de facto currency of the Dark Web.
DIY Bitcoin Miner, comprising a Raspberry Pi 3; 32GB SD card; Adafruit Pi B+ case; Adafruit RGB 16x2 LCD + keypad kit; and GekkoScience Compac USB miners
Eternal 5D Data Storage, by University of Southampton
No larger than a coin, this deceptively robust nanostructured disc can store around 360 terabytes of data for up to 13.8 billion years, even when exposed to temperatures of up to 1,000°C.

Developed by the University of Southampton's Optoelectronics Research Centre, the technology can be used to create digital copies of major cultural artefacts and documents – such as the Universal Declaration of Human Rights, pictured here. Content is added using ultrafast laser writing, and the glass discs can be read by combining an optical microscope with a polariser.

In an exhibition centred on what comes next, the discs remind us of the past's importance, preserving evidence of our civilisation for future generations. And, just as a diamond is highly organised compressed carbon, the discs compress data into a digital gem – they are the precious stones of the technological age.

southampton.ac.uk
Geological Epoch Marker, by International Commission of Stratigraphy
Orthodox geological thinking suggests we are in the Holocene epoch and have been for the last 11,000 years or so. However, a growing number of scientists suggest we need a new geological marker and talk about the Anthropocene, or the 'age of humans'.

Since the 1970s, the International Commission on Stratigraphy has been recognising important geological moments past with so-called 'golden spikes' (or Global Boundary Stratotype Section and Points), which may be embedded in rock strata at symbolic spots around the world to mark one epoch shifting to the next.

There are now more than 60 spikes dotted across the earth, but where we will mark the Anthropocene era is still up for debate. One suggestion is to place it by a tree on Campbell Island in the Southern Ocean, which records in its wood a radioactive trace from the A-bomb tests of the 1950s. Wherever it is placed, the marker will reflect the 'Great Acceleration', when human impact on the planet intensified and went global and irreversible.

As well as being a symbol of passing geological ages, the spikes are also a sign of 'important international scientific cooperation', says Stanley Finney, secretary general of the International Union of Geological Sciences. The decision where each spike should sit is a complex, hotly debated matter, often put to a vote by an international panel.

stratigraphy.org
DNA Testing Kit, by Bento Bio
A symbol of democratised biology, Bento Lab allows anyone to experiment with DNA analysis, without expensive software or specialist knowledge. Perfect for field scientists, students, or anyone who wants to test their lactose intolerance at home or identify genetically modified organisms in their food, it is even being used by a brewer seeking to understand the genetic make-up of beer.

The testing kit was developed by Bento Bio in a tiny studio tucked away in Makerversity, a warren of creative spaces in London's Somerset House.

The start-up got its big break in 2016, hitting its crowdfunding target in just one day. Without Kickstarter, 'fringe tech projects like this might not be able to happen,' explains Bento Bio co-founder, Philipp Boeing.

£999, by Bento Bio, bento.bio
Artificial Leaf, by Julian Melchiorri
Just like natural leaves, this delicate artificial version made of silk protein absorbs carbon dioxide and produces oxygen, offering a potential solution to climate change. Its creator, Julian Melchiorri – the V&A's first engineer in residence – looked into our natural environments to help find a way to preserve them. 'When nature has already found a solution, in use for billions of years, there's no need to reinvent the wheel technologically,' he says.

The leaf's inclusion in the exhibition aims to promote ethical debate: just because we can recreate nature, should we? Meanwhile, Melchiorri is not stopping at folioles – he's currently on a mission to make a bionic tree.

julianmelchiorri.com
Personal Satellite, by Clyde Space
Space exploration is no longer defined only by NASA and Hollywood. Private space fleets are launching across the globe – including from Glasgow, a city with strong engineering schools and a haven for 'new space' firms such as Clyde Space.

The company produces CubeSats, small open-source satellites that allow individuals, institutions and private companies to conduct research in space for a fraction of the cost of a full satellite. Weighing around 1.4kg each, CubeSats can be customized to host sensors, cameras, solar panels or propulsion units. Similar models have been used to search for new planets, detect earthquakes and demonstrate the use of solar sails.

clyde.space
Powered Clothing, by Yves Béhar and Seismic
If the Bitcoin Miner represents undesigned, raw technology, Seismic's super suit lies at the other end of the aesthetic spectrum, encasing futuristic tech inside familiar shells. 'For me, the future of wearable tech, robots and smart environments lies in how technology is in the background, a non-interruptive experience in the flow of our life,' says Yves Béhar, who designed the suit in collaboration with new specialist company Seismic. 'The suit represents how technology should be worn rather than displayed, and integrated into our everyday lives in ways that are discreet and personal.'

Made from lightweight and flexible material, and intended to be worn under everyday clothes, the 'Aura' powered clothing is 'an early conceptual design of an electronic exoskeleton', explains Rich Mahoney, CEO of Seismic. Marketed towards an older audience, it is integrated with sensors that react to the body's movements, offering extended muscle power to the wearer, assisting with actions such as getting up, staying upright or sitting down.

'Since this initial concept, Seismic has progressed significantly with both the technical development and design,' adds Mahoney; expect the new-look suits to be on the market later this year.

myseismic.com
3D-Printed Prosthetic Hand, by Refugee Open Ware
Established in 2015, Refugee Open Ware (ROW) aims to encourage innovation in conflict-torn countries, and provide the tools, training and skills to teach displaced people how to digitally fabricate the things they need. One of its many endeavours is to invest in businesses that 3D-print prosthetic limbs cheaply and effectively.

This model is a replica of a prosthetic hand co-designed with a six-year-old Yemeni refugee, who was badly burned in a house fire. 'Prosthetic devices are highly personal. Additive manufacturing simply allows a new medium for the creator to expand the intimate relationship between user and device,' explains Adam Arabian, associate professor of engineering at Seattle Pacific University, who worked on the design. 'This object represents the ability of a global community to convene and solve challenging – and often very unique – problems.'

After extensive interviews with the child, the ROW team 3D-printed a prosthetic hand in ABS plastic, customising a Flexy-Hand by British mechanical design specialist Gyrobot with branding from the child's favourite television show.

row3d.org

As originally featured in the June 2018 issue of Wallpaper* (W*231)
INFORMATION
'The Future Starts Here' is on view from 12 May - 4 November. For more information, visit the Victoria & Albert Museum website
ADDRESS
Victoria & Albert Museum
Cromwell Road, Knightsbridge
London SW7 2RL
Receive our daily digest of inspiration, escapism and design stories from around the world direct to your inbox
Elly Parsons is the Digital Editor of Wallpaper*, where she oversees Wallpaper.com and its social platforms. She has been with the brand since 2015 in various roles, spending time as digital writer – specialising in art, technology and contemporary culture – and as deputy digital editor. She was shortlisted for a PPA Award in 2017, has written extensively for many publications, and has contributed to three books. She is a guest lecturer in digital journalism at Goldsmiths University, London, where she also holds a masters degree in creative writing. Now, her main areas of expertise include content strategy, audience engagement, and social media.