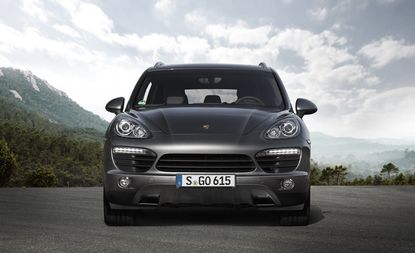 (Image credit: TBC)
The Porsche Cayenne (opens in new tab) is something of an anomaly. As a piece of design, it's regarded by many sports car aficionados as aberration, a heretical spike in Porsche's graceful line of noble performance-focused products. As a business case, it's a total triumph, a global success that has effectively doubled the firm's output since it debuted in 2002. Suddenly owning a Porsche was no longer about squeezing into a sports car; it was about getting behind the wheel of a full-size 4x4, as capable of churning up a muddy field as it was baiting BMWs on the autobahn.

With the Cayenne came other technologies that had been long absent or hitherto unheard of in Stuttgart's engineering labs: a V8 engine, hybrid power, diesel power, and stop-start functions, among others. The SUVs' success surely bolstered the development of the four-door Panamera super saloon and paved the way for the soon-to-be-unveiled Macan (opens in new tab), a smaller crossover SUV that could conceivably take the company to annual sales of over 200,000. In 2001, the last year before the Cayenne burst onto the balance sheet, annual sales were just over 54,000 and falling.

So a car for bean counters and admirers of thorough engineering, but is the Cayenne sufficiently swift enough to enjoy as a sports car? The generation 2 Cayenne now has a 'Diesel S' model, a twin turbo-charged V8 that provides walloping torque with acceptable fuel economy, thanks in part to a seamless and discrete stop-start system. SUVs are a natural fit for today's high performance diesel engines; engine technology has advanced in staggering leaps in the past few decades to the point that this two-tonne plus machine easily outperforms most equivalent sports cars - even supercars - from an earlier era.

Engage Sport Mode, plant your foot to the floor and the Cayenne S grabs the horizon and drags it towards you with indecent rapidity. Therein lies a small problem. Such is the size of this car that unless one's road manners are utterly impeccable it tends to stand out. A swift overtaking manoeuvre becomes a piece of screaming aggression, whereas any traffic light braggadocio will only induce mild contempt from your fellow motorists.

As we've said before, such is the strength of Porsche's brand and experience that these self-conscious concerns tend to melt away once you're behind the steering wheel. It's a great place to sit - ergonomically effective, comfortable and beautifully made, with all controls falling to hand and nothing out of place. The presence of a 'Max a/c' button - which instantly switches the system to its full-on icy extremes - betrays the Cayenne's target market, the Middle East and West coast USA. If you can stomach the inherent contradictions, the Cayenne is a worthy opponent to a Range Rover Sport; it's all about which company's heritage you're most attracted to.
Jonathan Bell has written for Wallpaper* magazine since 1999, covering everything from architecture and transport design to books, tech and graphic design. He is now the magazine's Transport and Technology Editor. Jonathan has written and edited 15 books, including Concept Car Design, 21st Century House, and The New Modern House. He is also the host of Wallpaper's first podcast.