Ketel One continues its artful collaboration with the Sarabande Foundation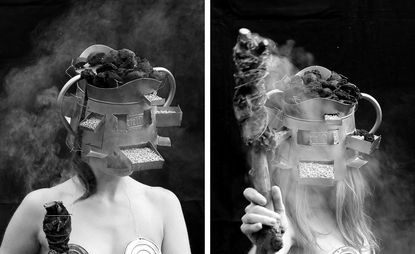 (Image credit: Press)
In the slim corridor between studios in the Sarabande Foundation, creative minds bump into one another like paint onto canvas. A taxidermist works next to a silversmith, who is shoulder to shoulder with a designer of artificial limbs. This riotously creative environment was established by the late Lee Alexander McQueen before his death in 2007 as a charitable trust that provides residencies and studio spaces for exceptional artists, designers and makers. It's here that the two Ketel One Artists in Residence help each other navigate through a tricky commission, to create work based on the premium Dutch vodka brand, Ketel One.

What a vodka brand has in common with the London art foundation might seem tenuous at first glance, but the two institutions share a founding partnership with roots that go deeper than most, as the recent, progressive Ketel One Artist Commission collaboration between the two institutions attests.

Setting out to strengthen and build the partnership with Sarabande, Ketel One asked two Sarabande artists to create new series of works based on a trip the artists took to Ketel One's Nolet Distillery in Schiedam (near Rotterdam), earlier this year. German-born fine artist Jasmin Reif (who goes by Judas Companion) has a strong leaning towards the creative politics of fashion, and handcrafts all the props and masks used in the self-portrait photography that lines the walls of her Sarabande studio. From the Netherlands, Hendrickje Schimmel, (better known by her moniker Tenant of Culture) builds multi-layered textile installations from once-worn items of clothing. Both artists' work is invested in Sarabande and Ketel One's shared principles of creativity, sustainability, community and craft.

The Nolet Distillery, with its adjoining history museum, canal-side art gallery and rooftop bar, is a burgeoning creative hub as well as a commercial one, that, at least in spirit, channels the art-covered walls of London's Sarabande studios. In addition, its emphasis on handcraft mixed with high tech production aligns with Sarabande's broad and contemporary vision. Hand-fired, copper pot stills (including the eponymous Pot Still Number 1) are used harmoniously alongside state-of-the-art bottling and packaging machinery, all in the shadow of a historic-looking windmill, authentic in every detail, but built by the Nolet family in 2005.
The windmill is an example of Dutch engineering re-imagined by the Nolets to generate green energy – modern and progressive thinking emerging from tradition and heritage. This is typical of the way Ketel One Vodka operates. With ten generations of Nolet family distilling expertise, the brand was built on one-to-one conversations with the bartending community.

In response to what she discovered at the distillery complex, Reif created a series of knitted masks. Through humour and surrealism, the resulting series 'A Face in Me' makes use of various disposable pieces of fabric, wool, fur, leather, plastic and paper; materials which are mostly donated, found or collected. Making this project Ketel One-specific, she used traditional copper jugs from the Nolet Distillery, crafting them into haunting, armor-like helmets that the artist wears, and photographs as portraits. She worked without heating and lit by candlelight to emulate the environments of 'Old Masters' paintings, and with her recycled materials, tackles issues surrounding waste.
For her Ketel One Artist Commission, Tenant Of Culture was drawn to a vital garment used every day at the Nolet family distillery – the glove. The artist acquired a pre-worn glove used by the distillery workers daily to stoke the fires of Distilleerketel #1 (the original Ketel One). Worn and stained, the gloves were spliced and preserved in a painting before being displayed on a metal frame – a nod to the vast working structures found within the distillery. To most, these tired gloves may have seemed ready to be discarded, but to Tenant Of Culture, they presented the opportunity to communicate the 'craftsmanship and passion' it takes to create the vodka.

This new collaboration follows a string of successful projects between the vodka brand and Sarabande, including the Ketel One-commissioned Tord Boontje copper bar installation, housed in the Foundation's east London headquarters. By commissioning two Sarabande residents directly, for the first time, Ketel One is providing more intimate and creative support than ever before – a fitting tribute to Lee Alexander McQueen's commitment to absorbing diverse creative influences and applying them in new and exciting ways.
INFORMATION
For more information, visit the Ketel One website and the Sarabande Foundation website
Elly Parsons is the Digital Editor of Wallpaper*, where she oversees Wallpaper.com and its social platforms. She has been with the brand since 2015 in various roles, spending time as digital writer – specialising in art, technology and contemporary culture – and as deputy digital editor. She was shortlisted for a PPA Award in 2017, has written extensively for many publications, and has contributed to three books. She is a guest lecturer in digital journalism at Goldsmiths University, London, where she also holds a masters degree in creative writing. Now, her main areas of expertise include content strategy, audience engagement, and social media.