The new cycle revolution: Buzzbike launches free bicycle scheme in London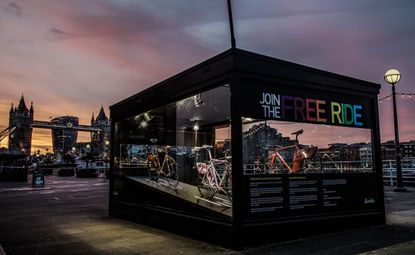 (Image credit: Buzzbike)
If ever there was any doubt that bikes are big business, London's latest launch – Buzzbike – is here to set the record straight; and start a new, free cycling revolution in motion. Launching at the Design Museum today (1 June), the innovative business breaks the mould of 'pay-as-you-go' bicycle rentals as we know them by offering Londoners a free ride.

The single speed cycle is made by Cooper, the inventors behind the iconic Mini. Buzzbike has enlisted the creative flair of Eley Kishimoto, Universal Everything, Smithtown and illustrator Jean Jullien to decorate the new wheels, now exhibited in a vast tank on the bank of the Thames outside the Design Museum.

You'd be forgiven for wondering what the catch is. But that's what makes it all so innovative: there isn't one. There is a £100 deposit, and you have to agree to cycle to work 12 days a month and park your bike on street level, but they seem easy enough commitments to keep. As well as the bike you get all the necessary accoutrements required, including lights and a Hiplok DX lock courtesy of Brooks, the official kit partner. (Insurance and servicing are also covered.)

'The word cycle represents many things for me,' explains French illustrator Jean Jullien. 'The cycle of life, recycling, cycling. It's a motion, a symbolical movement that is pretty perfectly summed up (formally) by the round shape of the bike wheel. There is a nice visual echo to its meaning.'

Lending his comic genius to the saddle, Jullien's amusing cartoons create a tongue-in-cheek print of various characters at the wheel. Smithtown have dipped theirs in copper, emblazoned with their mantra 'first thought, best thought' on the top tube, while patron saints of print Eley Kishimoto's graphic 'flash' design adds an electric energy to proceedings. Last but not least, Universal Everything's bicycle contains secret luminous messages.

But all that still doesn't explain how the scheme remains financially viable. And therein lies the rub. Buzzbike aims to create a creative platform for brands, powered by you. 'Your bike parked on the streets of central London gives brands unique exposure in places it's hard to be seen, while doing something good for the city,' the company explains.

That's not to say you get a free ride for having an ad on your bike. Riders are encouraged (read: incentivised) to participate in events and social media campaigns, thereby creating 'an active community of brand ambassadors'. An app (what modern appliance doesn't link up with phones these days?) tracks your progress, too.

Overall, it seems a small price to pay for a beautiful bike.
INFORMATION
The installation at the Design Museum Tank is on view until 14 June. For more information visit the Design Museum website (opens in new tab) or the Buzzbike website (opens in new tab)
ADDRESS
Design Museum
28 Shad Thames
London, SE1 2YD
VIEW GOOGLE MAPS (opens in new tab)