Bunnahabhain discovers casks of 40-year-old whisky in its Islay distillery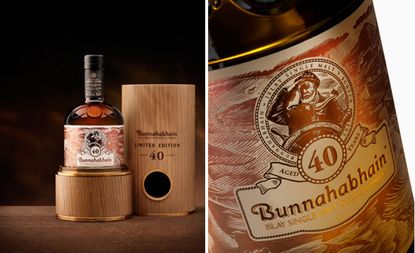 (Image credit: press)
We've got a buried treasure story for you, complete with a windswept island setting, and casks of rare, golden whisky.
Bunnahabhain distillery (opens in new tab), founded in 1881, sits on the north-east shore of Islay, the southernmost of the Hebridean islands, off the west coast of Scotland. This remote location, with its cold sea air and pure spring water, is key to the unique character of Bunnahabain whisky, which also holds the distinction of being the only 'non-peated' Islay single malt. Its taste is quite different from the others; smooth and subtle, it is known as the 'gentle taste of Islay.'
The hero of our Scottish tale is Ian Macmillan, Bunnahabhain's esteemed master distiller, with over 30 years experience under his kilt. Perusing the ancient whisky ledgers, he happened upon an entry that referred to casks laid down four decades ago. Immediately realising its significance, and with mounting excitement, he followed the trail to the cavernous Bunnahabhain storerooms, and discovered the 'Turney' casks, filled with precious malt whisky by eminent Glasgow wine merchants, J G Turney, and known for being the highest standard of quality. They had remained hidden, quietly maturing, for over 40 years.
The exhilaration of this incredible discovery was fully justified upon sampling the whisky, for the years had treated it well. The taste is magnificent and unique, with fragrant notes of sweet oak, hazelnut, citrus, and chocolate, finishing with just a hint of sea salt that places you at Bunnahabhain's island home.
Even by Bunnhabhains's rareified standards, this was a very special find; pure gold (literally) to international collectors of rare malts. The distillery has announced it will release a one-off prestige bottling of only 750 individually numbered and hand-signed bottles, presented in a bespoke oak box. Renowned illustrator Iain McIntosh (opens in new tab) was commissioned to design the beautiful label that commemorates this extraordinary event, and tells the story of Bunnahabhain 40 Year Old, with its 750 happy endings.
Melina Keays is the entertaining director of Wallpaper*. She has been part of the brand since the magazine's launch in 1996, and is responsible for entertaining content across the print and digital platforms, and for Wallpaper's creative agency Bespoke. A native Londoner, Melina takes inspiration from the whole spectrum of art and design – including film, literature, and fashion. Her work for the brand involves curating content, writing, and creative direction – conceiving luxury interior landscapes with a focus on food, drinks, and entertaining in all its forms