Viktor&Rolf celebrates its 25th anniversary in a new Rotterdam retrospective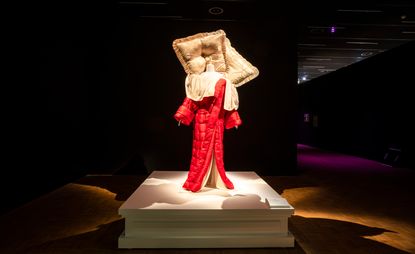 (Image credit: Team Peter Stigter)
Wallpaper* Newsletter
Receive our daily digest of inspiration, escapism and design stories from around the world direct to your inbox
Thank you for signing up to Wallpaper. You will receive a verification email shortly.
There was a problem. Please refresh the page and try again.
'Viktor&Rolf: Fashion Artists 25 Years' has opened at the Kunsthal Rotterdam, the second destination of the celebratory retrospective of the Dutch fashion house's silver anniversary.

Viktor Horsting and Rolf Snoeren, who were both born in 1969, started their professional life together in Paris after graduating from the Arnhem Academy of Art and Design in 1992. Right from the beginning, their approach to fashion was unconventional. In their eyes, fashion is an art form and the medium for displaying it is the body. They were changing the rules, and their cerebral and witty take on haute couture was to bring them wide acclaim.

The exhibition explores the radical ideas and elements that make Viktor&Rolf's designs unique in the contemporary fashion world. 'With this exhibition we want to present our notion of wearable art. It showcases a selection of our work as Fashion Artists – highlighting the most iconic, sculptural and bold looks,' says the duo, 'we hope the visitors will feel engaged on many levels. We strive to make work that is complex, not one-dimensional. The exhibition invites the viewer into our universe and we hope it will make them feel moved and inspired.'

Occupying five galleries in the museum, each of which represents a different universe, the exhibition features more than 60 haute couture pieces and stage costumes, including the pairs' debut collection, which they presented at the Hyères Festival on the Côte d'Azur, and the latest collections, such as the 'Boulevard of Broken Dreams' and 'Action Dolls'; one gallery is dedicated to the original sketches of the designers' past 25 years of creation.

The next 25 years, in their words, will be about 'couture; our collections of wedding and evening dresses; our 'Tulle' collection; Viktor&Rolf glasses; a hotel; our portfolio of fragrances… there's a lot going on, but on our own terms.'
Wallpaper* spoke with the exhibition curator, the Canadian Thierry-Maxime Loriot (who also curated one of the most popular fashion exhibitions in recent history, 'The Fashion World of Jean Paul Gaultier: From the Sidewalk to the Catwalk'), about the exhibition and the influences of Viktor&Rolf on both the Dutch and the international fashion scene.

Wallpaper*: What is the concept of the exhibition? How is it different from the exhibitions that we have seen of V&F before?
Thierry-Maxime Loriot: This exhibition shows you that they work in the opposite way to other fashion designers; they really are fashion artists. They start with the idea of how the show will be presented and develop the collection around it. They have very strong themes, from rebellion to romanticism and more. It is not about trends or fashion; it is about pushing ideas and not being worried about the social commentary. It is a new art form they invented and lead. The Russian Doll collection and Zen Garden collection make you understand how they created new dimensions in art and fashion and the art of performing fashion.

W*: In your opinion, what does Viktor&Rolf stand for in the Dutch as well as the international contemporary fashion scene?
TL: Contemporary fashion in the Netherlands was almost non-existent before Viktor&Rolf. They are the ones who opened the door to fashion in the Netherlands and were the first to gain international recognition. They changed the rules of fashion on how it should be perceived, presented and understood. It is important historically to understand how Viktor&Rolf have invented a new way to present fashion and have also reinvented the fashion system. The title of the exhibition is 'Fashion Artists'. Visitors will understand how the pair is in their own category as artists, using fashion as their medium, and how they have made way for a whole generation of young designers who could have not existed without them.

W*: What are the highlights of the exhibition? What kind of experiences and messages do you want to give the visitors?
TL: The selection is incredible; it is a 'best of', everything I could have wished, and more, like the Madonna clown costumes they designed (for her Miami Art Basel fundraising concert at the Faena Forum designed by OMA in 2016).I love to work with living artists; it is very interesting as a curator to have an exchange with them about their visions of their work and to interpret them with a story. It is very rare now in the fashion industry and in the arts world to have a long career and to still be as relevant today. Viktor&Rolf is now part of fashion history, just like Dior and Chanel. The pair are a national treasure to the Netherlands as they really put the country on the fashion map and proved that you can use clothing as a medium to express yourself and still be successful,.

W*: What is the importance of this exhibition for you, personally?
TL: We had never met before this exhibition. One evening I was at a small Japanese restaurant in Paris and the woman at the bar who knew what I do told me Viktor and Rolf were in the restaurant. I just went up to introduce myself and said we should do something together. They were like 'Yes, when?' and I said 'What about right now?' This is one of the easiest and funniest projects I have ever done. Even though there are two of them, they think and speak as one. It is important to have museums like Kunsthal Rotterdam and the National Gallery of Victoria in Melbourne (the first destination of the exhibition), who support artists in unique categories.
INFORMATION
'Viktor&Rolf: Fashion Artists 25 Years' is on view until 30 September. For more information, visit the Kunsthal Museum website
ADDRESS
Kunsthal Museum
Westzeedijk 341
3015 AA Rotterdam
The Netherlands
Receive our daily digest of inspiration, escapism and design stories from around the world direct to your inbox
Yoko Choy is the China editor at Wallpaper* magazine, where she has contributed for over a decade. Her work has also been featured in numerous Chinese and international publications. As a creative and communications consultant, Yoko has worked with renowned institutions such as Art Basel and Beijing Design Week, as well as brands such as Hermès and Assouline. With dual bases in Hong Kong and Amsterdam, Yoko is an active participant in design awards judging panels and conferences, where she shares her mission of promoting cross-cultural exchange and translating insights from both the Eastern and Western worlds into a common creative language. Yoko is currently working on several exciting projects, including a sustainable lifestyle concept and a book on Chinese contemporary design.