'Valentino: Master of Couture' exhibition at Somerset House, London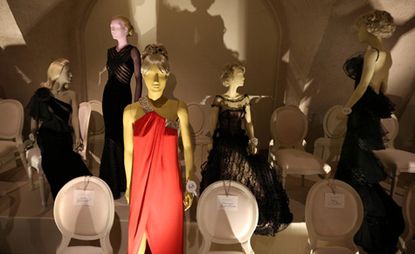 (Image credit: Valentino Garavani )
Valentino Garavani likens his gowns to daughters. Smiling sagely with paternal pride, the retired Italian couturier, who was in London yesterday for the preview of a major new exhibition of his life and work, was referring to the treasury of over 130 couture creations that are currently installed in Somerset House's Embankment Galleries.

Opening today, the intimate showcase of fifty years of haute couture by Valentino is supported with the likes of personal photographs and film, giving viewers a behind the scenes glimpse into the atelier, revealing the intricate couture techniques involved in creating the hand-crafted looks that have dressed everyone from Grace Kelly to Anne Hathaway. The real bones of the matter, of course, are the couture designs, including those commissioned by private clients (many which have never been see outside the Valentino atelier).

Exhibition curators and long time Valentino collaborators Patrick Kinmonth and Antonio Monfreda (together known as Kinmonth Monfreda) have designed the space; Kinmonth is, among other things, a set and costume designer for opera, and Monfreda's background is in set design and art direction. Together they have evoked an inviting manifestation of Valentino's world.
The door of Palazzo Mignanelli, Valentino's palazzo in Rome, has been rebuilt in the space. And a bespoke couture atelier takes visitors on a trail along a 60m-long central catwalk, surrounded on either side by an 'audience' of mannequins dressed in the evening gowns, dresses, trouser suits and capes that Valentino has produced since he started his fashion house in Rome in the 1950s.

And, as testament to the timelessness of Valentino's designs, Kinmonth Monfreda have eschewed chronology, instead arranging five decades of couture by the visual connection between the pieces. Nonetheless, the mannequins subtly vary in shade, from mint to parma violet, indicating the decade from which the corresponding dress originated. Mimicking a couture presentation, numbered circles on the wrists of mannequins relate to captions in an accompanying programme.

Back in 2007, Valentino's famous 45th anniversary celebration - a weekend extravaganza in Rome - was crowned with a retrospective exhibition at the Ara Pacis Museum in Rome and a couture show. If that was sheer theatre, his London showcase, which incidentally marks a 50-year career, is a more contemplative, serene, but no-less impactful affair.

Wallpaper* caught up with curator and exhibition designer Patrick Kinmonth…

You and your partner Antonio Monfreda were this exhibition's joint curators (together with fashion author Alistair O'Neill). Tell us a bit about how the show came about?
We did the Ara Pacis show for Valentino in Rome, which was a huge undertaking and since then we've collaborated with Valentino and Giancarlo Giammetti (Valentino's business partner and companion) on all their design projects, which are outside of the atelier.

Somerset House originated this show and it's very interesting because as Gwyn [Miles] said it's like a coming of age for the institution to have this couture show. This is the most important collection of a single designer's work that's been shown in London. I don't know if we can remember another occasion when we've managed to have a space that's big enough to accommodate this kind of lifetime survey.

Talk us through the space.
As designers, we were really interested in how the architecture would affect design decisions right from the beginning. I think this vaulted space is quite exciting. But it had been a little bit maltreated over the years so we stripped out all the extraneous details, putting lighting down the centre in one single line, and then constructed a couture atelier.

We brought the door of Palazzo Mignanelli, which is Valentino's palazzo in Rome, rebuilding it in the space and it corresponds so perfectly with Somerset House's architecture.

What particular elements did you feel it was important to focus on?
We've taken a very craft-based view and have asked the seamstresses to prepare sections of the different techniques that are employed most widely and most frequently in Valentino's work so you can really understand that every stitch is by hand. And not only every stitch - the falling of all these different fabrics into shape involves lots of incredible techniques.

There's Budellini (a couture technique specific to Valentino), where you start with a flat fabric, you roll sheep's wool into tubes, and then cover them with satin, all the seams around the back and it's all attached together. If you don't have it explained to you, these clothes are almost a mystery. You can almost miss how unbelievably skillful the work is. It's an irony that it's called couture, which means 'seam', when in most of Valentino's work, that's the bit you can't see. You can't see the joins, you can't see the stitches, they're so very tiny.

The [construction time] is gargantuan. The veil of Princess Marie Chantal of Greece involved 16 people sewing solidly for six weeks to tessellate the lace together. And if you look at it, it's not just beautiful, there's a story there, as there always is with Valentino. Where it starts on the ground it's all about flowers, and it's almost like a woman walking through a field of flowers. And when the veil lifts up, it's encrusted with lace butterflies flying through the veil.

How did you decide which designs to place next to each other?
We obviously made the mannequins different colours according to the decades, and they have different hair also by decade to help you realise that what Valentino is about is not about changing with fashion - he changes with his own development. And he'll return to certain ideas in a very fluid way all the way through his career.

Why is an exhibition like this important for London?
It is a very timely exhibition because a lot of modern designers - particularly the continuing work at Alexander McQueen, the amazing work of Christopher Kane, and the whole generation of new designers - really have a passion for that kind of workmanship. You can see they're determined to carry on the traditions, which are actually British traditions of exquisite workmanship, and really make a point of it in what they're designing. They don't want to do simple asymmetrical clothes that fall on the body, what they want to do is really express ideas about materials, surfaces, creating artistic projects that make clothes as expressive as possible. And there's really no one better at that then the ateliers of Valentino.

Over 130 dresses donned by style luminaries such as Jackie Kennedy Onassis, Grace Kelly, Kate Moss and Carla Bruni are featured along the 'catwalk', including a handful of pieces that have never been displayed before by the atelier
Mimicking a couture presentation, numbered circles on the wrists of mannequins relate to captions in an accompanying programme
Design duo Patrick Kinmonth and Antonio Monfreda - and long time Valentino collaborators - were charged with the gargantuan task of encapsulating fifty years of the designer's haute couture into one show
The designers stripped the space of extraneous details, reconfigured the lighting and finally constructed a bespoke couture atelier
As a testament to the timelessness of Valentino's designs, the curators have eschewed chronology, instead arranging five decades of couture by the visual connection between the pieces. Nonetheless, the mannequins subtly vary in shades, from mint to parma violet, indicating the decade from which the corresponding dress originated in
Designers Kinmouth and Monfreda, tapping into the craft-based consciousness of London, commissioned videos of the seamstresses preparing sections of dresses and utilising different techniques, some of which are exclusive to the Valentino House
ADDRESS
Somerset House
Strand
London
WC2R 1LA
Receive our daily digest of inspiration, escapism and design stories from around the world direct to your inbox