Valentino Des Atelier Haute Couture sees fashion and art collide
Seventeen contemporary artists enter a dynamic dialogue around dressing to create Valentino's A/W 2021 Des Ateliers Haute Couture collection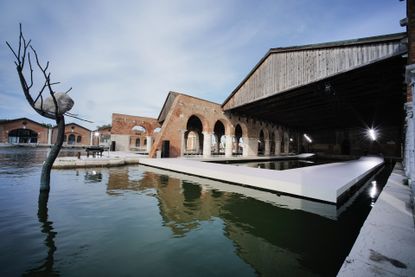 (Image credit: TBC)
In partnership with Valentino (opens in new tab)
In Valentino's Haute Couture Atelier, inside the rooms of the late Renaissance Palazzo Mignanelli in Rome – where the Italian house's skilled artisans festoon the finest fabrics with prismatic plumes, piece together folds of daringly hued textiles, and hand-stitch delicate silk and shimmering sequins over hundreds of hours – fashion finds its closest confluence with art. Here, creative constraints are limited, the power of painstaking process and time-honed skill is celebrated and experimentation and imagination abounds in colour, texture and technique.

For Valentino's Des Ateliers Haute Couture show, Creative Director Pierpaolo Piccioli was keen to interweave the two-dimensional nature of painting and the three-dimensional folds of fashion across the contours of the human body, creating a profound multidisciplinary narrative immersed in experience and authenticity.
Valentino Des Ateliers: 17 artists and a riot of colour
Extending his community of skilled craftspeople, he invited 17 contemporary artists, from sculptors to painters, curated by Gianluigi Ricuperati, to enter into a dynamic dialogue around dressing: Joel S Allen, Anastasia Bay, Benni Bosetto, Katrin Bremermann, Guglielmo Castelli, Maurizio Cilli, Danilo Correale, Luca Coser, Jamie Nares, Francis Offman, Andrea Respino, Wu Rui, Sofia Silva, Alessandro Teoldi, Patricia Treib, Malte Zenses and with the participation of Kerstin Brätsch.

The Valentino Haute Couture collection – which revels in riotous colour, from chartreuse to cerulean, merlot to magenta, and voluminous silhouettes and scintillatingly tactile textures – also translates the patina of oil painting and pencil, and the sensuality of bold brush strokes into capes and coats, tailoring and head-turning dresses.

To showcase Valentino Des Ateliers, Pierpaolo Piccioli looked to the breathtaking brick arches of the Gaggiandre, a former shipbuilding yard in Venice designed by Jacopo Sansovino in the 16th century, which is part of the city's Arsenale, one of two sites where Venice's annual art and architecture biennale is held.
Fashion meets art in the Venetian lagoon
Here, as a living and breathing multi-artist installation moving through space and time, male and female models made their way across a geometric runway bathed in evening light that appeared to float on the Venetian lagoon.

Among creations on the runway, a strapless dress, with a bustier that unfurled like a flower, had been pieced together using 88 different textiles, puzzled with five different abstract artworks by Brooklyn-based Patricia Treib. The design took 680 hours to create.
Elsewhere, a flowing cape with voluminous sleeves was swathed with expressive scarlet brushstrokes, inspired by New York-based Jamie Nares' Blues in Red (2004). The figurative pencil strokes of Milan's Benni Bosetto traced monochromatic draped roll-necks and leggings as intricate abstract needlework.

Artworks were reimagined within the folds of taffeta, satin and silk, and showcased amongst glittering threads, paillettes and plumes, encapsulated within a singular yet plural vision, an individual yet collective intention.

For curator, writer and essayist Gianluigi Ricuperati, a sense of creative conversation emerged from Valentino Des Ateliers Haute Couture collection. 'We must imagine Valentino Des Ateliers as a concert for two distinct worlds – painting and haute couture, contemporary art and clothing art – in which each side's own voices listen to each other's song before pronouncing themselves,' he says.

Each distinct voice in the brand's artistic canon contributes to a sublime synergy between the worlds of fashion and art, elevating the sounds of individual intention into a colour-swathed chorus.
INFORMATION
valentino.com (opens in new tab)