Gender theory: Studio Nicholson launches its debut menswear collection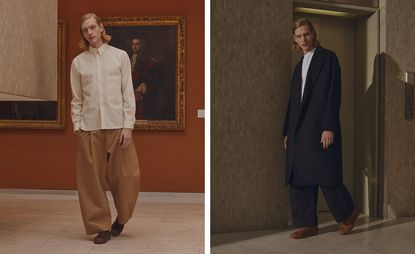 (Image credit: Studio Nicholson)
Timeless, unisex and minimalist are fashion's current go-to adjectives. Boring clothes hide behind these words.

To the lazy eye, Studio Nicholson's understated, structured cool is the very definition of ageless and gender-free but it's more complicated than that. Established by Nick Wakeman in 2010, the cult label launches its debut menswear collection online this week. 'I was beside myself with worry that it would be either camp or boring,' Wakeman says. 'For me there is nothing in the middle.'

The refusal to embrace the unisex tag is a radical move at a non-binary, he/she/they moment. The recent S/S 2018 menswear shows in London were a riot of gender-defying festivities as designers from Art School to Edward Crutchley stripped clothes of their normative bias by showing dramatic mantuas, fitted lace dresses and kitten heels.

Wakeman says, 'I believe in a kind of universal clothing, yes, but not where men look very feminine. And when I first started I had words like "effortless" in my head but all of those words are overused now. They mean nothing to me.' The line identifies with key style moments from the 1980s; a cocooning coat in English Herringbone is influenced by Talking Heads' David Byrne, pleat-front trousers in gabardine a nod to Bowie.

The success of Studio Nicholson lies in its modular approach to dressing; one shirt and a pair of trousers sit at the core. 'I have always worn a Levi's 501 jean, a men's tailored jacket, a men's shirt that I would have tailored to fit. That's why I started the label. I always use menswear fabrics. No embellishments,' she says. 'There's a real question if a man can wear womenswear and of course, yes he can. But a garment is put together in a certain way for a man and a certain way for a woman – plackets are on the right side and flies do up – from a cutting and making point of view, it is different. And I like the fact that there is a definition there.'

Just two pieces appear in both the men's and womenswear collections, differentiated only by their style number. This is more about time than timelessness. 'When I am in Japan, I am always really fascinated by the old guys who have had their clothes for 50 years – they are pressed, washed, laundered to such perfection that they look really new. Those clothes are much more desirable than anything you can buy off a rail,' Wakeman says. 'But, I'm particularly critical. If I woke up and thought everything was great, god, that would be the worst. There'd be no point! Always, it has got to be better and better and better.'
INFORMATION
For more information, visit the Studio Nicholson website (opens in new tab)
London based writer Dal Chodha is editor-in-chief of Archivist Addendum — a publishing project that explores the gap between fashion editorial and academe. He writes for various international titles and journals on fashion, art and culture and is a contributing editor at Wallpaper*. Chodha has been working in academic institutions for more than a decade and is Stage 1 Leader of the BA Fashion Communication and Promotion course at Central Saint Martins. In 2020 he published his first book SHOW NOTES, an original hybrid of journalism, poetry and provocation.