Word play: Stella McCartney and Alex Israel celebrate the meaning of humour
As part of the British label's A-Z Manifesto, the LA-based artist has created an exclusive artwork, inspired by the semiotics of 'humour'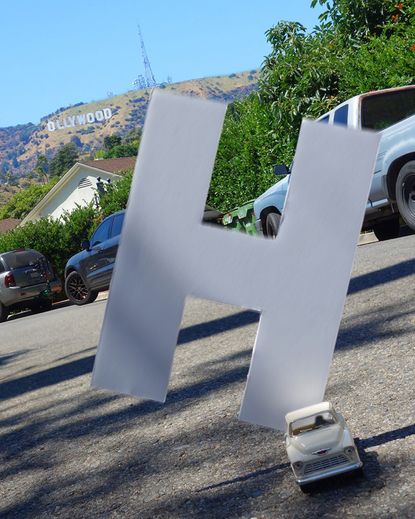 (Image credit: stellamccartney.com)
Wallpaper* Newsletter
Receive our daily digest of inspiration, escapism and design stories from around the world direct to your inbox
Thank you for signing up to Wallpaper. You will receive a verification email shortly.
There was a problem. Please refresh the page and try again.
Stella McCartney has long operated from a sustainable standpoint – pioneering eco-initiatives long before they became luxury's trendiest topic – but as a result of the Covid-19 pandemic, the brand has taken further stock of its environmentally-aware ethics, mapping out a business-focused blue print for the future, released to align with its prismatic S/S 2021 lookbook.

The visually striking result is the Stella McCartney A-Z, an alphabetised manifesto, revealing the most important words that make up the McCartney mindset for 2020 and beyond. The letter line up includes C for 'Conscious', T for 'Timeless' and R for 'Repurpose'. To bring some artistic oomph to McCartney's manifesto, the designer has called on an impressive roster of creatives, including Chantal Joffe, Rashid Johnson, Jeff Koons, and Cindy Sherman, to illustrate her alphabet. 'I wanted the artists to have full creative license, and really take the word they chose and run wild with how they wanted to depict it,' she explains of the multicoloured, mixed media result, which amalgamates typography, collage and photography. 'You could look at it as the visual equivalents of all the personal, political, spiritual, global, funny, touching, lovely, profound conversations of 2020.'
McCartney has also enlisted Wallpaper* Design Awards Judge Alex Israel to create the artwork for 'H': Humour. 'We speak about serious things here when we talk about the environment and animal welfare, so it's important to lighten the tone and use a humorous approach,' she says of the brand relevance of the term. 'Alex and I see eye to eye on the absolute necessity of having a laugh in life. His practice never shies away from humour, for example, I love the distinctive series of self-portraits he did, painted on fibreglass panels shaped like his own head'.
RELATED STORY
Long-inspired by the cinematic mythology of his hometown of Los Angeles, Israel conceived his 'H' artwork while exploring the hills in Bronson Canyon, near Los Feliz. The H of the famed Hollywood sign appears to have strolled from its hilltop location down to a residential roadside below. '"H" also stands for home, Hollywood, hiking, and heist,' Israel explains. 'I had a vision of the H from the Hollywood sign hitch-hiking through the hills…or maybe it was hijacked?'

'I have always adored the energy of Alex's work and how he depicts the culture of his hometown with colour, optimism and nostalgia,' McCartney adds. 'I knew he would have a lot of fun with this project so we absolutely had to have him!'
INFORMATION
stellamccartney.com
Receive our daily digest of inspiration, escapism and design stories from around the world direct to your inbox