Pink opens bespoke shirting workshop in South London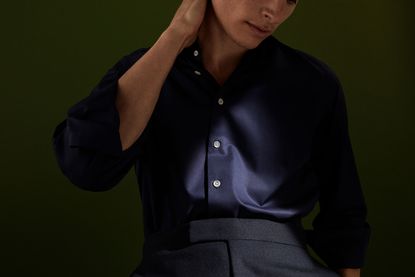 (Image credit: Thomas Pink)
At the end of a suburban street in South London, lined neatly with rows of early Victorian terraced houses and trees, a group of shirtmakers stand at pattern cutting tables and folding machines, and sit studiously at sewing stations. Needles whirr, blades slice satisfyingly through Swiss and Italian fabrics, scissors snip loose threads and piles of unusually matte Australian mother of pearl buttons tinkle in cardboard boxes.

It's inside a long light-filled 7,200 sq ft modern warehouse conversion, nestled down a grey gravel path and hidden from street view by a dark timber door, that Pink Shirtmaker's bespoke workshop sits. With a sleek interior designed by MoreySmith – whose recent workplace projects have included an overhaul of Dunhill's global headquarters and LVMH House, both in Mayfair – the space opened its doors in April, after a speedy two month renovation. 



It's one of the new artisanal threads in the LVMH-owned British shirtmakers' aesthetic overhaul. In 2017, it installed new CEO, Christopher Zanardi-Landi, new creative director John Ray and last autumn unveiled a new logo, branding and manufacturing, aimed to bring the heart back into the 1984-founded label once synonymous with colourful and boldly-striped British style, quality and flair. 'We're putting pleasure back into making shirts,' says head of brand Richard Beaumont. 'People think it's simply something to wear under a jacket, or buy in blue and white. We're coming from the other way.'
Leading this new dressing direction, armed with sugary pink pattern cards, thick volumes of fabric samples and a cacophony of collar styles is Pink production director Richard Gibson, who came from Londonderry, where he owned a shirtmaking factory (once a Pink supplier) to London to lead Pink's bespoke workshop. Since April, it has worked with 200 clients, who away from the stuffiness of Savile Row, can choose from 400 fabrics – from classically British Giza Poplin to silky West Indian Sea Island Cotton Twill – seven collar and three cuff and pocket styles, for a shirt formed from 24 different body measurements. Unlike other bespoke shirt fitters, who, unknowing to their customers, tweak fits based on block patterns, every bespoke Pink shirt is cut entirely from scratch. One keen client has already ordered fifty.

This artisanal transparency is reflected in MoreySmith's workshop design. The narrow fair faced concrete space – ideal for repeated workstations – is sparsely decorated, and light filled. The warehouse's original raised polished concrete floor has been stripped out and replaced with warmer reclaimed timber, and a communal kitchen and meeting rooms installed.

Unusually, the space is both a working factory and also a showroom for welcoming bespoke clients. It is fitted with two entrances. Through the customer reception, complete with a sumptuous dark green walled changing room and pattern cutting table, customers are able to see directly onto Pink's shirtmaking floor through welcoming glass windows. 'We were trying to create a feeling of openness and transparency,' says Linda Morey-Burrows, principal director of MoreySmith. 'Visibility is key,' adds Gibson.

A client's first fitting appointment can take place at Pink's London Jermyn Street, Paris or Manhattan's Madison Avenue boutiques, where the initial 24 measurements are taken, alongside a client's preference around style and silhouette. After the first fitting shirt pattern is cut in Vauxhall by Pink's bespoke cutter Lizandra Cardoni, clients are then invited back to their preferred boutique or to Pink's South London workshop itself within four weeks, for a series of fittings until final satisfaction is met.
'John Ray has an amazing ability for creating classic shirts with a Pink DNA,' Gibson explains. Its recent ready-to-wear designs include vintage-looking striped shirts inspired by archive Pink patterns from the 1980s and checked shirts stonewashed with pumice for a time-honed softness. Its newly launched 'Smart Shirt' has a shorter silhouette with a smaller collar and cuffs, encouraging a more casual look. 'We won't just copy a customer's preferred shirt,' Gibson adds. It has to be a Pink shirt that is bespoke.'

Ray's fastidious eye even narrows on the buttons that are used in Pink's bespoke styles. 'He wanted the highest quality Australian mother of pearl buttons, but unusually matte instead of shiny and thinner than usual,' Gibson explains. 'They're incredibly hard to make.' Unusual, artisanal and painstaking to produce: they're a symbol of the brand's bespoke aesthetic, sure to spearhead Pink's modern identity, and the modern man's shirt-first wardrobe too.
INFORMATION
thomaspink.com (opens in new tab)