Lounging around: Christophe Lemaire and Uniqlo launch unisex collection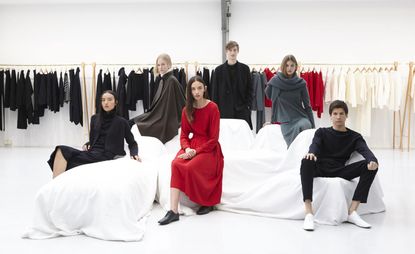 (Image credit: Piczo)
Wallpaper* Newsletter
Receive our daily digest of inspiration, escapism and design stories from around the world direct to your inbox
Thank you for signing up to Wallpaper. You will receive a verification email shortly.
There was a problem. Please refresh the page and try again.
A quick glance at the campaign for Lemaire's incoming collaboration with Uniqlo and you're likely to first notice the pureness – the cable knits, the natural faces of the models – followed by something a little more off-kilter. Alasdair McLellan originally photographed the models reclining on beds; now, they've been flipped to appear vertical.

The visual concept cleverly captures what Christophe Lemaire and Sarah-Linh Tran describe as an 'elevated home wear' sensibility to their (reasonably-priced) clothes. The collection, which consists of 30 pieces for women and 25 for men, made its press debut yesterday at a gallery in Le Marais, where a group of guys and girls lounged amid a whitewashed mise-en-scène.

Around them, the clothes alternated in palette (all neutrals except for a flash of deep red) and category; the knits, in particular, exemplified how Lemaire's attention to detail and clear savoir-faire combines seamlessly with Uniqlo's well-made-yet-minimalist approach to fast fashion. High standards with a slow vibe.

The purpose, as Lemaire and Tran tell Wallpaper*, was not to approach the collection as fashion because this wouldn't ultimately be authentic to Uniqlo. 'Making a statement is not the point,' Lemaire says. 'We actually thought of this project as an interesting new angle. In this case, we are designers of clothes. That's all. There's no shame there. Sometimes in fashion, you feel there is a complex when you just say you design clothes.'

But the thoughtful details that have gone into this collection – the lowered pocket on a man's shirt, a woman's tube sweater that doubles as a scarf, thumb holes to accommodate extra-long sleeves – attest to Lemaire's understanding of subtle sophistication.

The breadth of basics, he added, was 'instinctive', as was the reworking of them just enough so that they align with the designers' more distinctive silhouettes. 'We bring our proportions to it,' notes Tran. 'Usually, basics are very close to the body; we gave ours looseness.'

The designers expressed their satisfaction with the project. 'We were so pleased with the confidence they had in us,' says Lemaire. 'It was so easy to work with them – well, it was a lot of work, but also a lot of enthusiasm and mutual respect.'

Yukihiro Katsuta, Uniqlo's group senior vice president in research and development, claims – or at least, hopes – that the company is sufficiently prepared to meet what is sure to be overwhelming demand. As he sees it, people will find the separates that best suit their existing style. 'We respect people's individual style. We are not trying to push.'

Separately, Lemaire echoed the comment in a way that seemed surprising coming from someone who just recently wrapped up his tenure as women's wear designer for Hermès. Call it the 'Yanai effect' (Tadashi Yanai is founder and CEO of Uniqlo's parent company Fast Retailing). 'We don't like this idea of fashion being something a bit intimidating or a demonstration of power, like, "Look, you're not part of it"; you should dream about fashion.'

In this case, we'll just be forced to dream until October.
Receive our daily digest of inspiration, escapism and design stories from around the world direct to your inbox