At Uniqlo U, Christophe Lemaire is designing clothes to last for life
As his latest Uniqlo U collection arrives in stores, French designer Christophe Lemaire defines his conception of 'modern dressing' – a modular wardrobe of reconsidered archetypes which are built to last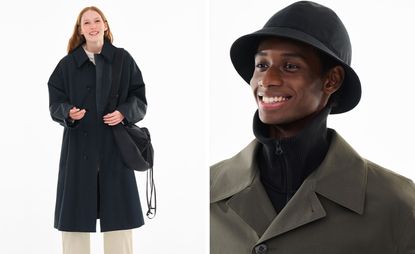 (Image credit: Courtesy of Uniqlo)
French designer Christophe Lemaire has never sought a viral moment. He isn't seduced by ephemeral trends. He does not create clothing with Instagram at the forefront of his mind. At his eponymous label, Lemaire – founded in 1992 but reinvigorated after the close of a four-year tenure as womenswear artistic director of Hermès – it often takes the item of clothing to be placed onto your body to discover the complexity of its form. His collections, developed with his co-creative director and wife Sarah-Linh Tran, evolve, slowly. The endpoint, if he gets there, is perfection; an item of clothing that lasts for life.
'As a designer I'm more into deep trends, and not seasonal trends,' he explains in a call from Paris, where he is based. 'It's about having, or trying to have, an understanding of the way people behave, their ways of life, their needs. That is what I'm interested in.'
Uniqlo U by Christopher Lemaire A/W 2022
In 2016, he took on a role as artistic director of Uniqlo's R&D centre in Paris – a research and development hub that provides innovative design solutions for the Japanese fashion behemoth – as well as creating twice-yearly Uniqlo U collections, a more refined offering at a slightly higher price point. The collections, available in Uniqlo's 2000-plus stores worldwide, have a definite aesthetic link to his designs at Lemaire – namely, instilling utilitarian garments with an innate feeling of elegance ('eminently modular… a timeless Parisian style that is cosmopolitan, sophisticated and rich in influences', describes a blurb on his own label's website).
'We very much work around the idea of archetypes,' he says. 'The classics – the pieces that you need, that are proven. Improving them, and bringing modernity in the cut, in the details, in the colours.' As such, items like the parka, the hoodie, the lambswool sweater, and various workwear-inspired silhouettes are revisited season on season, in a process which Lemaire calls 'refinement'. 'But you also have to be careful not to become sterile. It's a balance to find between being brave, and being down to earth.'
He likens this way of working to the foundational principles of Uniqlo itself, which he says is 'not a fast-fashion brand' – 'there's a sense of quality, a certain honesty about the product'. 'There is this Japanese genius of always improving, always looking for quality. Like everyone else, I had the super basic pieces, the T-shirt, the socks, the down jacket, even underwear. They have a super high sense of what a basic should be.'
His own designs gently push the boundaries of what such foundational garments look like at Uniqlo. 'It was a little bit of a challenge, in the beginning, to convince them because we came with some braver volumes, everything was a little bit oversized,' he says. 'But it was interesting how soon they understood – Uniqlo is very much about trying things, and proving that they can work. It's a retail brand. If you believe in it, [they say] let's try it and see if it works.'
His latest collection – A/W 2022 – launched in stores earlier this month; as is usual with Lemaire's Uniqlo U drops, several of the garments have entirely sold out already online (the more intrepid can hunt the pieces down in Uniqlo's vast catalogue of international stores). This season, Lemaire has formalised some 'genderless' pieces – though most of the pieces in previous collections could already be exchanged between genders – a nod to what he calls the 'reality of society today'. 'It's there on the street, and it's interesting to see Uniqlo – which is Japanese, and sometimes has a bit of a conservative view of womenswear – completely understand the reality of it. It's something that is being pushed across the company.'
Of the collection's pieces – which span single-breasted outerwear, soft knitwear, high-waisted denim and 'generous, boxy layers' in textures of wool, flannel and cotton jersey – Lemaire hones in on a blouson-style jacket, which is sold for both men and women, as the collection's key piece. 'It's super functional – it's made of cotton, which is water repellant, and then has a warm lining in brushed cotton. It's such a satisfying mid-season piece,' he says, noting that each garment is often tried on several times by the design team before being put into production. Lemaire will often test-drive the products himself, ensuring they are perfectly primed for everyday life.
'I'm obsessed with things like a pocket – the position of a pocket, the solidity of a pocket. There's nothing worse than buying a good-looking pair of pants and then you don't have space to put your keys.
The designer defines his collections for Uniqlo U as his definition of 'modern dressing' – a capsule wardrobe, which in the case of A/W 2022, can fit into a single suitcase. It speaks to his conception of sustainability. 'To be sustainable, the first thing to do is to design clothes that you want to keep,' he says. 'To make things that make sense, that are of good quality, and with a certain solidity. Hopefully in a fabric that can age as well. That's the time frame we think of when we design.'
'The reality is, you want things that easily mix and match with all the pieces in your wardrobe, and wear them your own way. Imposing a look, or one way of wearing clothes, is really dated. I really want to show the versatility of these modular pieces,' he says. 'I think this is a modern approach to style.'

Receive our daily digest of inspiration, escapism and design stories from around the world direct to your inbox
Jack Moss is the Fashion Features Editor at Wallpaper*. Having previously held roles at 10, 10 Men and AnOther magazines, he joined the team in 2022. His work has a particular focus on the moments where fashion and style intersect with other creative disciplines – among them art and design – as well as championing a new generation of international talent and profiling the industry's leading figures and brands.