Uniqlo 'family' range by Jun Takahashi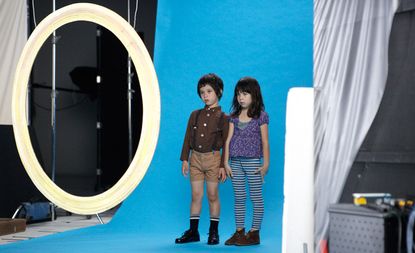 (Image credit: Jun Takahashi)
Designer Jun Takahashi doesn't have to venture very far to find his harshest critic. 'My nine-year-old daughter is very discriminating,' he grins. 'I will give her my design work and she says she doesn't like it. I try to take it positively - she sees on her own, she has her own style.'
Best known for his street style-influenced work with label Undercover, the 42-year-old Takahashi - who originally launched his label in Japan in 1990 - is usually associated with punk, deconstruction and twisted sportswear. His latest project, then, is perhaps more of a surprise - and one where Miss Takahashi's judgement will become more relevant. For spring, her dad is working on a 'family' range, UU, for Japanese high street favourite, Uniqlo (opens in new tab).
As well as men's and women's wear, childrenswear forms a major part of the collection - in fact, this was part of what attracted the father-of-two to the collaboration. 'When I received an offer from Uniqlo, what topped my mind was to do a kids' collection,' he says. 'We have worked on an Undercover kids' collection for over 10 years in Japan but because of the constraint of the pricing, we were not able to continue.'

With prices for the UU collection all under £80, that problem was solved - but it brought with it different concerns. 'Because of the cost issue, I have to pick and choose out of a limited number of materials and have them match with my concept and design,' says Takahashi. 'But I enjoyed that challenge.'

Clearly. The UU collection - across all family members - is charming. See a floral tunic for women, worn with jodhpurs, outdoorsy plaid shirts for men and kids' wear to make your heart melt - from sweet cat-printed dresses to frilled shorts for toddlers. During the design process, Takahashi kept one idea in mind - classics with a twist. 'I wanted it to constitute a new standard of clothing for families,' he explains. 'I believe my signature is the twisted element - the spice sprinkled on to the real basic clothing.'

An item that sums this up is a biker jacket - remade by mixing synthetic leather with sweatshirt. 'Having the two extremely different materials offers a bit of surprise and an unconventional tone,' says Takahashi.

While this sounds in keeping with an Undercover way of thinking, Takahashi had to change his mindset in one key way for UU. 'What I find very different from my ordinary work process is that if you spend a lot of time you tend to deviate from the original concept,' he says. 'It's not an add-on exercise, but what I can subtract from the outfit I have in mind.'

Fresh from a viewing of the second season of UU designs - for autumn 2012 - this 'less is more' idea continues. 'I was very happy to witness that the philosophy is very well retained,' he says. All he needs now is the approval of a certain nine-year-old.