Loewe showcases eclectic art collection at new Mayfair flagship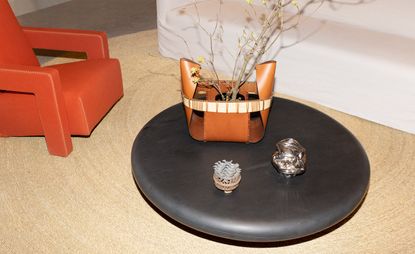 (Image credit: Lucy Sparks)
Since Jonathan Anderson took the creative reigns of Madrid-based leather house Loewe in 2013, he has cultivated a brand that encompasses not just intricately crafted, colourful and covetable clothing, but spans the art and design world too. The artistry of handmade craft, the skilled workmanship of global artisans – from Indian ribbon embroiderers, to patchwork-focused Sengalese weavers – and exhibitions, from Design Miami to Salone del Mobile in Milan, are all threads that weave into the world of Loewe.

Anderson himself is a renowned collector. Earlier this month, he was named a trustee of the Victoria and Albert Museum. In recent seasons, his shows and presentations for Loewe have centred around the role of an imagined collector, be it the minds behind the Signals London, the avant-garde 1960s art gallery that championed experimental and non-established artists, or a bibliophile infatuated by the works of Flaubert and Emily Brontë, or craftsman obsessed with colourful handmade pompoms.

Casa Loewe, the brand's latest three floor flagship in Central London is a culmination of the curatorial strands of the brand's universe. A tranquil yet exuberant environment, it brims with colour and texture, ready-to-wear, accessories and interiors pieces, and is populated with art and design objects, like the dreamt up eclectic Mayfair home of an art collector.
In terms of new brick-and-mortar retail spaces, Bond Street is booming. Alexander McQueen opened a Smiljan Radic-designed boutique on Old Bond Street at the start of the year, while Celine opened its doors just last week to its new Hedi Slimane-conceived menswear store. Both boutiques place focus on the lifestyle aspect of its brands. Celine's gallery-inspired space is populated with totemic artworks by Eli Ping and Slimane-designed furniture, while McQueen's naturalistic interior features a top floor experiential level, dedicated to roving exhibitions.

Cast concrete walls, wood panelling and linen curtains form the backdrop to Casa Loewe. The brand spent six years on nearby Mount Street before moving to this larger triple tier space, and its floors are connected by a breathtaking central staircase, hand built in Campaspero stone from Spain's Valladolid region. Its steps appear to float in space using refined engineering and strong tensile steel, and circle around a cylindrical panoramic lift suspended in air, using a series of hidden cables.
Casa Loewe abounds with painting and sculpture, craft objects and furniture, which evoke the eclectic world of the house, and nod to its various narrative elements. A bulging blown glass table by Anthea Hamilton – who designed vegetable-inspired costumes for Loewe's Tate Britain installation last year – sits on the women's first floor. Downstairs on the menswear level, the space features oversized oak vessels by Ernst Gamperl, the winner of the inaugural 2017 Loewe Craft Prize. There's a sense of hide and seek about the pieces on view, which interact with the array of sellable pieces on display. A Grayson Perry ceramic plate sits above a wall of sunglasses, while a Daniel Sinsel cement fondu, blown glass and fibre glass optical sculpture stares from a shelf of leather women's boots. Intricate weaved baskets, showcased at Salone del Mobile earlier this month sit alongside quilts and leather accessories which the house is historically famed for.

The sublimity of Loewe's clothing lies in the sense of discovery behind each of its pieces. An asymmetric collar, a flurry of feathers, an unusual pleat or trompe l'oeil effect all bring joy to the brand's dedicated customer base. This sense of uncovering is the essence of the label's store experience too. And as Casa Loewe will feature both a roster of artwork that will change over time, and a ground floor pop-up space, there's plenty more room for retail realisation.
INFORMATION
For more information, visit the Loewe website
ADDRESS
41-42 New Bond St
London, W1S 2SQ
UK