Gucci's Seoul show considers radical perspectives on 'otherness'
The fashion label sponsors 'No Space, Just a Place, which invites guests to consider radical perspectives on 'otherness', led by Tunisian-born curator Myriam Ben Salah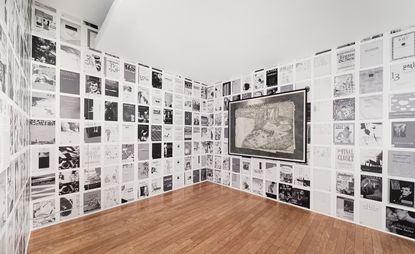 (Image credit: TBC)
Wallpaper* Newsletter
Receive our daily digest of inspiration, escapism and design stories from around the world direct to your inbox
Thank you for signing up to Wallpaper. You will receive a verification email shortly.
There was a problem. Please refresh the page and try again.
What happens when society's outsiders are welcomed into the fold? When the periphery becomes the center? When nonconformity breaches the constraints of convention?

These are the questions posed in 'No Space, Just A Place', an ambitious exhibition at Daelim Museum in Seoul, South Korea. The show adopts a collective curatorial model to address the vital role of independent art spaces within Seoul's local art ecosystem, incorporating presentations by ten prominent nontraditional local exhibition venues that embody the diversity and energy of the city's thriving underground art scene.

Sponsored by Gucci and led by Myriam Ben Salah, the Tunisian-born curator and executive director of Chicago's Renaissance Society, 'No Space, Just A Place' invites viewers to consider radical perspectives on 'otherness' and alternatives to mainstream institutional and market-driven paradigms for consuming contemporary art. 'I'm interested in the museum as a physical eterotopia, a space that is literally other, and that others what you're looking art,' says Ben Salah, borrowing terminology from the French philosopher Michel Foucault. 'Working with these spaces allowed me to reflect on a wider, and more metaphorical definition of an "alternative" or "other" space.'
This fundamental rethinking of dominant discourses in the cultural sphere seeks to empower narratives voiced by marginalised communities in Korea's increasingly heterogeneous social fabric, revealing a multiplicity of perspectives on notions of utopia, togetherness and belonging. Among the projects staged by local art spaces are 'Psychedelic Nature' presented by Boan1942, which explores the notion of artificial paradises through the work of Sungsil Ryu and Haneyl Choi; 'Swimming QFWFQ*' presented by space illi, which interrogates what society deems 'natural' through works by four female video artists; and 'Secret of Longevity' presented by White Noise, placing disparate artists in dialogue with one another to create new collaborative visions of identity forged through temporary relationships.

Other local spaces activate their own histories to suggest different ways that alterity assumes primacy of place beyond the white cube. Foremost in pursuing this strategy if Audio Visual Pavilion, which presents works from two previous exhibitions held at its space, alongside newly commissioned archival works that underscore the impermanence inherent in such non-commercial art venues, while Space One screens video archives that document significant exhibitions, performances and talks it has produced over the years.
RELATED STORY
'No Space, Just A Place' does more than assemble various independent art spaces under one roof, however; throughout the museum, immersive installations by five international artists offer global perspectives on identity politics and representation that expand the scope of the exhibition's discursive mandate. Brooklyn-based Meriem Bennani's acclaimed video 'Party on the Caps' (2018-2019) subversively addresses structures of displacement and immigration through clever storytelling and sardonic humor, imagining an island in the middle of the Atlantic Ocean as a hub for refugees and illegal immigrants in transit. Kang Seung Lee, a Korean artist based in Los Angeles, takes a more staid approach to considering communities on the margins of society, lining the museum's three-storey central stairwell with photocopies of some 1,700 covers of books and magazines from the Korea Queer Archive in an unpretentious yet elegant tribute to generations of LGBTQ activists, scholars and artists.
The most salient implication of the exhibition is its emphasis on inclusion and dialogue as hallmarks of a new paradigm for the production and consumption of contemporary art. In light of the changing social dynamics of distancing and isolation brought on by our global health crisis, there is a newfound interest in 'alternative' methodologies for living, working and communicating. And with it, perhaps, a chance to reset the status quo in ways that celebrate, rather than condemn, 'otherness'. It is with this optimism that Ben Salah situates 'No Space, Just A Place' in the context of COVID-19: 'Within the art world, I believe — I hope — that the current crisis will force us to focus on what truly matters: good art, good artists and important ideas.'
To enjoy a 360° tour of 'No Space, Just a Place' from home, click here
INFORMATION
'No Space, Just a Place,' is on view at the Daelim Museum, Seoul until 12 July 2020
daelimmuseum.org; www.gucci.com; nospacejustaplace.gucci.com/en.html#360tour
ADDRESS
21, Jahamun-ro 4-gil, Jongno-gu, Seoul, Korea
Receive our daily digest of inspiration, escapism and design stories from around the world direct to your inbox