Gucci Love Parade LA to Bottega Veneta in Detroit: American fashion must-sees
Grab your headscarf, sunglasses and driving shoes as we take a stylish road trip around the USA, where cities including Atlanta, San Francisco, Los Angeles and Detroit are dialling up their fashion focus with events, activations and runway shows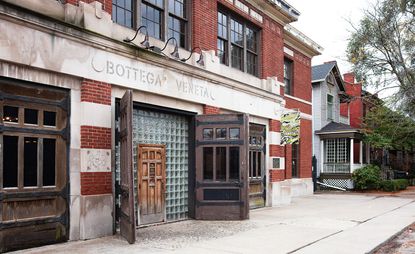 (Image credit: press)
From Atlanta to San Francisco, Los Angeles to Detroit, cities across the United States are playing host to fashion exhibitions, shows and events saluting American culture and its canon of creatives. Join us as we take a whistlestop road trip from east to west, pitching up at stylish stop-off points including Hollywood Boulevard and the SCAD FASH Museum of Fashion + Film. A dramatic driving ensemble is essential.
Gucci Love Parade Hollywood Boulevard Los Angeles
Blockbuster buffs and fashion obsessives alike are eagerly awaiting the November 2021 release of Ridley Scott's House of Gucci. In a sublime filmic moment that's akin to a Hollywood kiss, on 3 November, the brand presented its latest runway collection on the streets of Hollywood Boulevard in LA. It wasn't just its star-lined Walk of Fame that spoke of celebrity – a host of A-list film stars and friends of the Italian house walked in the show, including Jared Leto, Macaulay Culkin and Jodie Turner-Smith. The brand's collection evoked old-world gilded glamour, and featured double-breasted satin suits, long lace dresses paired with faux fur stoles and opera gloves, prom-night tailoring with ruffled shirting and velvet bow ties, and waistcoats teamed with dandyish shirting. Accessories referenced filmic stereotypes, the boudoir lingerie of a seductress, the cowboy hat of a Western hero, the headdress of an ancient Egyptian.
In House of Gucci, Lady Gaga in the lead role of Gucci matriarch Patrizia Reggiani – who conspired to murder her husband Maurizio Gucci – pledges allegiance to the brand, stating 'Father, Son and House of Gucci'. The Gucci Love Parade – the brand's first live catwalk experience in the wake of the Covid-19 pandemic – is sure to have enticed fans.
gucci.com (opens in new tab)
'Backstage Pass: Dior, Galliano, Jacobs and McQueen' SCAD FASH Museum of Fashion + Film Atlanta Closes 16 April 2022
In the wake of Covid-19 and its roster of restrictions and protective measures, we've become a touch nostalgic for the sense of backstage mayhem and frenzy that has long been associated with runway shows. Luckily for us, a new show at the SCAD FASH Museum of Fashion + Film champions the spirit of community, chaos and celebration associated with the final minutes before models take to a fashion catwalk. 'Backstage Pass: Dior, Galliano, Jacobs and McQueen' celebrates the candid backstage visual chronicles of London-based fashion photographer Robert Fairer, and features 100 shots he snapped at the shows of Christian Dior, John Galliano, Marc Jacobs and Alexander McQueen, between the late 1990s and early 2000s.
Fairer was on hand shooting candid images when backstage fashion photography was in its infancy. Keep your eyes peeled for peeks of then-ascending supermodels including Naomi Campbell, Karen Elson, Shalom Harlow and Mariacarla Boscono, and designs from 'CD' logo-emblazoned Dior boots to spectral McQueen head pieces, which are now sought-after collector's items.
RELATED STORY
Bottega Veneta Firehouse Detroit Closes 22 January 2022
Late in October 2021, the Italian label Bottega Veneta touched down in the Motor City, where it presented its Salon 03 catwalk show – complete with crystal-shimmering sportswear, futuristic knitwear and pleated denim – inside the Michigan Building, a magnificent former theatre in downtown Detroit.
The brand is sticking around in the Techno City until January 2022, with the opening of Bottege Veneta Firehouse, a multidisciplinary space on 1201 Bagley Street. The set-up plays host to pieces by a host of artists, including furntiture designs by Chris Schanck, sculptures by Sophie Eisner, and textiles by Substudio. Relax in a reading room by Asmaa Walton, enjoy electronic music in a pop-up record store by Underground Music Academy, and lose yourself in an edit of printed matter by Ruben Cardenas. For those not so lucky to make it to Detroit, Bottega Veneta has other American citites in its sights.
bottegaveneta.com (opens in new tab)
'Patrick Kelly: Runway of Love' de Young Museum San Francisco Closes 24 April 2022
An Eiffel Tower-shaped headpiece, a tongue-in-cheek conservative skirt suit, a heart-shaped corset formed from multicoloured buttons – the pieces of celebrated Mississippi-born fashion designer Patrick Kelly were full of humour and wit. They referenced treasured people, places and things: Paris, where he moved in 1979 ( and where in 1988 he became the first American and the first Black designer elected into the elite Chambre Syndicale du Prêt-à-Porter des Couturiers et des Créateurs de Mode); the conventions of haute couture, which saw his designs nod to Yves Saint Laurent, Elsa Schiaparelli, and Madame Grès; and his grandmother, who replaced the buttons he lost as a child with kaleidoscopic versions.
There's socio-political poignance regarding the opening in San Francisco of 'Patrick Kelly: Runway of Love', an update of a 2014 show hosted at the Philadelphia Museum of Art, and the first retrospective of the designer's work on the West Coast. Kelly also used humour, colour and on-the-surface optimism to explore racial issues and push cultural boundaries. A dungaree-clad golliwog was imagined controversially as his brand's logo and his designs incorporated racialised imagery drawn from his experiences growing up in Mississippi. Kelly died from an Aids-related illness in 1990, but his work remains a rallying cry for creativity in the Black and queer community.
deyoung.famsf.org (opens in new tab)