NYC fashion exhibitions to see right now
New York City fashion exhibitions to add to your cultural calendar, as style stages a stunning takeover at The Met and more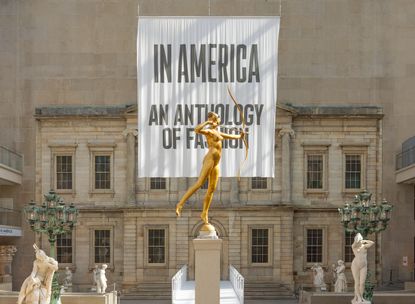 (Image credit: The Metropolitan Museum of Art)
Fashion fans, mark your cultural calendars. Here, we present the greatest sartorially led museum shows in New York City, from roving designer retrospectives to themed extravaganzas. Check out these NYC fashion exhibitions for a combined culture and fashion hit.
---
NYC fashion exhibitions
---
Exhibition: 'In America: An Anthology of Fashion'
Location: The Met
Dates: Part Two, May 7, 2022 – September 5, 2022
'In America: An Anthology of Fashion', the second of a two-part show on American fashion presented at the Metropolitan Museum of Art's Costume Institute, opens this Saturday (7 May 2022). It follows the ongoing first chapter of the exhibition – 'In America: A Lexicon of Fashion' – which opened in September of last year.
While 'Lexicon' is concerned with the energy and creativity of American fashion, from 1940s to present day, 'Anthology' casts its reach back further, to a time when technology, manufacturing and wealth were accelerating at pace (themes which feel prescient to our own current moment). Housed across 13 rooms in The Met's American Wing, the show spans the late 18th century to the late 20th century, providing a major survey of American fashion and its role in political, public and domestic settings. In each of the museum's 'period' rooms – vignettes designed to evoke specific moments in American history – viewers will find a range of pieces from brands still in operation (Oscar de la Renta, Brooks Brothers) to greats of their era (Charles James, Claire McCardell), as well as lesser-known designers who nonetheless have been critical in shaping American fashion.

Curator Andrew Bolton commissioned nine film directors – Sofia Coppola, Radha Blank, Janicza Bravo, Autumn de Wilde, Julie Dash, Tom Ford, Regina King, Martin Scorsese, and Chloé Zhao – to help create each of the exhibition's 'freeze-frame' vignettes, setting the scene for the clothing displayed. One such example by Ford (a co-chair of this year's Met Gala) depicts the 1973 'Battle of Versailles', a charity fundraiser that saw five French designers (Marc Bohan for Christian Dior, Pierre Cardin, Hubert de Givenchy, Yves Saint Laurent, Emanuel Ungaro) pitted against five Americans (Bill Blass, Stephen Burrows, Halston, Anne Klein, Oscar de la Renta) in a set-to of style. The consensus proclaimed, somewhat unexpectedly, that the Americans were victorious.

While bustles and resplendent decoration are in no short supply – the coinciding Met Gala theme was 'Gilded Age', focusing on decadent late 19th-century style – some pieces look astonishingly relevant even today, such as Ann Lowe's languid white silk evening gown (1941) or an asymmetric black cocktail dress by Charles James (1947). Similarly, there are highlights from designers who were instrumental in shaping American sportswear, whether Bonnie Cashin's colourful playsuits (1946) or Vera Maxwell's grey-flannel jumpsuit (1942). Writer: Tilly Macalister-Smith
Exhibition: 'In America: A Lexicon of Fashion'
Location: The Met
Dates: Part One, 18 September 2021 – 5 September 2022
The first of a two-part, year-long extravaganza, 'In America: A Lexicon of Fashion' features a display of 100 garments dating from 1940 to the present day, set in an installation design inspired by a patchwork quilt. Referencing an 1856 quilt in the museum's American Wing created by Adeline Harris Sears, featuring white silk diamond-shaped squares signed by some of the most famous Americans of the period, the exhibition is composed of white-scrimmed cases – a three-dimensional patchwork quilt – each containing a specimen of American fashion history.
Organized into 12 sections that seek to define the emotional qualities in American fashion, such as Nostalgia, Belonging, Joy and Strength, each exhibit is accompanied by a headpiece designed by Stephen Jones featuring a word summing up a corresponding sentiment, thus forming a comprehensive visual dictionary. Most notably, the showcase features a wide range of designers, both past and present, of different ages, backgrounds, cultures and genders, that captures just how colourful American culture is. Writer: Pei Ru-Keh
RELATED STORY
Exhibition: 'Christian Dior: Designer of Dreams'
Location: Brooklyn Museum
Dates: 10 September 2021 – 20 February 2022
When Christian Dior arrived in America for the first time in 1947, after debuting his controversial 'New Look', his tour of the country was met with some resistance by those in shock at his proposed silhouette. Now the entire history of the Parisian label has come to New York's Brooklyn Museum, with the American iteration of 'Christian Dior: Designer of Dreams', a blockbuster show that was ran at the Musée des Arts Décoratifs in Paris, before moving onto the V&A in London.
The show dives into the design history and language not just of Monsieur Dior, but of the creative directors that succeeded him: Yves Saint Laurent, Marc Bohan, Gianfranco Ferré, John Galliano, Raf Simons, and Maria Grazia Chiuri. Curated by Florence Müller, Avenir Foundation curator of textile art and fashion at Denver Art Museum, in collaboration with Matthew Yokobosky, senior curator of fashion and material culture at Brooklyn Museum, the exhibition also places focus on the maison's relationship with America, and sees the location's central atrium of the Beaux-Arts Court redesigned as an enchanted garden.
Exhibition: 'Ravishing: The Rose in Fashion'
Location: Museum at the Fashion Institute of Technology
Dates: 6 August – 28 November 2021
A blooming lovely way to mark the reopening of the Fashion Institute of Technology, which has been shuttered since the Covid-19 pandemic began? A fashion exhibition dedicated to the diverse symbolism of the rose in fashion. It's a flower denoting a host of emotions and spiritual connotations, including suffering, purity, and transience, that is referred to frequently by designers, ranging from Christian Dior to Schiaparelli, Halston to Noir Kei Ninomiya.
'Ravishing: The Rose in Fashion', features 130 items, including hand-woven and embroidered 18th-century silks, a large collection of rose-swathed rare hats, and garments by Comme des Garçons, Charles James and Gucci, and explores the symbolism of roses in various colours, such as red, pink and black. The introduction to the show includes more than 75 original photographic portraits of people wearing roses, both real and artificial, dating from the 1850s to the 1920s, when the flower was used as a regular, transformative prop.
Exhibition: 'Sarah Moon: At the still point'
Location: Fotografiska New York
Dates: 14 October 2021 – 6 Feb 2022
Octogenarian French photographer and filmmaker Sarah Moon shows 30 years of work at Fotografiska New York – spanning fashion and fantasy, mystery and the macabre. Comprising photographs as well as films and books produced over the last 30 years, the exhibition showcases both Moon's literary approach to working and her ability create dreamlike visuals, regardless of their destination and medium. 'Sarah Moon creates her own timeless, unique visual language,' says Amanda Hajjar, director of exhibitions at Fotografiska New York. 'She expands outside straight fashion photography to something more conceptual, but we're still able to recognize it as fashion focused. This unexpectedness keeps us interested and surprised.' Writer: Pei-Ru Keh.