Step inside a Gucci campaign in Florence
Gucci Garden 'Archetypes' exhibition brings to life 15 of Alessandro Michele's most iconic advertising campaigns for the Florentine brand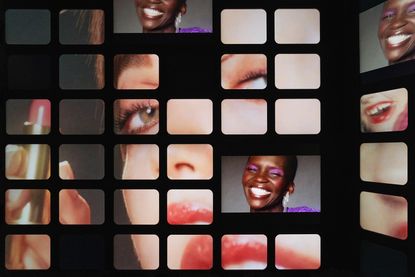 (Image credit: Gucci )
The impact that Gucci's creative director Alessandro Michele has had on the fashion industry is difficult to convey. Since his appointment in 2015, his kaleidoscopic vision has resulted not only in the Italian brand's most successful period to date but a complete re-evaluation of inclusiveness at a luxury level. For those unacquainted with his short but superlative tenure, a new exhibition at the Gucci Garden in Florence will afford an immersive crash course in Michele's Gucci vision.

Entitled 'Archetypes', the show is a quasi-retrospective of Michele's reign to date, explored through 15 of his most iconic advertisement campaigns. If that sounds arcane, then take a moment to note that, thanks to Michele, a Gucci ad drops like a global fashion news announcement: see Harry Styles in a north London fish-and-chip shop, and Serena Williams and Diane Keaton on a pseudo-James Corden chat show.

As curator of 'Archetypes', however, Michele has largely steered away from featuring celebrity ambassadors, and has instead celebrated the campaigns that have had the most cultural and eclectic resonance to date. '[We have] rethought the somewhat significant things we have done, some from the point of view of the experimental strangeness of the idea,' he explained ahead of the show.
Explore the Gucci Garden
Set across two floors of the Gucci Garden building, on Piazza della Signoria, the exhibition spans 12 rooms and features interactive installations designed by Florentine creative studio Archivio Personale, each depicting a campaign and presented in non-chronological order.

Visitors are welcomed by a stairway of graffiti taken from the Pre-Fall 2018 campaign, which marked the 50th anniversary of the student uprisings in Paris in May 1968, before entering the labyrinth of rooms through a behind-the-scenes campaign control room (a gambit reminiscent of Michele's A/W 2020 show, when guests entered through hair and make-up as models were prepping).

From there on, it is a sensory trip into Michele's imagination and long-term collaboration with photographer Glen Luchford. Rebellious Romantics, the S/S 2016 campaign celebrating the 'non-conformist attitude' of Berlin, is realised as a club toilet with saccharine orange tiles underfoot, Pepto pink on the walls, and lacquered lavatory doors, under which lovers' feet can be seen.
Soul Scene, Michele's Pre-Fall 2017 ode to the work of photographer Malick Sidibé, who captured 1970s youth culture in Africa, comes alive as guests are made to weave their way through a foiled curtain to watch a group dancing to Frankie Valli & The Four Season's The Night, via projection.

Michele's first Gucci campaign, for A/W 2015, Urban Daydream, clones a New York subway carriage, complete with rubber flooring and stirrups as overhead handles (a nod to Gucci's equestrian roots). Meanwhile, The Collectors, which explored 'the personality of objects' for A/W 2018, features 182 cuckoo clocks, 1,400 butterflies, 110 wigs and 42 'Ace' sneakers in mirrored cabinets.

Other highlights include Come As You Are – the Cruise 2020 celebration of 'uninhibited hedonism' that saw guests tearing their way through the kitchens of stately homes – depicted with ceiling-high catering shelves piled with crockery peppered with laurel-leaf headbands and guitar cases (centre stage, a Bob Mackie-inspired feathered headpiece surrounded by surveillance cameras pointed at attendees). And Tokyo Lights, A/W 2016's chaotic trip through the Japanese capital, captures the sensory overload of the city with 150,000 mirrored paillettes and a deafening arcade soundtrack.

Michele compared his process as curator to 'a dig' into the last six and a half years. 'It is as if I had somehow inspected the unconscious of what has become, of who has become the present of this brand… so today it is exciting, interesting never nostalgic,' he said.
Indeed, the exhibition has playful idiosyncrasies in every corner. In the final Gucci Hallucination room, for example, Michele had the Spanish artist Ignasi Monreal paint a fresco to celebrate S/S 2018's deep dive into his fantasy Gucci utopia, which took a whopping 900 hours to complete. Alongside bunnies, deer, astronauts and spaceships, a Where's Wally-style depiction of Michele in a pink suit looks on as a cherub holding a Post-it with the Gucci Garden's WiFi password on it floats by.

'Archetypes' only depicts a snippet of Gucci's Michele-led metamorphosis, which makes it all the more impressive. Describing it as 'a playground of emotions', the designer said he is 'an eclectic; I fall in love with a bit of everything; I get tired of everything', and is in constant pursuit of new challenges.

This year marks the 100th anniversary of Gucci, and Michele praised 'the great courage' of CEO Marco Bizzari for trusting him to reinvent the brand so dramatically, adding that they both enjoy a challenge. 'It is obvious that it was a very difficult bet, but like when you go to the casino, if you bet very, very boldly you can win very boldly – even lose, but maybe that's [even] better in my opinion.'

Of the drive for a more inclusive approach to luxury, they have, he said, granted themselves the freedom to take the fashion and objects they produce 'to the people… of all types, of all sizes, of all races, of all origins. Six and a half years ago, in my opinion, it was not so and therefore I am very happy.'
INFORMATION
gucci.com
Scarlett Conlon a freelance journalist and consultant specialising in fashion, design and lifestyle. Before relocating to Italy, she held roles as deputy fashion editor at The Guardian and Observer and news editor at British Vogue in London. She is currently a regular contributor Wallpaper* Magazine among other prominent international fashion and design titles.