Alessandro Michele goes behind the scenes of Gucci's A/W 2020 show
Creative director Alessandro Michele invited the audience backstage for the Gucci A/W 2020 show in Milan, to explore the construction of the runway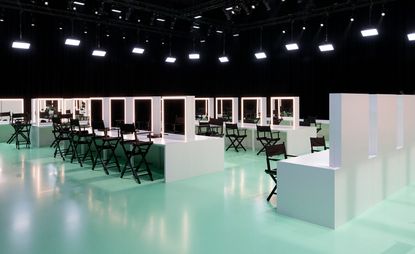 (Image credit: gucci.com)
As editors zipped from fashion show to show in London on Sunday, their phones vibrating with street style images and catwalk shots on Instagram, and updates about the gales of Storm Dennis, a Whatsapp message from Alessandro Michele popped up on their phones. Inside, a voice note from Gucci's creative director offered a welcoming Invitation, 'Ciao, how are you? I was thinking if you're not too busy, you could come to my show next Wednesday at the Gucci Hub in Milano?' He even signed off the audio message with a kiss.

Michele is a master of anticipation — his elusive brand invitations have included a mask of a classical bust housed inside a huge wooden box, a creamy green tin packed with unusual ephemera and a orange box resembling a ticking explosive device. But for A/W 2020 his invite approach was more intimate, sustainable and conversational — we even contemplated accepting the invitation with our own voice note. In the run up to the show, Michele also messaged guests their seating allocations and even sent a close up image of himself travelling by car to the show space, sporting mismatched pastel toned nail varnish, eyeball motif rings, a checked coat and floral trainers.
For A/W 2020 Michele divulged his fascination with the ritualistic nature of the runway show — the weeks of organising that goes on behind closed doors, the backstage hair and make up, the soundchecks, cumulating in an audience finally being seated, and the runway lights cinematically illuminating a reveal. 'In a celebration that feeds off expectations, my thought takes its shape and goes public,' he said in Gucci's show notes. This meant that just as guests saw behind the scenes into Michele travelling to the Gucci Hub venue — they entered not through its Piuarch-designed front entrance, but through a backstage door, with models sporting rhinestone headpieces, and streaking mascara still in hair and make up. Assistants were on hand to apply hair extensions and face serums, as they lounged in flannel dressing gowns. 'I offer my poetics to this tribe of emancipated spectators,' Michele added of opening up the underbelly of his runway show. 'May they use it to wonder. May they help me to understand it.'
RELATED STORY
As guests made their way through backstage, through a black curtain they found themselves in a dark carpet-lined octagonal room, bathed in soft light, with a gauzy pink circular curtain at its centre. The beginning of the show was signalled with a Federico Fellini voiceover describing in Italian the ritualistic nature of cinema — punctuated by queuing, ticket purchasing and being seated in an auditorium. When the show began the curtain dropped to reveal another backstage set up, with assistants in dark grey uniforms dressing models in seventies suiting, priests outfits and victoriana ruffled dresses. A symbol of the sacred minutes that mark a runway show, the grandstand design of the set up surrounded a neon lit metronome at the runway's centre. It provided a serendipitous comparison with the status of show production: 'Then the lights dim, the cinema screen turns on and the revelation brings,' Michele added. In today's content hungry world — where brands reveal pieces that will be on the runway days before the show, or dress guests in looks yet to even make the catwalk — the more brand devotees see behind the scenes into the brand, the more power a label will harness. Michele, a thoroughly modern mind, is always one step ahead in this awareness. 'May that wild and crazy hive that I made my home have a throne' he concluded of throwing the inner confines of the Gucci world into the open. It's the jewel in the catwalk crown.
INFORMATION