Thousands of tiny lights illuminate Gucci's A/W 2019 elliptical mirrored show set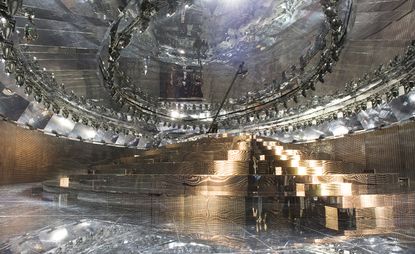 (Image credit: Jason Lloyd-Evans)
In recent seasons, we've got our medical scrubs on with Gucci, inside the Italian brand's antiseptic operating theatre-inspired show set, and been soothed by a live interlude courtesy of Jane Birkin at its decadent Paris nightlife-celebrating show, inside the city's famed Le Palace nightclub. For A/W 2019, the label returned to its Piuarch-designed Gucci Hub, after a season showing in Paris (part of creative director Alessandro Michele's three part exploration of French culture), with a breathtaking elliptical runway set sparkling with 120,000 light bulbs and swathed in panels of mirror, projecting and refracting a cacophony of sparkling beams of light.
The beauty of the vast interior of Gucci's HQ – comprising a series of restored Caproni aircraft factory buildings, which date back to 1915, is that its show set space can be dramatically changed and reinvented. It can be expanded into a mythological set filled with reimagined ancient monuments and a map of the Milan underground system, or squeezed into a gallery of hospital rooms. Every visit to the Gucci Hub throws up a new sense of space and dimension.
Guests entering Gucci's A/W 2019 show set were met with an expansive curving space, its walls lined with thousands of tiny LED lightbulbs, and a ceiling and 100m long runway swathed in mirror. At its centre, a tiered stack of mirrored seating reflected both the immersive LED lighting – which appeared like millions of tiny golden polka dots – and the silhouettes of guests.
As the show began, to the discomforting sounds of dogs barking and grinding sounds, pulses of blinding light were beamed throughout the space. The light show progressed, changing from glitching and frenetic patterns to patchy flickers of light. An operatic choral soundtrack bought a sense of gravity and discord.
Myriad influences inspire Michele, and each season journalists work to unpack the postmodern web of inspirations in his collections. His A/W 2019 show set appeared to dance beneath a rotating disco ball, like being absorbed inside a shimmering star.
Michele's A/W 2019 offering was inspired by the idea of human concealment and models wore eerie masks on the catwalk, punctuated with spikes or resembling those from a slasher movie. With lights and mirrors illuminating and distorting the space it also offered comment on human perception, and truths which are swathed in darkness or glowing in brightness. For the first day of Milan fashion week, it was a real light-bulb moment. §
INFORMATION
For more information, visit the Gucci website (opens in new tab)