Smooth operator: Gucci's A/W 2018 show is just what the doctor ordered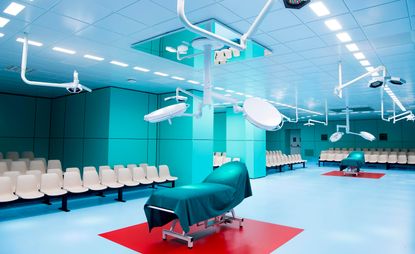 (Image credit: Jason Lloyd-Evans)
There was a high dosage of medical drama on Gucci's A/W 2018 runway today. Wallpaper* was lucky enough to scrub-up and take a sneak peak at the brand's operating-table inspired show set at its Piurach-designed Gucci Hub and it got us hoping for a check-up.

Last season (opens in new tab), the brand's creative director Alessandro Michele took an historical approach to Gucci's runway set design, with a catwalk inspired by Ancient Rome, and populated with mythological figures like a Buddha and an Egyptian mummy. Michele is renowned for his encyclopedic aesthetic, but for A/W 2018 he demonstrated a more stripped-back approach to the creative direction behind his set design, erecting five sterile turquoise operating rooms within his pristine show set, with real life tables, surgical sheets and operating-room lights which illuminated the catwalk.

There was a sense of claustrophobia, with narrow entrance doors fueling the antiseptic sense of discomfort on entering. Rows of wipe clean waiting-room seats accommodated guests, who became not just fashion voyeurs but watchers of something more blood-curdling and intimate. PVC walls (also a feature of last season's show set), panic bars and fire doors added to the sense of surgery-room drama. A blood red PVC square positioned beneath each operating table added to the unease, while a show soundtrack of classical opera and the sounds of oxygen being administered, heart monitors crashing and phone numbers being frantically dialed intensified the discordant mood.

While the set was indeed sterile, it acted as a metaphor for Michele's postmodern design approach. Like a surgeon, the designer cuts, splices and stitches garments that span genres, decades and historical contexts. The operating table theme was reflected in the brand's A/W 2018 collection which featured monastic capes, nuns headdresses and models clutching prosthetic heads. Time to go under the knife.
INFORMATION
For more information, visit the Gucci website (opens in new tab)