Moments fashion met design at Salone del Mobile 2022
As Salone del Mobile returned in force last week, fashion brands – from Loewe to Hermès – took part in the Milanese fair in a variety of projects spanning furniture, homeware, and a raft of high-profile collaborations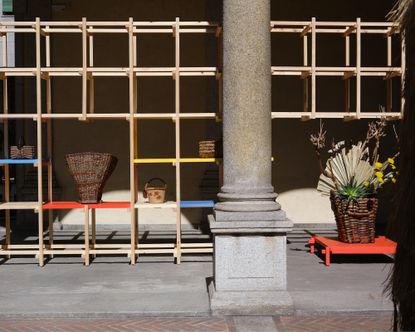 (Image credit: press)
In case you hadn't already heard, Salone del Mobile was back this year in a big way. After last September's SuperSalone prelude that saw a condensed and quiet return to the streets of Brera by the world's biggest design talents and aficionados, this time around it was busier than ever. Joyous and frenetic, aspirational and innovative, fashion brands took the opportunity to take part in the Milanese fair's flashy return. From Loewe's restorative basket project to Hermès' patchwork blankets, Versace's latex sofas to AlphaTauri's heat-tech outerwear, the best moments where fashion met design at Salone del Mobile 2022.
Fashion brands at Salone del Mobile 2022
Paul Smith
Question: is there anyone more persuasive than Sir Paul Smith when it comes to buying into his high-frequency homewares and clothes? Answer: it was a rhetorical question – of course there isn't. One of the original masters of British idiosyncrasy, his partnership with Boffi | DePadova this season on a collection of chairs and sofas is a meeting of two greats. Speaking via video link from his famously eclectic office in London ('anyone familiar with DePadova would look at this room and frankly be horrified,' he laughed), he explained the collaboration. 'There's a lot of beautiful furniture around the world, but it's not very comfortable,' he said. Cue the hemp-upholstered cushions which are filled with recycled feathers and kapok, adorning high-backed chairs detailed with leather pull ties and visible joints. 'You often sit in a chair and fall backwards – it's difficult to make a beautiful chair with height, but we did it.'
Versace
The 'interplay of classicism with contemporary seduction' was the stimulus for Donatella Versace's second collaboration with Roberto Palomba and Ludovica Serafini for the homeware arm of her empire. Entwined as ever with her ready-to-wear fashion collections, this collection bore the highly charged hallmarks of her womenswear show in February. Where that gave us no fewer than 60 corsets and lashings of latex, here the 'La Medusa' collection got a covering in patent red vinyl; the slogan 'I love you but I've chosen Versace' that came on T-shirts arrived in tassel-trimmed cushions; and the 'La Greca' motif that was lavishly splashed on synthetic fur coats popped up in myriad forms. For outside living, the 'Stiletto' collection – which has been given Versace's summer soirée seal of approval in durable three-dimensional weaves in lime green, hot pink and yellow – came accessorised with diamanté portable cups and the new summer accessory to own: the Versace beach ball.
Colville
While ethics are firmly on the fashion agenda, there are few luxury brands that labour quite as hard as Colville to ensure they are as responsible and circular as can be. For Salone this year, founders Molly Molloy and Lucinda Chambers continued to push their agenda with their largest-ever homewares collection. For the first time, it featured built objects in the form of tables designed and crafted in collaboration with Italian carpenter Federico Mazzolini. 'We wanted to celebrate artisans and craft from all over the world and reappropriated centuries-old techniques, shining a light on the artists we work with,' said Molloy, pointing to the new 'Double Decker' vase, inspired by industrial, corrugated tubing, and crafted in typical clashing Colville colours (a collaboration with LagunaB); the 'Psychedelic Super Shag' rug which joins the existing offering of floor coverings made by Turkish weavers using craft techniques developed by women artisans in Selçuk; and the 'Twisted' vase and candlestick, the results of a collaboration with metal worker Katia Messali.
Valextra
For a brand that has made its MO timely leather goods inspired by Milan, it was apt that Valextra looked to its original Milanese icon, the Tric Trac, to mark the return of Salone del Mobile. The celebrated wristbag arrived in new two-tone colours with a rollercoaster display and Bar Basso on hand to shake up negroni sbagliato cocktails. 'For me, it was very simply about celebrating Milan,' said CEO Xavier Rougeaux. 'It was the right moment to pay homage to the city and Valextra, too, with our iconic Tric Trac that was conceived here and has lived through all these years. But it was also about being spontaneous and celebrating authentic, often simple, pleasures.'
Dior
Louis Vuitton
Louis Vuitton marked the tenth anniversary of its Objets Nomades with a huge installation in Garage Traversi, celebrating the talents it has worked with from all over the world in the last decade under one roof. The Campana Brothers, Atelier Biagetti, Zanellato/Bortotto, Atelier Oi, Frank Chou, Patricia Urquiola, Marcel Wanders Studio and Raw Edges were joined by Andrew Kudless, Tokujin Yoshoka, Nendo, Damien Langlois-Meurinne, Barber & Osgerby, and India Mahdavi in presenting their designs side-by-side on saturated plinths.
Loro Piana
Loro Piana and Raphael Navot's collaboration was conceived long before Covid, a delay which imbued Navot's first furniture collection for the luxury fashion house with an emphasis on 'time and intimacy and tactility', he said. The 'Palm' collection of enveloping sofas, stools (where lids transform into trays) and the chaise longue and ottoman duo are shapes, he said, that have been designed to be touched, lived on and connected with, free of pretension. 'When something speaks to you, it stays aside from style and periods or connotation about decoration and forms we understand.' Loro Piana's famously indulgent textiles were the star of this show, with linen, embroidered wool and the brand's cashmere and silk-blend 'cashfur' upholstered onto the structures bearing only one seam as a nod to the couture techniques applied to its clothes.
Missoni
The last time we saw Filippo Grazioli was in February as he was taking his bow after showing his second womenswear collection for the house. Fast forward a couple of months and he has shifted sideways to be the life and soul of the brand's homewares line. 'Fashion is a beautiful garden [but] the home a big forest,' he enthused as he presented 'Welcome Back Dreams', a collection whereby Grazioli's new Missoni mascot Bruno the bear took centre stage alongside towelling bean bag-esque seating and a modular table system based on Ottavio Missoni's original sketches. Featuring different fabric swatches from February's womenswear collection under glass (a connection he plans to continue each season so the tables relate to the ready-to-wear), they are designed to be bought singular and dotted around rooms as and where needed. 'I don't like the idea of a home being too matchy - that's too perfect,' he smiled.
Issey Miyake
AlphaTauri
The fashion arm of Red Bull is fast making a name for itself with its fabric innovation and its collaboration with Deutsche Telekom for Salone took it a step further. Staged in an unbranded white box in the grounds of the University of Milan – aptly, a bubbling hub of research – asked the question: what if your next fashion piece was smart? Here, this was explored in colour chambers which asked visitors if they were cold or warm; the idea was to communicate the autonomy people have over their body temperature when wearing the 'Heatable' capsule collection they were in town to unveil. The edit of outerwear features panels with heated filaments, charged by a powerbank stored in a pocket that are controlled by an app or Apple watch. In turn, they cool the garment to 18 degrees or heat it to 33 degrees with the option of constant or pulse mode. Very smart.
Armani Casa
'In recent years, I have focused on the essential aspects of my style lexicon,' explained Mr Armani of his Salone exhibition staged at his imposing Armani Silos location for the first time. 'In design, as in fashion, I feel the need to reaffirm the founding elements that define the Armani style.' They showed up in abundance here where new finishes were applied to iconic pieces celebrating constant themes including nature, water and tactility. The 'Olivia' table arrived crafted from mother-of-pearl tiles, the 'Side' partition screen came panelled in ribbed paulownia to give the appearance of bamboo and a reworked 'Space' table was crafted from Canaletto walnut and plexiglass to create a chessboard effect. As ever, Armani's insouciant accessories, this season including yo-yos in lapis and jade-effect resin, a croquet set, a sled and a portable artist's easel, were a delight to behold.
Weave, Restore and Renew was Loewe creative director Jonathan Anderson's way of highlighting the new life that can be breathed into broken or damaged objects by 'a craft intervention'. Sourcing 240 baskets in need of repair, Loewe handed them over to artisans Idoia Cuesta, Belén Martínez, Santiago Besteiro and Juan Manuel Marcilla who mended them using the ancient Galician technique of Coroza to repair the structures. The result of which is a couture-like patchwork of originality and innovation, at once timeless and distinctively Loewe. To complement this 2.0 basketry, Anderson also brought 2019 Loewe Foundation Craft Prize finalist on board to create jars using the Korean Jiseung technique that sees strings of paper woven together to create household objects. 'Across this whole project, we celebrate the regenerative power of handwork,' said Anderson. 'I am proud we have created a series of items that rewire the relation with time, wear and tear, delivering a message of evolution and transformation which is progressive and uplifting.'
Aspesi
Aspesi handed over its Corso Venezia showroom to Hans Ulrich Obrist, Gianluigi Ricuperati and Patricia Urquiola who between them brought Obrist's Instagram account – that sees him feature post-it messages from friends and collaborators – to life. Virgil Abloh, Etel Adnan, Koo Joeng-A, Precious Okomon, Philippe Parreno, Douglas Coupland and Michelangelo Pistoletto were the creators whose messages (some motivational, some sarcastic) were featured on post-its dotted strategically on the windows of the top-floor space, interacting with each other as well as the changing skies behind them. 'The post-its are talking to each other,' explained Ricuperati. 'Souls are communicating without talking – it's the ideal world of art where the living connect with the dead.' Positioned around the space, Urquiola's carpets provided a spot for guests to take a break from Salone and ponder on the messages, while her refracting Glas Italia tables housed little booklets of the compiled post its guests were encouraged to take away with them.
Hermès
The Pelota once again played home to Hermès, this time with four water tower-inspired installations constructed from wood covered in translucent sherbet-hued paper. Softly backlit, they looked as though they had drifted into a soft landing, setting the scene for the brand's 'manifesto for lightness'. Inside each structure, textiles became the protagonist of this home collection: cashmere plaid, patchwork and quilting took on a three-dimensional quality in huge blankets and throws, hanging above sculptural leather tablewares (each crafted from a single sheet of leather) and canework seating all finding the perfect balance between refinement and robustness.
Prada
Prada seized the opportunity of Salone to stage its 'multidisciplinary symposium', Prada Frames, a series of six sessions exploring the relationship between the natural environment and design that covered topics such as understanding plants as sentient, the criticalities of carbon offsetting and ways to responsibly source materials from the forest. Over 30 experts, including scientists, anthropologists and law experts, took part in the three-day event curated by Formafantasma in the pursuit of examining pioneering point of views. The goal? To create a live body of knowledge that can be both educational and inspiring, as well as activated.
Jacob Cohën x MDF Italia
Jacob Cohën's collaboration with MDF Italia combines both their strong points; the 'Neil' chair, designed by Jean Marie Massaud, and the Italian fashion brand's signature denim. 'We have always been drawn to the idea of working with this type of fabric, and being able to do so alongside a company with such in-depth know-how as Jacob Cohën, which shares our passion for design, research and attention to detail, proved key to the final success of the product,' said Frederik Billiau, CEO of MDF Italia. Giving more stretch than your average selvedge which results in extra bounce, both the denim and the disassemblable chair are 100% recyclable.
Virgil Abloh and Cassina
A collection that is both creation of and tribute to Virgil Abloh, Cassina's Modular Imagination is a project that focuses on democracy authenticity and honesty. Intent on creating a seating system that can be reconfigured either together or apart to suit spaces, style and design sensibilities, Abloh's architecture talent shines in a collection of two building blocks crafted from recycled wood and coated in part-biologically sourced polyurethane. Conceived in 2020 and completed before Abloh's death in late 2021, the collection has been permanently entered into the Cassina catalogue 'emphasising the value of this project that does not aim to be a limited drop but attests the quality of his work within the design world,' said the brand.
Stella McCartney
First unveiled at the COP26 summit in Glasgow last year, Stella McCartney's Future of Fashion exhibition took up residence in Milan as the first exhibit held at Caselli 11-12, the newly constructed space within the historic Porta Nuova gates. It was a celebration of firsts, as the designer unveiled her first furniture and interior collaborations with Cole & Son Wallpaper and B&B Italia. For the first, McCartney applied the hand-drawn 'Fungi Forest' toile de Jouy print from her last clothing collection into wallpapers using a substrate derived from 79% renewable fibres. For the second, she applied the same print to the furniture brand's 'Le Bambole' armchair, first designed by Mario Bellini in 1972 and now made using new sustainable construction methods. Elsewhere, the mushroom theme continued in the 'Fantastic Fungi' screening room where guests watched Louie Schwartzberg's 2019 documentary Fantastic Fungi (exploring how mycelium can help save the planet) and mushroom sculptures made from recycled and recyclable materials guided guests around the space.
Tod's
Tod's may be more synonymous with driving than cycling, but if its big reveal at Salone is anything to go buy, they might need to start making cycling shoes. Together with the Italian bike manufacturer Colnago, the Tod's 'T Bike' has been born; a carbon fibre-crafted two-wheeler that will be available in a limited edition of 70 pieces. Tod's was encouraged to join forces with its fellow stalwart in Italian craft to 'translate the message of Italian lifestyle into a contemporary language for the new generation, who celebrate an active spirit and energy lifestyle'. You can leave the car keys at home.
Anest Collective
Anest Collective hosted a special exhibition at its Milanese showroom on via Montenapoleone to celebrate the launch of a new collection of vessels created in collaboration between glassmaker J.Hill's Standard and designer Aldo Bakker. These handcrafted vessels – titled 'Pot Variations' – represent 'a journey of method and material discovery' in their various forms, crafted from glass both blown and kiln cast in Ireland. 'The encounter between J.Hills Standard, Aldo Bakker and Anest Collective is one naturally centred around common values: expressing a sophisticated and subtle artistic point of view without compromising on excellence in the make,' say Anest Collective.
Fendi Casa
In the ongoing spirit of collaboration across its ready-to-wear and homewares lines, a quadrilogy of themes formed Silvia Venturini Fendi's new Fendi Casa collection: 'The Vibrant Soul', depicting overt luxury; 'The Crafting Mood', celebrating an artisanal approach; 'The Family Couch', a welcoming, warm and cosy atmosphere; and 'The Outdoor'. Within them sit Fendi's collaborations with international designers including Chiara Andreatti, Toan Nguyen, and Thierry Lemaire. 'I strongly believe that today, more than ever, it is essential to establish an ongoing discourse with international creatives and visionaries,' said Fendi. This season marked the inception of a new lighting line developed in collaboration with Flos and a highlight of its new partnership with Design Holding, with whom Fendi has launched FF Design, a new entity 'dedicated to developing the world of Fendi Casa'.
Carhartt WIP x Toogood
In a new collaboration, Toogood and Carhartt WIP have taken their respective talents for sculptural cuts and workwear and combined them to make a collection that has serious appeal. To celebrate at Salone, giant puppets wearing blown-up versions of pieces in the collection were installed in Spazio Maiocchi, symbolic of Toogood's recutting of Carhartt WIP's classic style and the combination of each brand's iconic item – Carhartt's 'Michigan' jacket and Toogood's 'Photographer' jacket. Durability and circularity are both buzzwords for these brands, which made the collaboration a natural one, said Erica Toogood. 'Carhartt WIP's history of modifying historic workwear sits effortlessly with Toogood's nod to trades and workwear, reimagined and sculpted with artistic freedom,' she said. 'Combining our aesthetic and cutting style with Carhartt WIP's construction skill and capacity has been a proud moment for us, resulting in an accessible, durable and iconic product.'
Diesel Living
Cloudscape wallpaper and sofas, punk safety-pin inspired lighting, bubble-wrap tiles, satellite-shaped chairs, asteroid-inspired shelves: Diesel Living presented 'Tripping' at Salone, a collection concerned with making the most out of being inside, said Andrea Rosso, 'where furniture is your friend and everything that surrounds you offers up hypnotic surface for your inner voyage!' Collaborating with revered designers and studios on each item – Scavolini, Lodes, Moroso, Iris, Berti, Seletti and Mirabello Carrara – from both 'sustainable and surreal fabrics', it's a collection where 'irreverent visions of eclectic classicism meet mischievous doses of pop to shape a new world for home that celebrates a liberating sense of togetherness,' said Rosso, adding, tripping at home with our partners has never been so real.'