Piece offering: the making of the ceremonial rug, by Craig Green and Stepevi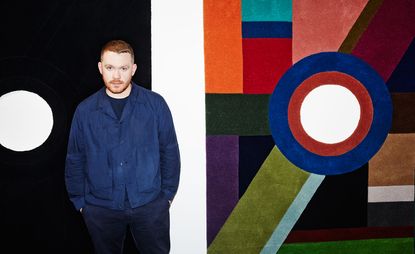 (Image credit: Roger Deckker)
Back in 2011, we teamed up with luxury rug-making company Stepevi for a Handmade collaboration with the Paris-based designer Vincent Darré of Maison Darré, resulting in a striking surrealist rug with a body-part motif. We so enjoyed working with the family-owned brand that we decided to make another aesthetic pilgrimage to its factory in Isparta in southern Turkey, this time teaming up its craftsmen with the London-based menswear designer Craig Green.

Inspired by the history of mats used in worship, Green designed two 170 x 240cm ceremonial rugs, crafted in 100 per cent wool. One is multicoloured, while the second is described by the designer as being a 'shadow version' of the first, made entirely with black yarn. 'Doing two versions of the same thing is a strong part of the brand I have been building,' Green explains. He constructed each rug from smaller elements. Each design is an amalgamation of 28 pieces, and they resemble large-scale graphic jigsaw puzzles.

Traditionally, rugs are known for their concealing properties, but instead, Green's design features an elliptical porthole-style cut-out. Holes are a recurring motif for the designer, who founded his eponymous fashion label in 2012. Knitted jumpers with a cut-out circle at their centre featured in the designer's A/W15 collection. Known for his meditative approach to fashion, Green's garments also include deconstructed silhouettes, which are created piece by piece from separate shapes and laced together to create varying degrees of closure.

When it came to the rug design, Green's search for inspiration went global. 'We looked at world flags and almost layered their designs on top of each other,' he says. 'The final patterns took on Russian Constructivist shapes.' It's not the first time Green has drawn on flags in his designs. For his S/S17 collection, he created both bright and colour-bleached scarves, inspired by flag aesthetics and Boy Scout neck scarves. White flags, a universal symbol of truth and surrender, also featured in the collection.

Keeping the thread of our spirituality-focused Handmade theme, Green's multicoloured rug design, when divided into graphic blocks, also evokes the bright hues and graphic structures of ecclesiastical stained glass windows.
In Green's kaleidoscopic interpretation, each of the 28 pieces was created using a different colour. 'Each separate element was produced to the standard of a finished rug, so that when they were laid down together they fitted seamlessly next to each other to form one perfect design,' explains Ayşegül Yürekli Şengör, Stepevi's managing director.

Founded in 1919 in Istanbul, the company uses the latest technology to create its multifaceted designs from its production facility based in Isparta, a town with a heritage of traditional carpet weaving. For Green's ceremonial rug, Stepevi's craftsmen used hand-operated tufting-guns – machines that push loops of high quality wool through a canvas stretched over a frame. A backing foundation, known as scrim, was then applied to the canvas using a water-based glue. 'For me, working with Stepevi was an easy process,' says Green. 'Perhaps not for them, though, as they were making multiple pieces for each design.'

Green's garments are associated with a meticulous level of craft, and the second stage of rug production focused on intricate handcrafted details. 'To create a soft pile, the wool loops were sheared by a software-operated machine blade,' says Şengör. 'Then the strands were hand-carved and cut at different levels to create a three-dimensional surface. Our specialism in creating multifaceted rugs enhanced the design.'

Not content with producing two striking finished rugs, Green experimented during the making process, creating versions of each design with dynamic, moveable pieces. 'They're like exploding flags,' he says. 'You could even put parts of the coloured design into the black one, and vice versa.' The designer is pragmatic about the impact of jigsaw-like furnishings on domestic bliss. 'You could even separate all of their parts around your house,' he adds. 'Although the pieces would be a nightmare to vacuum.'

As originally featured in the August 2017 issue of Wallpaper* (W*221)
INFORMATION
For more information, visit the Craig Green website (opens in new tab) and Stepevi website (opens in new tab). Available from WallpaperSTORE* (opens in new tab)