Craig Green on his 'decorated men' and those hand-moulded leather accessories
'They are almost like a relic,' says British designer Craig Green of the hand-moulded leather objects that appeared as part of his S/S 2023 collection, a musing on functionality and decoration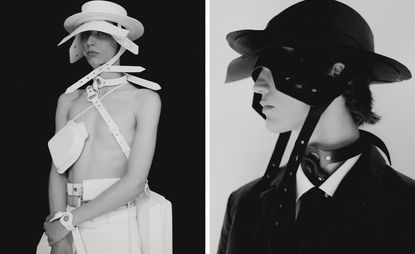 (Image credit: Photography by Paul Phung, courtesy of Craig Green)
A photograph of a watch, its face concealed by a specially crafted leather cover, provided the starting point for Craig Green's S/S 2023 collection first shown at Paris' Musée de l'Homme in June 2022. 'It was like a watch you couldn't read,' he says on a recent call from his London studio. 'I thought it was a really beautiful thing.'
The watch itself originated from the Second World War, its cover designed to protect the inner workings from the dust and shrapnel of the battlefield. Green insists that the reference – which appeared in the collection as moulded bracelets and chokers, as well as similar covers that sat over neckties or on the chest of a shirt – was not chosen to labour a metaphorical point (though, he concedes, there is probably one there if you look hard enough). Rather, the fascination came from the idea that an object could be stripped of its purpose and yet retain its essence.
The story behind Craig Green S/S 2023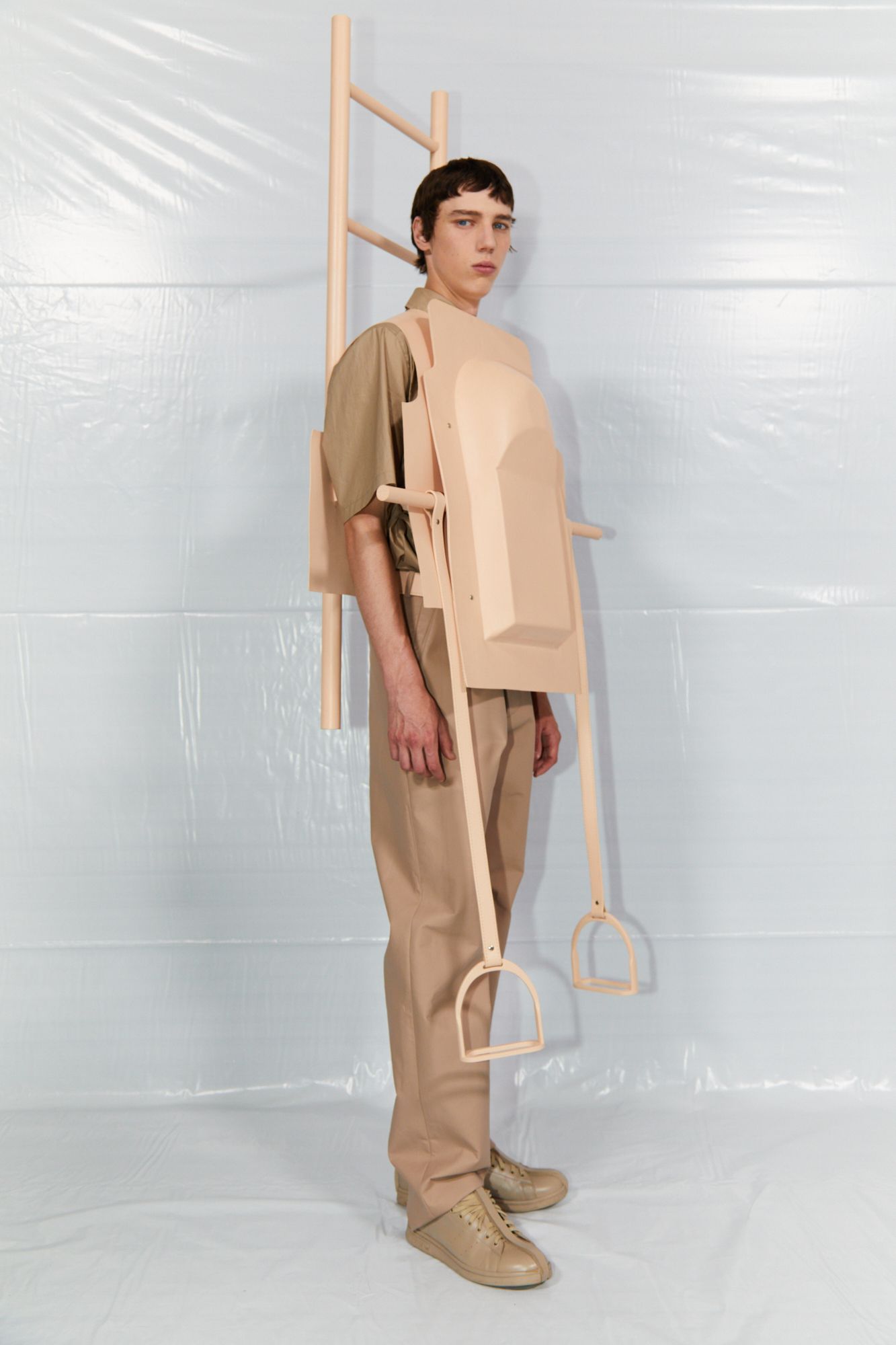 'I'm always obsessed with symbolism, about why things feel a certain way,' he says. 'I thought it could be interesting to take objects back to their bare bones and see if they still feel important. People still wear watches, and they are beautiful objects, but not how they once did. It's almost like a relic, or the imprint of a relic.'
As such, models walked the runway with various objects strapped to or balanced on their body: suitcases, bridle stirrups, water bottles, hats, each one crafted from a shell of moulded leather. 'I thought it was interesting that they resembled functional items, but they no longer had any purpose,' Green explains. 'They were water canisters that you couldn't drink from, a suitcase that you couldn't use.'
Such obscurities have become signatures of Green's work, which often combines the simplicity of archetypal menswear garments – particularly those derived from workwear and uniforms – with strange flourishes like circular cut-out peep holes, elaborate tie fastenings, or otherworldly textures (in the S/S 2023 collection, a metallic silver fabric looked crumpled like paper, while swathes of quilted fabric were printed with abstracted patterns reminiscent of traditional school sports uniforms). Last season, concertina handbags were made in a factory that usually produces anaesthetic pumps for hospitals.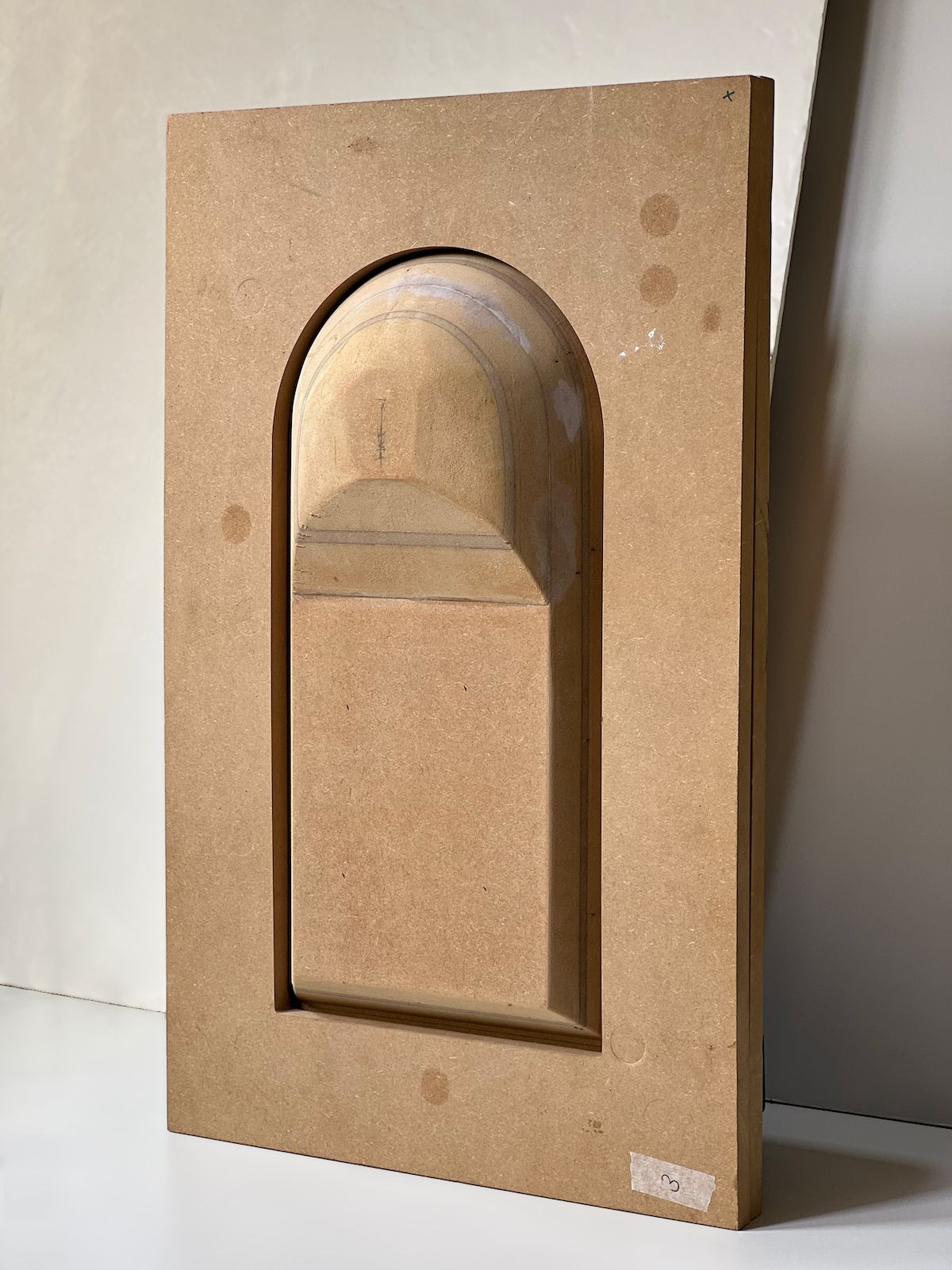 Here, he said he was thinking about the idea of the 'decorated man' – photographs of soldiers adorned with hundreds of medals for service. 'I guess I was thinking about how decoration can feel like a dirty term in fashion – like you are decorating something to look better than it is, disguising something,' Green says. 'I found these images of the "most decorated man in history" who's wearing hundreds and hundreds of medals. It was interesting because it's like: what are the medals for and what are they decorating?'
As such, the moulded leather accoutrements that the models carried – 'the baggage and decorations of many decades' – were one of the collection's earliest ideas. They spoke to what Green calls the fallacy of the 'useful man', the gap between who you are and what you want to become, something he says is drummed in from childhood. 'At what point in your life do you stop aspiring to be that man?' he said after the show. 'It goes on forever, really.'
The Craig Green studio is split in two: one half is a traditional clothing atelier, the other Green calls 'more like a workshop... full of materials and machinery that can make 3D things and sculptures' (he says he originally wanted to be a sculptor or painter, but then moved into fashion). It was in the workshop-style half that the various moulded leather objects were prototyped and created, this season a process undertaken entirely in-house (the team couldn't find a factory that could manufacture leather objects from moulds on this scale).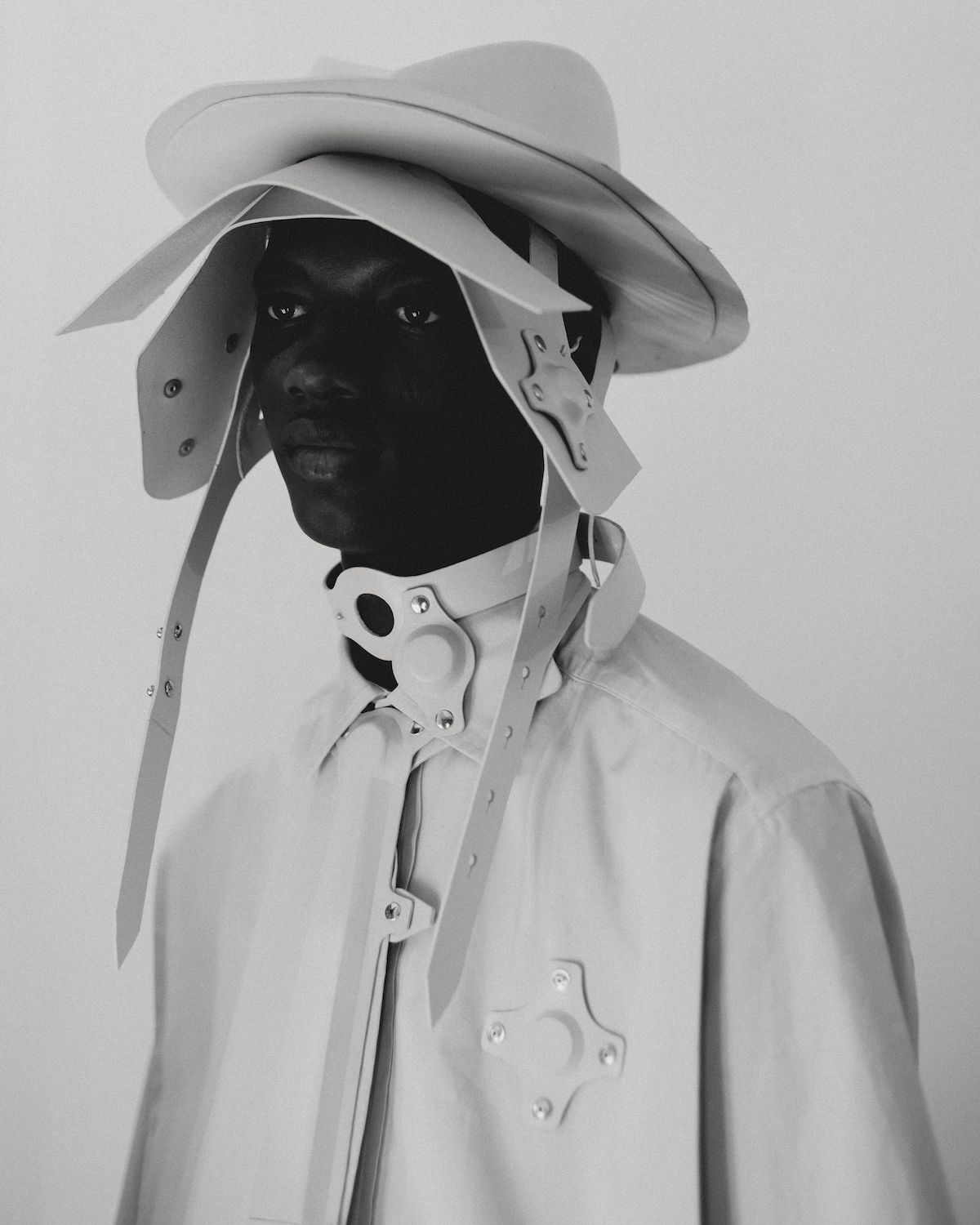 Green says that the approach was like solving a puzzle: 'It's a lot of finding out what to do on YouTube videos, reading books, trial and error... we like to torture ourselves,' he laughs. The eventual process was one of handcraft, despite the smooth, plastic-like perfection of the finished objects: moulds were made digitally and then carved from wood, leather hides were soaked overnight in a series of children's paddling pools dotted around the studio, and the final moulding process saw his team stretching the leather over the shapes by hand before being clamped for a 'long period of time' to dry (harder than it seems; Green shows one discarded prototype, where the leather has creased and puckered).
The designer says that he credits this kind of experimentation to his time on the Central Saint Martins MA course under late course head Louise Wilson. 'She always used to encourage us to start making, because you can draw and draw, but in the end you're just drawing from your mind,' he says. 'The best way is to start physically making and experimenting with new things. That's when you have the ability to try and make something new and exciting; something you haven't seen before. That's why process is really important to us.'
Clothing, he says, follows a similar rationale: 'It's rare that someone sketches a jacket, and then we make that jacket, and it's great. Instead, we might make a jacket, cut it up, start again, throw it away, pick it back out of the bin. It's part of the fun I think.'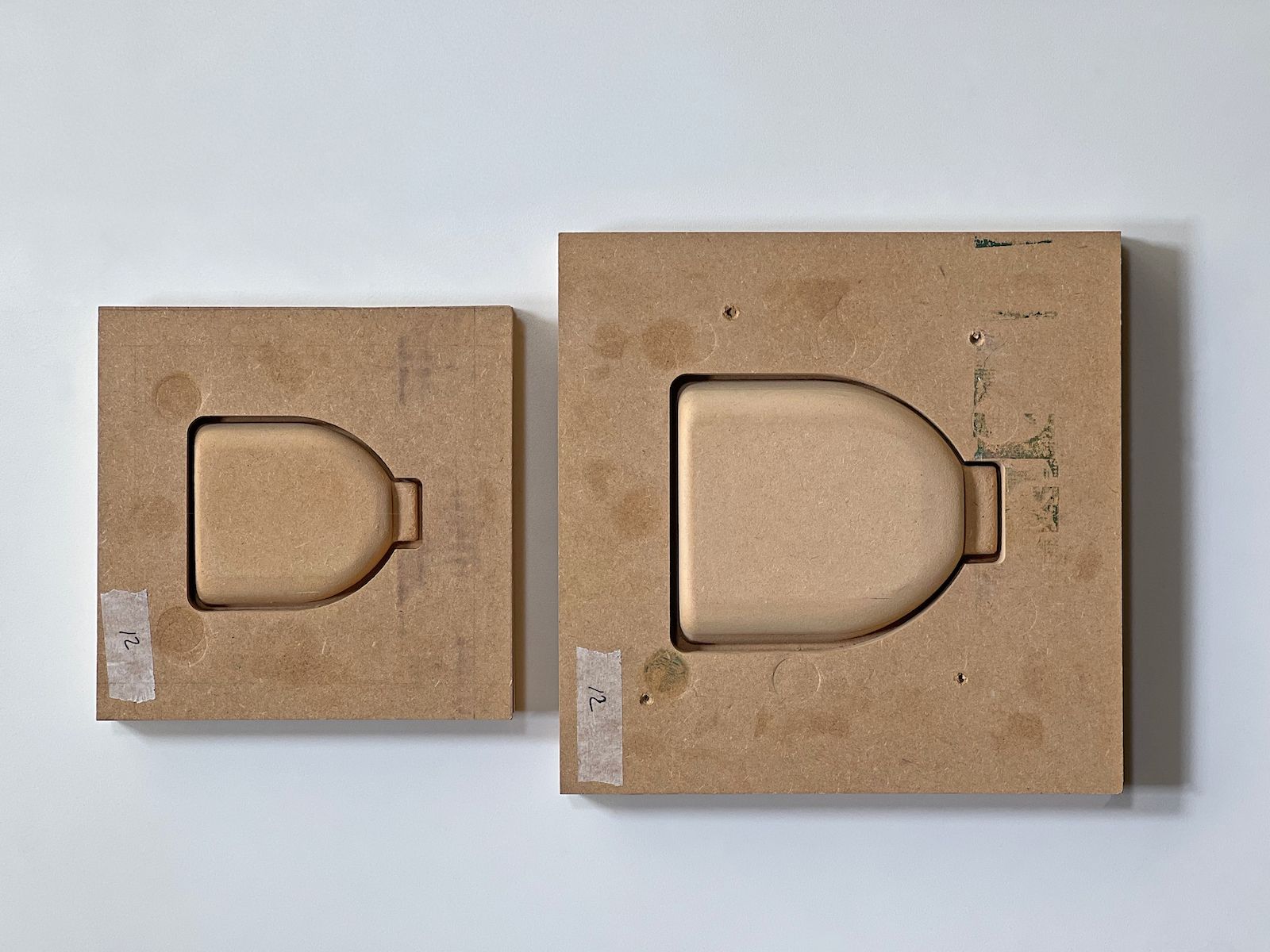 It is an abstract approach that has won the designer plaudits over the nearly ten years his eponymous label has been in business, including a recent MBE for services to fashion in the 2022 Queen's Birthday Honour's list. For now, he is working on an upcoming collection, as well as a high-profile collaboration he is not yet able to reveal.
'The best and the worst thing about fashion is that it's never finished,' he smiles. 'You can work on something forever and ever, and still find something that you want to change.'
Jack Moss is the Fashion Features Editor at Wallpaper*. Having previously held roles at 10, 10 Men and AnOther magazines, he joined the team in 2022. His work has a particular focus on the moments where fashion and style intersect with other creative disciplines – among them art and design – as well as championing a new generation of international talent and profiling the industry's leading figures and brands.