Craig Green launches new Moncler Genius collection
Craig Green's new collection for Moncler Genius is all about protection and transparency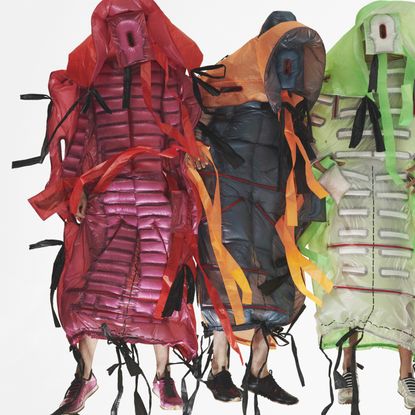 (Image credit: moncler.com)
Craig Green's fourth collection for the luxury outerwear brand Moncler was first shown in February 2020 in Milan and is now available to buy. 'One of the reasons I enjoy working with Moncler is that they are so distinctive and definitive about what they are,' says Green, speaking from his studio in London's Victoria Dock. 'It's about protection and functionality at its core, and they also have a very definitive key product category of down-filled jackets and padded outerwear. So, each season it's about thinking about what else you can do within those ideas of construction and a down-filled jacket.'
Collection inspiration
For the A/W 2020 season, the starting point was the two flat pieces of fabric that are sewn together to create a down jacket. 'The construction of a down jacket has its own rules. There's loads of restrictions but also possibilities,' says Green. 'There's restrictions in how you can apply and inject the down and how you can construct the volume, so working with the technical team on that is a very interesting part of the process.'

The pieces for 5 Moncler Craig Green are split into two distinct stories; a black and white section and a colourful section of neon oranges, acid yellow, faded pastel pinks, chalk blue. 'The black and white section of the collection was created after sessions with the designers and technicians experimenting with down jackets and ski suits. Some of the colour mixes in the second half of the collection were happy accidents as the fabric was so translucent it created new shades when overlaying. In part the colours were inspired by insects and animals.'
Technical fabrication
The pieces are crafted from an extremely lightweight and translucent micro ripstop nylon. The fabric is so sheer you can see the feathers inside, creating what Green describes as 'almost like a 3D print with an iridescent effect.' Other parts of the garments were inflated for the presentation to exacerbate the feeling of lightness.

'People have played with putting volume onto the body, but this was about how the body could create volume in the garments as well. They are completely flat sheets with a series of zips, so you weave your body in and out of them to wear them. A bit like putting a floating 2D graphic onto the body,' says Green.
A year in the making
This collection took nearly a year to conceive and create. 'We thought, "How can we make the lightest possible outerwear pieces?" Combining the micro ripstop fabrics with feathers created lighter than air jackets. During the process, we make trips to Milan to see the design and technical team at Moncler – we build things and play round a lot. Moncler are very open to experimenting, testing new ideas and pushing things forwards, which I think is really important for a collaborative partner. It's an amazing team to work with, we have a lot of fun! Some of the ideas start off very strange!'
Protection as a theme
The collection was designed pre-Covid, but Green's consistent vision explores concepts of protection in garments and feels more resonant than ever. 'I've always gone back to the idea of protection. Even a technical idea of what that means. But I think people can be protected by things that aren't tangible or 'real', like being part of a group, wearing a uniform, being part of a team. Emotional protection or finding protection in other people are things that we play with and consider. I think people always want to feel protected, even if there is not one specific thing to be protected from at that moment in time. Someone might buy an arctic down jacket but live in a city that is never that cold, but you still want to feel that level of protection, even if you might never really need to use it for its true purpose.'
INFORMATION
moncler.com (opens in new tab)
Tilly is a British writer, editor and digital consultant based in New York, covering luxury fashion, jewellery, design, culture, art, travel, wellness and more. An alumna of Central Saint Martins, she is Contributing Editor for Wallpaper* and has interviewed a cross section of design legends including Sir David Adjaye, Samuel Ross, Pamela Shamshiri and Piet Oudolf for the magazine.