Simone Rocha's Moncler Genius collaboration attends to thrill-seekers and frill-seekers alike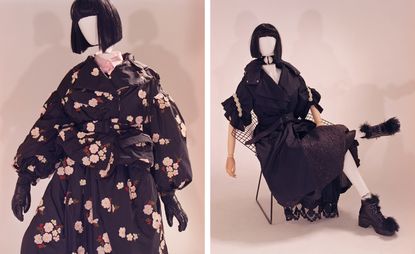 (Image credit: Image Group)
A procession of petticoated Victorian hikers traversing crumpled paper mountains; 6.5m-high mechanical cylinders resembling steaming underwater pistons; a monastic chapel hanging with paintings by artist-monk Sidival Fila. These are just three of the eight scenes, hidden beneath huge tents of silver fabric, which greeted guests at Moncler's Genius Project debut, in the cavernous Milanese stadium Palazzo delle Scintille in February.

The premise? A roster of designers – from Simone Rocha (winner of a 2018 Wallpaper* Design Award, W*227 (opens in new tab)) to Craig Green, Valentino's Pierpaolo Piccioli and Rei Kawakubo's protégé Kei Ninomiya – were invited to put their creative spin on the brand's signature padded down jacket. Their creations were to be released in line with a new retail strategy, one that disrupts the traditional seasonal cycle with fresh drops of product put on sale each month (a model that nods to the selling strategies of street and sportswear brands such as Supreme and Nike).

'I started looking at images of women wearing voluminous silhouettes among really rugged landscapes,' says Rocha of the 19th-century Alpine trekkers, such as Maria de Mont Blanc and Henriette d'Angeville, that inspired her collection's fusion of 'femininity and practicality'. For the Milan presentation, the London-based Irish designer created a scene of hikers, milling against shadowy paper peaks, clad in gauzy petticoat layers, lampshade dresses in padded down, shiny puffer jackets with frills and frothy finishes, and marabou-trimmed accessories.

'I've long been intrigued by Rocha's sophisticated and hyper-feminine aesthetic,' says Remo Ruffini, chairman and CEO of Moncler. The brand's original, now ubiquitous, padded down jackets were first conceived in 1954, and Rocha brought her mastery of airy fabrics, such as organza and cloqué, to their ultra-light construction. 'What was so surprising was that I could manipulate the fabric like taffeta or tulle,' Rocha explains. She saw the padded garments as a 'jigsaw', the seams of which could be pieced together to create voluminous shapes – such as an A-line coat, its linear puffed sections widening towards the knee, and a jacket with undulating ruffles sprouting from its seams.

Ideas of growth and blossoming were essential to Rocha's design concept, which worked to assimilate outdoorsy garments into their natural environments. 'I was looking at foliage and flowers growing up through rocks,' she explains. Signature handwork, such as beading, sequins and embroidered flowers, appears to push through seams or cluster around the graphic Moncler logo. 'I used pearls to evoke a snowy mountain palette,' she adds of the collection, which is realised in white, powdery pink, red and black.
An element of protection is often evident in Rocha's designs for her own label, her romantic silhouettes offset against militaristic cross-body belts and oversized cushiony bags. In her accessories for Moncler, she has emphasised functionality, creating nylon hiking backpacks that buckle around the waist and padded ski mittens. 'It's something I've never done before in terms of manufacturing,' she enthuses. Her experimentation with technical fabrics is also seen in signature flaring dresses and soft double-breasted coats reinterpreted in nylon.

'The Moncler Genius Project was very much about everyone having their own identity but being part of the brand's voice,' Rocha explains of unveiling her collection amid offerings as diverse as Craig Green's padded men's diving suits and Pierpaolo Piccioli's Madonna-inspired flaring capes.

'We're establishing a dialogue with consumers, talking to different audiences and continuing to evolve,' adds Ruffini.

Included in Rocha's collection is a range of sunglasses. Ski goggle-inspired and ovular, they appear as if circled with black droplets of water. Functional yet feminine, made for the outdoors yet opulent, they serve as a symbol of Moncler's multifarious vision. §

As originally featured in the September 2018 issue of Wallpaper* (W*234)
INFORMATION
4 Moncler Simone Rocha is available from mid-September. For more information, visit the Moncler (opens in new tab) and Simone Rocha (opens in new tab) websites