The highlights from Pitti Uomo 94 in Florence
Rain was omnipresent at Pitti Uomo 94. The outerwear brand Herno celebrated its 70th year with a vast exhibition that began with an installation of a single drop of rain; MCM showed ready-to-wear and accessories in Florence for the first time in a dynamic runway presentation that featured a tropical storm. The red and blue carpeted catwalk at Paul Surridge's debut Roberto Cavalli Menswear show was absolutely sodden, which added an eccentric mood to the otherwise fine, fresh clothes. After all, what's summer without the threat of a downpour? Elsewhere, the classic brands who have built their heritage on modish, Made in Italy élan are having conversations about what they can learn from the advance of streetwear: it's time for a rethink they say.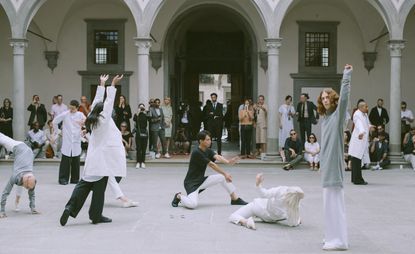 (Image credit: Cos)
COS: the brand is known for its minimal clothes and artistic presentations. At Pitti it introduced a new season-less capsule collection of 17 menswear essentials entitled Soma with a performance choreographed by Wayne McGregor. The collection of separates in white, navy and grey melange have been designed to explore what essential menswear means. 'Every detail has been designed with functionality and the movement of the wearer in mind,' said Christophe Copin, COS head of menswear design, of the understated aesthetic. Dancers drew on the connections between garment and gesture. Wayne McGregor said: 'My choreography, performed by the dancers, has movement which is both familiar and unfamiliar, light, inventive and playful, but in its essence – simplicity. Soma is of the body, of nature, of being human.'
Craig Green: London Fashion Week Men had a number of notable gaps – one of the biggest was left by Craig Green who, as menswear guest designer, was the headline act at Pitti Uomo 94. Since starting his label in 2012, his padded workman's jacket with tie-fronts has become a staple for sartorial men across the world. His palm tree collaged cagoules for S/S 2018 were worn by many guests to his show, held in the enormous Boboli Gardens. The space was dressed in tarpaulin and metal structures made in collaboration with David Curtis-Ring. Models moved in and around the grass and stone walkways. The collection riffed on Green's 'travelling men' – his muse is often esoteric, embracing new shapes and forms as he goes. Here, he added more fluid flourishes to his signature, rigid style. Shapes and materials were collaged onto the body; multicolored flyknit tops were made in collaboration with Nike. Vests were wrapped and worn layered, high and tight over the torso; a series of crisp white shirts had vests trapped between them. Red rope cables ran across the back and down the arms of clothes. The show closed with a series of multi-floral quilted tarpaulins attached at the shoulders with knitted cables. Flora and fauna. Nature and future.
Federico Curradi: The designer, who presented his S/S 2019 collection in his home city, looked to Tuscany's Arno river for inspiration. Organic hues meandered through casual and relaxed separates, like garment-dyed silk waterproofs in orange and sea green, rusty chunky knit V-necks and loose striped shirts. Patchy garment dye techniques evoked the salt spray of the sea, while fish-shape charms and woven belts had a crafty, nautical flair. Fabrications and silhouettes that float our boat.
Roberto Cavalli: Creative Director Paul Surridge arrived last year at the helm of a design house steeped in swagger and sex. Cavalli's inimitable namesake founder built an empire on animal print pep, sand-blasted denim, leather and gold – all things that seem today at odds with our more sombre times. What does the manicured machismo of the Cavalli man look like today? Surridge's S/S 2019 collection was entitled 'Reboot' – re-working and re-examining the brand's DNA. Athletic tailoring was front and centre. The mood was relaxed as models walked across a red and blue carpeted catwalk set inside an epic Carthusian monastery high in the suburbs of Galluzzo. Modestly lavish, the collection focused more on surface tension than dramatic silhouette or OTT gestures. 'My mantra is respect the past embrace the future, and that is my approach at Cavalli and how I navigate this brand to the next chapter. You just have to believe in yourself and protect your vision,' he said. The show opened with all-white abstractions of animalier; throughout, the anticipated animal motifs were sliced, sun-bleached and out of focus. They appeared as tone on tone jacquards or perforated onto leather. 'This is a wardrobe that reflects the times; I wanted the clothes to be immediate and not over designed or complicated. This collection is the new foundation of things to come.' His approach is lenient and sparing; the opulence is all left to the touch.
Herno: on the first day of Pitti Uomo, Herno unveiled L.I.B.R.A.R.Y. – an installation inside the Leopolda Station that explored two important anniversaries for the brand. It is 70 years since its inception and half a century since it has been in Japan. Conceived under the creative direction of Anomalia Studio, the exhibition presented pieces from the archives stored at the factory in Lesa – from the double-breasted coat added to the line in the late 1950s to a whole section dedicated to Japan, which included a white cashmere coat worn by Princess Masako in the 1960s. Herno started with the raincoat; fittingly guests first hear and then see Studio Azzurro's installation: a drop of water drips rhythmically into a container at the centre of a 10 by 10 meter space, falling from an upturned cap of a silk parachute suspended from the ceiling. As you stop each drop with your hand, you interact with one of the eight surrounding screens. Later on, unpublished clips from Istituto Luce in the 1950s show founder Giuseppe Marenzi launching his first collection as he wins the Rally della Moda at Saint Vincent – his car taking pride of place in this story of dynamism, vivacity and elegance. Here, in an exclusive film, you can see the exhibition coming to life.
Z Zegna: tennis may be emerging as a micro-trend for S/S 2019 – is it a key inspiration for Z Zegna's chic summer wardrobe. Where Bally honoured the retired Swiss tennis stars Marc Rosset and Jakob Hlasek, Z Zegna announced the appointment of its first ever official face for the brand: Alexander Zverev, the youngest tennis player in the ATP top 20 and currently ranked number 3 in the world. Game, set and match. The collection offers a range of practical, smart sports tailoring in the brand's trademarked TECHMERINO textile. From classic navy and grey, to the more seasonal spearmint and pale pink, a wash and go wardrobe of deconstructed jackets, technical blousons and tailored joggers work for both on and off the courts
Birkenstock: For its second fully fledged catwalk show, the German footwear brand pitched up at the Giardini Torrigiani, taking over the 16th century garden with a collection chock-a-block with updated classics: the cross or double strap Siena and Malmedy reimagined in khaki and with gold closures, the introduced of leather soles into the women's ranges, the thick upper Zurich upgraded in green and brown camouflage. The label has been going from strength to strength, and bolstered its fashion credentials earlier this year with its launch of a Rick Owens collaboration. For spring, it also showcased the 'Summmer Stride' collection, a series of closed-shoes in unlined leather and with a cork sole.
Moncler: In February, the prominent outerwear and lifestyle brand announced a brave new communication and business model: the Moncler Genius project. Periodic collaboration with designers and artists across disciplines is now creating a laboratory of innovation and technological research. 'We have overhauled everything, by overcoming the very concept of seasons. Our approach is monthly, weekly, daily. An approach which considerably reduces the time that elapses between the collection presentations and when they actually arrive in the stores,' Remo Ruffini, Chairman and CEO of Moncler said at the time. At Pitti, the label unveiled a two-part project with Japanese polymath Hiroshi Fujiwara, whose fashion work is always centred on streetwear and music. His 7 MONCLER FRAGMENT HIROSHI FUJIWARA collection fuses the weatherproof DNA of Moncler with a hip-hop, urban sensibility. Jean jackets are in the iconic padded fabric in a military palette of white, fatigue green and black.
Brunello Cucinelli: there is a reboot of Riviera chic happening at Cucinelli – the customary pastel pinks and blues have been replaced with earthier deeper colours such as caramel, off white, brown and radish. The collection takes inspiration from the Roaring Twenties – a time when formal elegance collided with the sporting world. (The golf and tennis motifs writ large across so many of the collections at Pitti each summer owe much to this phase of the American Dream). The mood here is prim. Linen is key. A white one and a half breasted suit in dry cotton and linen mix is worn over a denim shirt with pearl buttons, exemplifying the coming season and a fittingly summery mood
Band of Outsiders: the fourth collection by design director Angelo van Mol and brand director Daniel Hettmann was shown on a post-rain patch of grass inside the grounds at Palazzo Forteza, scattered with broken columns and statues. Models arrived in a giant golden yellow school bus and sauntered across the square one by one in easy separates inspired by varsity vacation to Italy. Cue wide-leg Bermuda shorts worn with windcheaters in sugary pastels and boxfresh trainers in collaboration with Sergio Tacchini, lightweight tensile shirting and unstructured tailoring in plaid (worn with matching bucket hats). The mood was summery and fresh despite the added quirk of the rain-drenched setting. Whimsical cartoonish prints are by Brooklyn based artist Amit Greenberg. Inspired by childhood excursions to Roman ruins, his drawings are repeated over boxy, boyish shirts and shorts.
Corneliani: 'silk is the cashmere of summer,' creative director Stefano Gaudioso said when introducing his latest collection. The focus for the coming season is on silk and streetwear; a trio of raincoats, from a 1950s classic egg-shaped belted mac, to a sharp, laser-cut nylon style exemplify the tension at the heart of so many classic tailoring brands. How to do modern without abandoning heritage? In a time where Off-White styling and Supreme sweatshirts rule, Gaudioso is busy giving the classic sprezzatura of a fifty-year-old company subtle upgrades. S/S 2019 brings with it a more extensive range of athleisure in the finest fabrics – zip up jackets in stretch suede, lined in jersey with an elasticated membrane give luxury a new mood. 'I am already working on a concept of street tailoring for next winter,' Gaudioso says. 'I want the suits to become less stiff, I want to work with different materials, maybe inserts, to do things that are a little more edgy. The suit is our heritage, sure, but in order to keep up with how the world is changing, you need to move with the times.'
Parajumpers: the label, which derives its name from the vigorous pursuit of parachuting is all about functionality before form. Inspired by a chance meeting between founder Massimo Rossetti and a serving member of the 210th Rescue Squadron in a bar in Alaska, Parajumpers has become known for its rugged, technical styles. The latest collection features high performance outerwear in vibrant, crinkle-effect washed nylon; generous cargo pockets at the chest are shaped for iPads and maps. Packable jackets come with taped seams and zippers. But it isn't all about the rugged outdoors: the Limited Edition by Yono line (made in collaboration with Japanese designer Yoshinori Yono) introduces leisurewear made from three layer laminated fabric both stretchy and waterproof. It works just as well at home or at sea.
Woolrich: In October 2017, the heritage American company Woolrich International announced an alliance with Goldwin Inc, the Japanese experts in technology for the outdoors. Their debut collection Woolrich Outdoor, unveiled at Pitti is said to explore the balance between humanity and the natural world, which translates as super desirable, lightweight, functional, youthful clothes designed to adapt to the demands of active pursuits. The collection features a new curvier logo for Woolrich, which acts as a preview of the brand direction to be rolled out in A/W 2019. Stand out are a series of lightweight seersucker outdoor pyjamas, cut wide they come folded up in their own little cross body bag. The mood is lively and light. Let's go outside!
MCM: for the last few years, the MCM logo backpacks have become omnipresent on city sidewalks around the world. Founded in 1976 in Munich, the brand was acquired by the Seoul based Sungjoo Group in 2005 who had worked with the brand as a distributor and licensee from the early 1990s. The label chose to debut its first full ready-to-wear and accessories collection at Pitti Uomo. Under the direction of Mrs Kim, founder and chief visionary officer of Sungjoo Group and owner of the MCM brand, the proposed ready-to-wear was aimed at the '21st-century Global Nomad', striding alongside the signature backpacks, leather goods, eyewear and footwear. 'Millennials have less need of leather goods than previous generations, because they can basically do everything with just a mobile phone. So the need for multiple bags and large bags is becoming less important', Mrs Kim said. The performative, immersive show opened with a tropical storm and was punctuated by the landing of a skydiver down the catwalk. Metallic and holographic textiles reflected the light. Outerwear was functional and free.
Pringle of Scotland: the collection for S/S 2019 takes its influence from photographs in the Pringle archives from the 1980s. The label's iconic argyle sweaters were worn in and out of sporting circles for much of the decade. The look for the coming season is relaxed and playful as knitted pyjama shirts have matching wide cuff joggers. In the archives too are the many logos and iterations of the lion motif, which the designers have hand-embroidered onto the front of a classic golf jumper. The distinctive diamond argyle graphic appears on slim-fit jumpers and as texture on a sleeveless style made from recycled yarn.
Doucal's: there is a discreet elegance and confidence about Doucal's – the anglophile shoe label established in 1973. Avoiding fashion's roundtable of trends and seasonal collections, the core styles are modestly updated with new details and colours each season; this is where Italian classics and sustainable sprezzatura come together. The signature flexible shoe comes this season with a double buckle; a tassel moccasin in red suede has a soft insole, giving the shoe a unique flexibility. Elsewhere at Pitti there's has been a proclivity for terry towelling; at Doucal's, pastel suede high-top sneakers come with natural sponge laces mimicking the feel of a foamy seashore.
Fanatic Feelings: when Nigeria's World Cup 2018 Kit went on sale at Nike Town in Oxford Circus last month, queues formed around the block. It had received more than three million pre-orders after it was first seen online in February. Football is big business and fashion's relationship to the sport can be seen in the hip clothes of Gosha Rubchinskiy and Martine Rose. This week, Fondazione Pitti Immagine Discovery presented a pop-up entitled Fanatic Feelings – Fashion Plays Football. Curated by Markus Ebner – founder of German fashion magazines Achtung Mode and Sepp Football Fashion – and art critic Francesco Bonami, the project threw a spotlight on the impact of football on the world of men's fashion. This is most notable in the pervasive fusion of tailoring and sportswear. The duo handpicked a team of designers to make one-of-a kind football fashion pieces, which will be on sale for a limited time only. Christelle Kocher of Koché Paris designed a special World Cup limited edition capsule using vintage national football jerseys; Alessandro Sartori, who continues to champion active wear at Z Zegna, has designed a striped polo with football crests in superb, user-friendly TECHMERINO. Part of the proceeds from the sales will help to support the activities of Centro Storico Lebowski, a Florentine amateur sport's association.
Bally: the value of designers' archives is well known today as young designers seem self-consciously wedded to the idea of permanence in a digital age. Yet, the real value is in archival clothes that have a bigger story to tell. The Bally company has a vast archive of around 35,000 pairs of shoes in Schönenwerd, Switzerland – it is a constant source of inspiration. There, the design team unearthed the battered white sneaker with pink and blue rubber sole worn by the Swiss tennis stars Marc Rosset and Jakob Hlasek throughout the 90s. For S/S 2019 the designers looked to Bally's sporting heritage, reintroducing the Champion style in soft calf-skin, fixed to a multi-component rubber outsole with herringbone mould for all-surface endurance. It has been reissued in the original colour way endorsed by Jakob Hlasek during the ATP World Tour in 1991. The nineties are still in.
Fumito Ganryu: Ganryu has been a pioneer of the hybridised approach to menswear since launching his eponymous cult line within the Comme des Garçons stable in 2007. A graduate of Bunka Fashion College in Tokyo, he started as a women's pattern maker for Junya Watanabe in 2004 and so naturally his work fuses innovative pattern making with archetypal casual wear: 'I do not consider my work as streetwear' he says. 'If people see the element of "street style" in my design, I assume it has come from what I have taken from skateboard culture. I focus on making garments that I think are necessary for the 21st century.' In 2017 Ganryu separated from Comme des Garçons and Pitti marks his return to the spotlight. His S/S 2019 debut was futuristic and functional. Clothes were to be carried or worn as accessories, used when the need arises; shorts double as swimsuits. 'What I would like to do is to create 'non-sex' clothes – garments without gender,' he says. For summer this translated into garments attached to the body on silicon belts. 'Transported rather than being worn, this would give the garments the sense of object, without being about sex.' This is what Ganryu coins 'conceptual casualwear.'
Margaret Howell: there's a breezy nonchalance to the latest collection from MHL. Wool suiting is featherweight – cut in light Fox Brothers & Co cloth – relaxed shirting has big wide collars and long short sleeves, based on classic formal pyjama styles. Jogger trousers are hacked into shorts in lightweight cotton. New desert shoes are in suede with seamless backs and can bend in half for ease when packing. Blazers take inspiration from a woman's style and are oversized and exaggerated in their slouch. A pioneer of anti-glitz, Howell's suiting for spring is merrily sombre. Unlined and unstructured, it's easy, sexy, cool.
Fratelli Rossetti: in 1968, as the world was ablaze with the vivacity of student protests, Renzo Rossetti developed the smart Brera tasselled loafer, inspired by the kids hanging around the historical artist district in Milan. On its 50th birthday, the brand is celebrating with a collection that has the same nonchalant poetry of youth in revolt; calf-skin loafers have soft suede backs so they can be folded down and worn as slippers. Classic woven styles have a bold graffiti snakeskin patina. A small showcase of work created by BA Students from the NABA Nuova Accademia delle Belle Arti in Milan was on show too. Invited to reinterpret the loafer, Arianna Monticelli proposes an idiosyncratic take on the tassel, mixing woven leather, suede and rope.
Tiger of Sweden: Pitti Uomo 94 marked Christoffer Lundman's second collection for the classic menswear label. The head of creative and design, who cut his teeth at Burberry, Tom Ford and Acne, was fascinated by the spirit of adventure for spring, presenting versatile crease-resistant travel suits, short suits and tactile woven tote bags. Details that reflect a lifetime of travel populated the collection, like Asian prints, shirts with Cheongsam fastenings and stripes neckties, inspired by Sweden in the Seventies, naturally.
Colmar: Outdoor exploits are essential to the renowned Italian outerwear label, which pushes its own sense of adventure each season with the development of fabrications and finishes. For S/S 2019, Colmar looked to the endless promise of America, from the East to the West Coast, incorporating Pop Art-centric prints, madras fabric and colour blocking into its silhouettes. A women's highlight was encompassed in a water-repellent jacket with a semi-shiny yarn belt bag attached at the waist, and a men's was an ultra light version of the brand's down jacket, imagined in super shiny ripstop fabric.
London based writer Dal Chodha is editor-in-chief of Archivist Addendum — a publishing project that explores the gap between fashion editorial and academe. He writes for various international titles and journals on fashion, art and culture and is a contributing editor at Wallpaper*. Chodha has been working in academic institutions for more than a decade and is Stage 1 Leader of the BA Fashion Communication and Promotion course at Central Saint Martins. In 2020 he published his first book SHOW NOTES, an original hybrid of journalism, poetry and provocation.