Craig Green's new collection is a musing on connection and human touch
Craig Green celebrates ten years with a two-seasons-in-one collection that muses on connection, loneliness and the human body – featuring sculptural adornment inspired by wrestler's dummies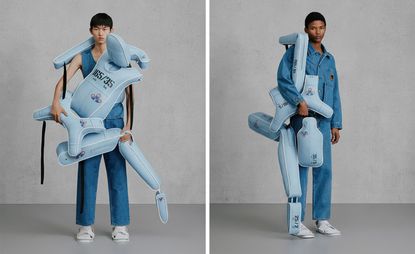 (Image credit: Photography by Amy Gwatkin, courtesy of Craig Green)
Craig Green remembers being taught to sew by his godfather, an upholsterer, one of the craftspeople the British menswear designer looked to this season for a collection that marks his ten years in business. His godfather had helped Green with his early collections – first presented as part of talent incubator Fashion East – and here worked alongside the designer on a series of sculptures inspired by the human-shaped dummies used for wrestling training.
'We were looking at work that we've done in the past and work that we'd like to do in the future,' says Green, who is reticent to make too much of the landmark year, though the collection – which muses on the idea of human touch and connection – marked an opportunity 'to do something a bit different'. Eschewing the runway show and its typical two-seasons-a-year schedule, Green instead chose to create a single collection to span the entire year which will arrive in stores in two drops. (The first arrives in stores this month; the second will be released in around six months' time.)
Craig Green on his combined A/W 2023 and S/S 2024 collection
'I think after the last show [held in Paris in June 2022], I had a lot of personal frustrations of things that I couldn't get to the right place or things that I hadn't finished,' Green explains. 'So I felt like this was the right thing to do for the team, for the ten years. We always like to work in a way where anything can become anything and things are changing constantly. We thought: wouldn't it be nice to work on concepts and ideas without those set deadlines?'
Sculptural adornment has defined Green's collections since his debut show at London Fashion Week in 2013, which included shards of wood – evocative of broken-up fencing – covering the models' faces (subsequent seasons have seen increasingly complex sculptures, including S/S 2023's 'decorated men', where models were hung with objects including moulded leather saddles, ladders and riding stirrups).
For this new collection, he was inspired by photographs of wrestlers and the cushion-like, human-sized dummies that are used for solo practice by those in martial arts.
'They're like these weird kind of padded people – we kept calling them our padded friends,' Green smiles of the designs, which in the lookbook hang off the models' bodies as if in a strange embrace. 'Some of the original ones we looked at had their height and weight on them, almost like dumbells, so you could pick the size of the person you wanted to wrestle with. The way you see them depends on the way you think – there's maybe something romantic about them, but there's also something dark because they are made from this kind of fake leather that's used in medical beds and crash mats.'
The sculptures led him to a musing on connection, a subject he believes is prescient in an increasingly atomised society reliant on digital means of communication (Green himself has been playing around with AI technology, finding it both 'terrifying and exciting'). '[The sculptures] almost feel like a way to interact with someone again – to learn what a leg feels like, what a foot feels like. There's something beautiful about them; somebody in the studio said that we should send them to people who are lonely.'
The clothing itself – which is made in the 'atelier' side of the studio – saw Green attempt to capture a feeling of freedom, with several of the pieces draped onto the body or featuring multifunctional elements to transform their appearance ('I think people always expect something more rigid from us; here it was about the idea of movement and drape,' he says). Others riff on hallmarks of the label from Green's decade-long career, like a complex multi-layered jacket with intricate cord motifs or generous, near-monastic silhouettes in dramatic hooded scarves.
As for how the two seasons in the collection – which were largely designed separately, and later combined – worked together, Green says it felt like a surprisingly coherent process. 'There was a stage where we were thinking: is it all going to feel alien to each other? But then it felt like we found a through line, which wasn't apparent from the beginning.'
It was part of the reason that several of the looks are presented in duos, as if mirrored. 'It started with the knitwear, showing two different versions of the stripe – in colour or in monochrome,' he explains. 'The balance between each other felt new. I kept thinking it was about loneliness, but it's actually going back to that idea of connection. You know, it's the bonds that you have with other people – with your friends, your family – which show you who you are. They are a mirror to yourself. And for this season, that felt right.'
Receive our daily digest of inspiration, escapism and design stories from around the world direct to your inbox
Jack Moss is the Fashion Features Editor at Wallpaper*. Having previously held roles at 10, 10 Men and AnOther magazines, he joined the team in 2022. His work has a particular focus on the moments where fashion and style intersect with other creative disciplines – among them art and design – as well as championing a new generation of international talent and profiling the industry's leading figures and brands.