Seafood wonderland opens in London's Soho
Acclaimed Amsterdam restaurant The Seafood Bar opens its first London outlet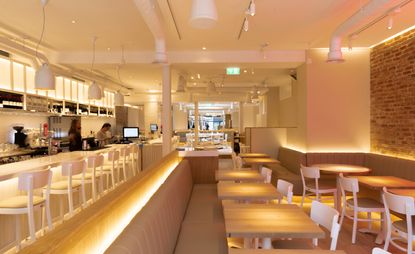 (Image credit: theseafoodbar.com)
The Seafood Bar, newly opened in London's Soho, is a truly fresh addition to the capital's dining scene.
The desire to eat seafood is a very particular desire, and while there is usually a fish option on any menu, if it's seafood you really want, you need to go to a specialist. The Soho restaurant is the fifth offering from its Dutch family owners, and their first venture outside The Netherlands.
Jewel-like seafood display
Using the knowledge and expertise won from decades in the business, founder Fons de Visscher swapped his metier as a fishmonger for that of a restaurateur, and created the first Seafood Bar in Amsterdam in 2012. The London, Dean Street, restaurant is spacious, light, and airy. A fantastic variety of fruits-de-mer are displayed, jewel-like, on glittering piles of ice, from oysters to razor clams to king crab, langoustines, and more.
Your selection is brought to the table, laid out on the (always exciting) tiered tower, and the sense of occasion further enhanced by a wine list selected to best accompany seafood. Far from forgetting the special deliciousness of fried fish, the menu also features fish and chips, along with an 'a la plancha' grill section (where the food's cooked fast, on a very hot, flat surface), and an excellent and interesting selection of small plates and vegetable dishes.
As you would expect from those who truly understand seafood, everything is absolutely fresh, skilfully prepared, and brought to the table with the greatest respect for the environment. The de Visscher family work closely with producers to ensure that the fish is sustainably sourced and unprocessed, with a zero waste policy.
True to its name and its lively Soho location, The Seafood Bar also features that other sort of bar in its basement – the kind where you can sit and order a cocktail and a plateful of calamari. With a schedule of events planned, including late-night oyster parties, you can count on this newcomer being an exciting participant in the London restaurant scene.
INFORMATION
theseafoodbar.com (opens in new tab)
Melina Keays is the entertaining director of Wallpaper*. She has been part of the brand since the magazine's launch in 1996, and is responsible for entertaining content across the print and digital platforms, and for Wallpaper's creative agency Bespoke. A native Londoner, Melina takes inspiration from the whole spectrum of art and design – including film, literature, and fashion. Her work for the brand involves curating content, writing, and creative direction – conceiving luxury interior landscapes with a focus on food, drinks, and entertaining in all its forms