Noma Projects brings the world's greatest restaurant into your kitchen
Noma Projects launches with a smoked mushroom garum for at-home cooking, the first in a series of products and media and environmental programmes set to make the famous restaurant more accessible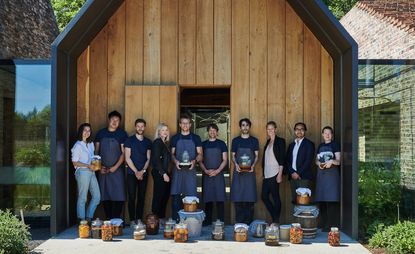 (Image credit: Press)
Have you ever wanted to taste the food at Noma, the world's most influential restaurant? Well, Noma Projects is making that goal a bit more attainable through a series of initiatives aimed at making the iconic Copenhagen restaurant accessible from around the world.
The project kicks off with the launch of a smoked mushroom garum (a fermented sauce), the first pantry item in what will eventually become a range of plant-forward and flavourful products for at-home cooking. 'Noma Projects is a way that we can channel all of our knowledge, and experience, and creativity, and curiosity into projects that will live outside the physical walls of this building,' says COO of Noma Projects, Annika De Las Heras.
'And we're starting with our first project, which is a pantry product that we hope will be the first of many to come. But beyond that, Noma Projects will be a series of projects including media and environmental programmes that all have food, flavour, and education at their core.'
The launch of Noma's garum and Noma Projects in general comes on the heels of the restaurant's 20th anniversary, and it feels fitting that the restaurant would mark such a milestone by launching a fermented product. That's because pickling, curing, smoking, and other age-old methods of food preservation have been a defining aspect of Noma's New Nordic cuisine since its inception.
Telling the story of those early days, Noma founder René Redzepi says, 'We were opening in the dead of winter in 2003 – 24 November. It was cold, rainy, windy and we quickly realised that the stuff we had to cook with would be beets and carrots and onions.
'And then the first spring of our opening year, we found ourselves in nature, foraging, and finding ingredients. We found our vision once we stepped into nature. It was an incredible moment. Suddenly there was more than beets and carrots and onions. Suddenly we had herbs on the beach that taste like coriander, roots that can taste like cinnamon growing in the forests 20 minutes away from Copenhagen. It was a revelation to us. At one point during all this, we were standing knee-deep in wild roses during the height of summer and we asked ourselves, "How can we bring this bounty into the colder seasons?"'
The result was a range of ingeniously preserved goods that gave dishes those signature 'nowhere-but-Noma' flavours and became so intrinsic to the culinary process that Noma eventually opened its own Fermentation Lab.
The smoked mushroom garum is made in that lab through a process of crushing mushrooms with salt and rice koji, before leaving the mixture to brew for months, and then cold-smoking and bottling. The result is versatile, umami-rich cooking sauce that can be added to sautéed mushrooms to give them extra depth, or ramen broth for an added flavour kick.
INFORMATION
nomaprojects.com (opens in new tab)
0
Beauty & Grooming Editor
Mary Cleary is the Beauty & Grooming Editor of Wallpaper*. Having been with the brand since 2017, she became an editor in February 2020 with the launch of the brand's new beauty & grooming channel. Her work seeks to offer a new perspective on beauty, focusing on the pioneering personalities, product designs, and transformative trends within the industry.