Copenhagen's cultural institutions, as recommended by leading Danish creatives
In collaboration with Visit Copenhagen, the city's official tourism agency, Wallpaper* invites four great Danes – fashion designer Freya Dalsjø, chef Frederik Bille Brahe, interior and furniture designer Signe Bindslev Henriksen, and floral artist Julius Værnes Iversen – to tell us about their favourite Copenhagen museums, and how to make the most of the city's creative scene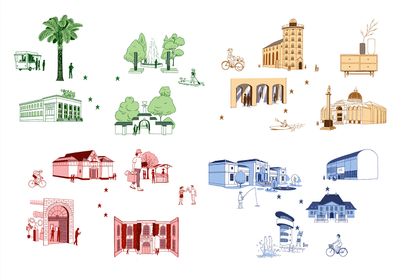 (Image credit: Illustrations by Michael Kirkham)
In partnership with Visit Copenhagen (opens in new tab)
Amid cobblestone streets and idyllic canals, picturesque parks and enchanting architecture, a wide array of Copenhagen museums and cultural institutions offer something to suit every interest: on one end of the spectrum is the magnificent Statens Museum for Kunst (National Gallery) – spread across an Italianate Renaissance revival building and a modern extension, with 260,000 artworks including the world's largest collection of paintings by Vilhelm Hammershøi; on the other, the ethereal Cisternerne, an underground reservoir transformed into a canvas for contemporary art installations.
Regardless of time period, scale and format, visitors can count on dazzling exhibits, enlightening curation, evocative settings and a wealth of amenities ranging from cafés and bars to one-of-a-kind bookshops.
While there is ample reason to visit year round, there is particular excitement around annual events such as Golden Days Festival, 3 Days of Design, and Copenhagen Art Week.
To help you navigate the Danish capital's abundant cultural offerings, Wallpaper* has teamed up with the city's official tourism organisation, Visit Copenhagen, to feature a quartet of notable residents, each listing their favourite museums and sharing insider knowledge of what makes their city an inspiring place to be.
Local creatives showing us the city
Each contributor is at the top of their discipline and has played a pivotal role in shaping Copenhagen's creative scene.
Womenswear designer Freya Dalsjø has run her independent label for a decade, pushing the boundaries of material and form season after season and putting Nordic fashion on the international map.
Chef Frederik Bille Brahe has gone from popularising avocado toast to running two top museum eateries (Apollo Bar & Kantine at Kunsthal Charlottenborg, and Kafeteria at the National Gallery), brokering conversations among key cultural players while serving up simple, seasonal and immaculately presented food.
Designer Signe Bindslev Henriksen, one half of design duo Space Copenhagen, played a different role in cementing Copenhagen's status as a culinary powerhouse, having created interiors for many pioneering restaurants; her portfolio also includes leading hotels (both local and abroad) and furniture collections.
Floral artist Julius Værnes Iversen parlayed a reputation for 'odd-looking flower installations' into his multidisciplinary design studio Tableau, which pairs a rotation of design and art shows with floral arrangements and has launched idiosyncratic vessels and furniture with an array of emerging talents and brands.
Copenhagen museums and cultural hotspots
Their recommendations are rich and varied. Lovers of art history will find an instant affinity for the Glyptotek, which shows art and artefacts from ancient civilisations (Egypt, Greece and Rome) and 19th century French and Danish sculpture and painting, and boasts a winter garden that will set the imagination alight; likewise, the nearby Thorvaldsen Museum holds the work and personal collection of legendary sculptor Bertel Thorvaldsen (1770 – 1844, the only non-Italian with work in St Peter's Basilica at the Vatican) in an ornate setting inspired by the excavations of Pompeii and Herculaneum; while The David Collection, housed in a rococo building that overlooks the fairy-tale turrets of Rosenborg Castle, includes an impressive collection of Islamic art alongside its European and Danish Early Modern offerings.
Those with more contemporary tastes will want to seek out Kunsthal Charlottenborg, a former palace turned cultural hub known for ambitious, often multidisciplinary exhibitions such as the 'The World is in You' (until January 2022), which juxtaposes bio-art and historical objects from the Medical Museion to explore how our bodies are connected to the universe. Den Frie, a space founded by artists for artists in the spirit of the Salon des Refusés, champions the avant garde within a handsome white wood pavilion by the painter JF Willumsen, with design elements inspired by Greek mythology.
Also not to be missed is the colossal Copenhagen Contemporary, a former welding hall in the rapidly transforming neighbourhood of Refshaløen that has played host to blockbuster installations: among them Anselm Kiefer's lead airplane sculptures, Carsten Höller's merry-go-rounds and local art practice Superflex's three-seater swings. Its next exhibition, opening on 3 December 2021, is the first European survey dedicated to the Light and Space art movement, with blockbuster works by likes of James Turrell, Helen Pashgian and Robert Irwin.
Design is integral to Danish identity, so while the Designmuseum Denmark – with a particularly memorable display that traces the history of the Danish chair – is closed for renovation until 2022, it nevertheless features among our recommendations.
Additionally, we have a number of public attractions such as the historic Round Tower, the oldest functioning observatory in Europe; the leafy Bibliotekshave (Royal Library Park), a striking example of landscape design between the Royal Library and Christiansborg Palace; and the Botanical Gardens, notable for its cast-iron and glass palm house that dates back to 1874.
As you plan your next trip to Copenhagen, we invite you to click on the links below each illustrated map to discover a photo diary by each of our participating creatives, and get a taste of the pleasures that await you.
Frederik Bille Brahe
Chef Frederik Bille Brahe whets our appetite for the city, and its food, with a very personal photo diary that touches on his daily routines, from morning coffee at his café Atelier September and his route to Apollo Bar & Kantine at Kunsthal Charlottenborg, to details of food preparation and floral artists. He also takes us along to some of his favourite dining spots, including vegetarian/vegan restaurant Morgenstedet in Christiania, and for cocktails at Maison with his wife Caroline Brasch Nielsen. Downtime sees him visit The David Collection (Davids Samling), and relaxing in King's Garden (Kongens Have) with his daughter.
Click here to view Bille Brahe's photo diary
Freya Dalsjø
Going from Refshaløen in the east – home to the cavernous Copenhagen Contemporary and a number of stylist easteries – to the Statens Museum for Kunst in the city centre, fashion designer Freya Dalsjø's tour of Copenhagen takes us along the waterfront and across the monumental Inderhavnsbroen (inner harbour bridge), with a dip in the refreshing waters along the way.
Click here to view Dalsjø's photo diary (opens in new tab)
Julius Værnes Iversen
The vibrant colour palette of Thorvaldsens Museum, inspired by the excavations of Pompeii and Herculaneum, are a source of inspiration for floral artist Julius Værnes Iversen. It comes as no surprise that Iversen's Copenhagen is characterised by its green spaces, each with a distinctive character: the encyclopaedic Botanical Gardens, with its imposing palm house; the serene Bibliotekshaven, where one can gaze at a statue of philosopher Søren Kierkegaard and admire the fish pond; and Amaliehaven, a garden adjacent to the winter residence of the royal family, with sculptures by Arnaldo Pomodoro and open to the public 24/7 – 'modern and stringent', it contrasts beautifully with old Copenhagen.
Click here to view Iverson's photo diary (opens in new tab)
Signe Bindslev Henriksen
Starting at the showroom of the cabinetmakers who have collaborated with her design studio, Space Copenhagen, for decades, Signe Bindslev Henriksen's tour of Copenhagen culminates in a visit to the underground Cisternerne, currently populated by Tomás Saraceno's celestial artworks and navigable only by boat. Along the way, take in the historic Round Tower, the wonderful winter garden of the Glyptotek, as well as the Danish National Bank, an architectural landmark by Arne Jacobsen.
Click here to view Henriksen's photo diary (opens in new tab)
INFORMATION
visitcopenhagen.com (opens in new tab)
Produced with the help of Danmarks Erhvervsfremmebestyrelse
Melina Keays is the entertaining director of Wallpaper*. She has been part of the brand since the magazine's launch in 1996, and is responsible for entertaining content across the print and digital platforms, and for Wallpaper's creative agency Bespoke. A native Londoner, Melina takes inspiration from the whole spectrum of art and design – including film, literature, and fashion. Her work for the brand involves curating content, writing, and creative direction – conceiving luxury interior landscapes with a focus on food, drinks, and entertaining in all its forms